Annie Owens - Candice Tripp - Matt R. Martin
Where: Copro Gallery
Bergamot Station Arts Complex
2525 Michigan Ave , Unit T5, Santa Monica , CA 90404
Ph: 310/829-2156

E-Mail: CoproGallery@Live.com
Web-Site: www.CoproGallery.com

What: Annie Owens - Candice Tripp - Matt R. Martin - running concurrently w/ beinArt Collective Surreal Group Art Exhibition 'Dystopia'

Opening Reception, Saturday, March 19, 2011 - 8:00 - 11:30 p.m.
FOOD: THE GRILLED CHEESE TRUCK

Dates: Exhibits run; March 19 - April 9, 2010

Contact: Gary Pressman, Gallery - Director Copro Gallery
web - preview: Candice Tripp , Matt R. Martin

Annie Owens
"Screaming at Butterflies"
30" x 23" watercolor on arches paper

"Terribly Happy," Annie Owens latest body of work explores the clumsy attempts at putting on a smile.
The southern mythology and superstition dredged from the muddy backwaters of her Alabama roots provide inspirational backdrop for the seven watercolor paintings in this series. Annie attempts to turn the proverbial frown upside down and then poke fun at the outcome which is often something odd and not all together sound.
Annie is a mother, a self taught painter and co-founder of Hi-Fructose art magazine. Born in Alabama and raised between the Philippines and San Francisco she made accidental collegiate forays into film and video before her divergent path finally came to a rest in publishing and painting. Annie lives in Richmond, California with her partner-in-crime-husband, Attaboy.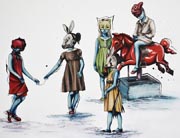 Candice Tripp
close up of "They're Going To Eat Your Brains
and Gain Your Knowledge"
30" x 40" oil and ink on canvas

CANDICE TRIPP

Candice Tripp was born in October 1985, Cape Town, South Africa. Her work resonates with an innocence that steers clear of societal commentary, choosing instead to youthfully represent childish scenarios with a grown-up twist. Working predominantly in oil and ink, her subject matter is cast into negative space, illustrating just an instance of a narrative with only the title hinting towards a bigger picture. Without any formal training Tripp started exhibiting her paintings in early 2007; her plans to go to university were interrupted when she booked her first solo show in April that year.

For her show at Copro Candice will feature 3 large canvas's and a beautiful 10 color silk screen print of "Can You Smell the Burning?" from Black Rat press

click for interview w/Candice Tripp



"Unspoken" 36" x 53" oil on board

Matt R. Martin

Matt features 6 new paintings at Copro which all illustrate

…the endless pursuit of capturing a moment of beauty in a single image of unknown space and time to evoke emotion in its viewers…' - Matt R. Martin

Jon beinArt interviews Matt