Benz and Chang 'Into and Out Of The Light' / Wes Benscoter 'Strange Alchemy' / Dan Seagrave / Cirius Scion / Otis Link & Sean Wheeler 'Dry Heat' - Ausgang 'Shifting Years' book signings


Contact: Gary Pressman, Gallery Director
Ph: 310/829-2156
E-Mail: CoproGallery@Live.com
Web: www.CoproGallery.com

WHAT: Benz and Chang 'Into and Out Of The Light' / Wes Benscoter 'Strange Alchemy' / Dan Seagrave / Cirius Scion/ Otis Link- Sean Wheeler - Ausgang 'Shifting Years' book signing
Web Preview:


WHEN: Exhibit runs; August 14 – Sept. 4, 2021
Artist Reception: August 14, 5:00-9:00 PM Open To The Public - Artists will be present!


WHERE: Copro Gallery, 2525 Michigan Ave. T5, Santa Monica, CA 90404 / Call or e-mail Gallery for info. 310-829-2156 CoproGallery@Live.com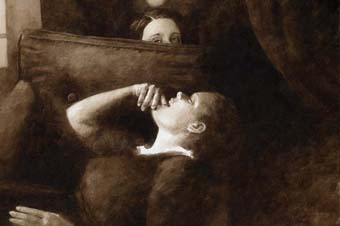 Benz and Chang, Kissing the Moon (1912)
Copro Gallery presents a summer soirée with three solo exhibitions Benz and Chang 'Into and Out Of The Light' , Wes Benscoter 'Strange Alchemy' and Dan Seagrave. In our other space at the gallery Bad Otis Link & Sean Wheeler will be exhibiting original art from the new book 'Dry Heat' along with a live performance of spoken word, projection and music. Anthony Ausgang will also be signing his new book Shifting Years a catalog for the 2020 Anthony Ausgang retrospective exhibition cancelled due the COVID-19 pandemic. Anthony will have original art and toys and a few suprises!

Benz and Chang 'Into and Out Of The Light' will be exhibiting a new body of work featuring some of the largest pieces to date.
Artist Statement
Benz & Chang believe that the arts make the world a better place through shared experience and mutual understanding. The Benz & Chang paintings are "fake vintage photos" rendered with watercolor and/or walnut ink. They are dreamlike and figurative. Most of the paintings appear to be photos from the early 20th century, and they reward a second or third look with details that can be easy to miss. Figures appear with twins, crowns, wings, ghost limbs, halos, odd lights and shadows. Using this imagery, Benz and Chang explore transformative life experiences such as facing fear, making life-changing decisions, grieving losses, having mystical experiences, or confronting mortality. Says Benz, "I see myself as a channel. My job is to align myself with a larger creative impulse, and also with the painting itself. I must add that I rarely do this perfectly. During the various steps of making a painting, I will "see" something that belongs in the painting, and so I will add it. If the decision-making process breaks down, I consult a Magic 8-Ball for direction. The resulting paintings are dreamlike."
BIOS
Benz began having experiences with spirits and hauntings at an early age. These experiences have continued throughout his life. They have fueled his interest in dreams, ghosts, and clairvoyance from all angles, including the fictional, real, fraudulent, or imagined. Benz grew up in the American Southwest, and now enjoys living in the (haunted) Pacific Northwest. He has an extensive collection of odd photos from the early 20th century. Benz has a Bachelor of Fine Arts degree from the University of Colorado in Boulder.
Chang is a fictional photography studio partner to Benz. He is a stuffed cat of the stuffed animal variety (not the taxidermy variety). Chang supplies the dark.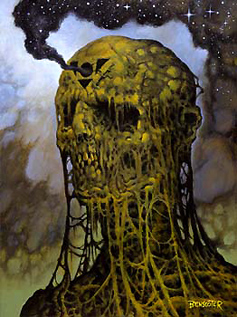 Wes Benscoter "Exponential Decay"


Wes Benscoter new body of work 'Strange Alchemy' features 6 paintings done exlusivley for this exhibit at Copro and have all the elements that make his work great!

Wes Benscoter bio: Wes established his reputation in the mid-1990s with his album cover art for Slayer and Relapse Records. His other rock art includes bands like AC/DC, Black Sabbath, Cattle Decapitation, and countless death and heavy metal bands.Besides album covers some of his other work includes book covers, DVD/Blu-ray covers, and magazine illustration including the Spectrum Award-winning cover art to Your Flesh magazine #42. Some noted clients include Warner Bros., Sony, Rhino Records, Ubi Soft, Ozzfest, Metal Blade Records, Nuclear Blast, Synapse Films, MPI, Shout Factory and book publishers Harper Collins and Wizards Of The Coast.
He currently lives in Pennsylvania where he continues to work in the morbid arts!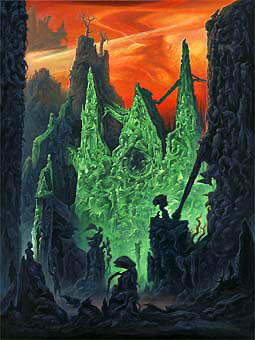 Dan Seagrave, Facade #4

Dan Seagrave presents FACADES Semi architectural forms appear in expatriated landscapes, like reinvigorated memory shards of past lives lived. Encrusted within the bio strata, ambiguous animal characters twist and writhe in an unreachable goal to simply exist. Their appetite for life benefited by the demise of their fellow species. The evolving structures deceptively emulate grandiose places of worship. Soulless silhouettes of faith and reliability insinuate meaning. A sanctimonious subterfuge of order. As if realised by an indifferent semi omnipresent drifter.

BIO Born in Worksop U.K in 1970, and growing up predominantly in the village of Ravenshead which neighbored the former Lord Byron's estate of Newstead Abbey. The close proximity to the City of Nottingham provided an experience of both rural and urban life, mixed with many local historical wonders. Schooled in the nearby coal mining village of Rainworth during the decline of the industry. At age 17 He created an album cover for a local metal band which resulted in subsequent offers from their Indie record label for no pay, but keenly accepted by the desire to see the art published. These albums found their way onto the desks of other international Record companies, Including Germany's Nuclear Blast Records, and New York's Roadrunner Records. Which consequently led to the creation of multiple album covers for the then exploding Death Metal music revolution. Including art for Morbid Angels, Altars of Madness, and Entombed's Clandestine and Left Hand Path records. Since 1988 to the present designing approximately 200 album covers.
From the age of 19, he began to spend time travelling in North America. One such trip led to a position as head painter and art director of a company in Toronto. Dan received resident status for Canada in 2003 and is Toronto based while continuing to spend time in the U.K His art has sometimes been a long gestation process. Spending over a year on certain paintings. While occasionally balancing that out with an entirely separate loose and expressionist approach to work, that is in stark contrast to the organised method.
While mostly working in a meticulous detailed way. The art tends to evoke thoughts on greed, ambivalence, isolation, depersonalization, and a sense of chaotic semi conscious evolution. Often woven around sprawling scenes.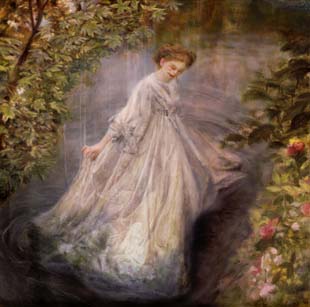 Cirius Scion, 'Ophelia,Great Scene'

CIRIUS SCION will have a new body of work just created over the last several months for this summer exhibit. "I have always found the process of old master painting both intriguing (the secrets of imprimatura) and rewarding. The ability to capture scenes and objects through creative visions provide endless enjoyment. As an artist, I can get lost in the initial discovery process as I immerse myself in a variety of activities such as reading literature and watching the world around me followed by the actual painting" Cirius explores the lives of master artists, composers, musicians, philosophers and visionaries to continually sustain inspiration. Her work is inspired/influenced by history and the future; capturing an image that induces beauty of emotions. She wishes to preserve moments in time for future reflection.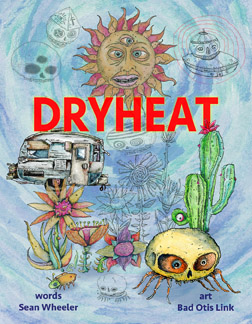 Bad Otis Link & Sean Wheeler will be exhibiting original artwork from the new book 'Dry Heat' See art and literature collide head on, under the dark Mojave sky. There will also be a live performance of spoken word, projection and music by both artists starting at 7:30PM!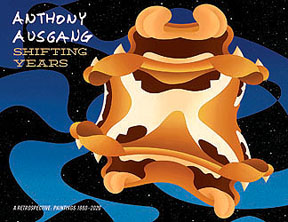 Anthony Ausgang 'Shifting Years' book signing and small exhibit. Anthony will be present at the opening signing books and will have original art on exhibit. Shifting Years is the catalog for the Anthony Ausgang retrospective exhibition that had been planned to open in May 2020 at the Fullerton Museum Center in Fullerton, California. Ausgang is considered a vital member of the Low Brow and Pop Surrealism art movements, and the exhibition would have presented a comprehensive survey of his artistic output from 1980 to 2020. The catalog features many of these paintings, drawings, custom musical instruments, vintage car doors, apparel, and related ephemera. Also included are essays by Ausgang, Andrew VanWyngarden of the band MGMT, and FMC director Kelly Chidester. Although the exhibition was cancelled due the COVID-19 pandemic, the decision was made to produce a catalog regardless, making the book Shifting Years a documentary of the best show Ausgang never had. Anthony Ausgang Shifting Years 12 x 9 inches with 104 full color pages S
#
Bergamot Arts Complex, 2525 Michigan Ave T5, Santa Monica, CA 90404 - 310-829-2156
All images and artwork Copyright 2015 CoproGallery
Please e-mail any problems with this site to CoproGallery@live.com