CONJOINED 2 IN 3D! ; THE SEQUEL - Sculpture & Dimensional group art exhibition
PETER GRIC; ANDROID AWAKENING
Where: Copro Gallery
Bergamot Station Arts Complex
2525 Michigan Ave , Unit T5, Santa Monica , CA 90404
Ph: 310/829-2156
E-Mail: CoproGallery@Live.com
Web: www.CoproGallery.com
What: CONJOINED 2 IN 3D! ; THE SEQUEL - Sculpture & Dimensional group art exhibition
gallery 2 - PETER GRIC; ANDROID AWAKENING
CLOSING Reception: Saturday FEBRUARY 11, 2012 - 2:00 – 7:00 p.m.

Dates: Exhibit runs; January 21– February 11, 2012
Contact: Gary Pressman, Gallery Director Copro Gallery


Conjoined In 3D! Part 2: The Sequel, picks up where Conjoined 1 left off, last year at this time. More classic sculptures, Life like models, Surreal assemblages, mixed media paintings, life sized toys and other conjoined works in 3-D. Curated by Chet Zar this show will include many artists of Pop-Surrealism as well as motion picture industry special effects and well known Art Toy artists. From the twisted and bizarre to the majestic and unbelievable there will be many unusual works and all in 3D!

Participating Artist list:

Ron English, Joe Sorren, Doktor A, Adam Jones, Chet Zar, Colin Christian, John Cebollero, Rick Zar, Black Mass, Shifflet Bros Francesco De Molfetta, Jud ergeron, Bill Sturgeon, Tracey Roberts, Jesse Gee, Bill Basso, Zombienose, Zoetica Ebb, David Richardson, Scott Radke, John Haley lll, Johny Chow, Ryan Peterson, Simon Lee, Chris Conte, David Simon, Meats Meier, Tas Limur, Nathan Cartwright, Jake Roanhause, Charles Krafft, Ver Mar, Neil Winn, Jason Hite, Chantal Menard, Bruce Fuller, Dave Grasso, Steve Wang, Neal Kennemore, Bruce Mitchell, Brian Smith Thomas Kuebler, Andrew Freeman, Dave Pressler, Akihito Ikeda, Paul Chatem, Brian Poor, Jack Howe, Kevin Kirkpatrick, Eddie Sparr, Craig LaRotonda, Charles Manson, Albert Cuellar, Mark Setrakian, Michael Shawn McCracken, Laurie Hassold, Kato DeStephan, & More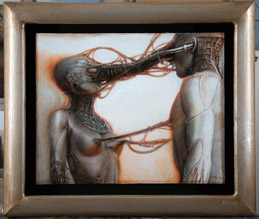 PETER GRIC - ANDROID AWAKENING

Android Awakening will feature a comprehensive body of work consisting of 16 paintings, primarily new and some from the distant past. Most of the new work centers on Androids which are machines designed to look and act like human beings but can be programmed and controlled in order to serve their masters. They may appear like intelligent and self-determining beings, but due to the absence of consciousness their decisions are programmed. Says Peter Gric, "It appears to me that most of us humans live in a state of android thinking. We are conditioned and programmed by religions, societies and demagogues, regularly receiving uploads of beliefs, politics and reductionistic scientific models describing our reality. We are sedated and distracted by a vast machinery of entertainment, fashion, fear, guilt, terror and "anti-terror", misinformed, blinded and dehumanized. Nevertheless, I believe that we are more than Androids and can get rid of all these mind-parasites that dictate to us what we are allowed to believe, achieve, wish, dream, eat, drink, smoke, & enjoy. We have the potential to make real decisions and we can de install all that propaganda from our brains! So unplug the cables, cup the wires and Wake Up Androids! Remember Who You Are!"
Peter Gric is a Czech painter living in Austria, who is best known for his mysterious abandoned futuristic architectural landscapes, He practices a very fine technical method of painting as taught by the Vienna School of Fantastic Realism. He studied under professor Arik Brauer at the Academy of Fine Arts Vienna who was one of the original members of the Vienna School of Fantastic Realism so therefore is among the next generation of artists influenced from this movement. Peter has been exhibited alongside many other notable artists such as H. R. Giger and is a member of the Labyrinthe group as well as Ange Exquis .

###