MARC BURCKHARDT - DANTE'S INFERNO
ART BASIL Group Art Exhibition

WHERE: Copro Gallery - Bergamot Station Arts Complex

2525 Michigan Ave , Unit T5, Santa Monica , CA 90404

Ph: 310/829-2156
E-Mail: CoproGallery@Live.com
Web: www.CoproGallery.com
WHAT:MARC BURCKHARDT - DANTE'S INFERNO
ART BASIL Group Art Exhibition

MARC BURCKHARDT WEB-PREVIEW
ART BASIL WEB-PREVIEW
WHEN: Exhibit runs; December 19 – January 9
Opening Reception: Saturday December 19 , 2015 - 8:00 – 11:30 p.m.

Contact: Gary Pressman, Gallery Director Copro Gallery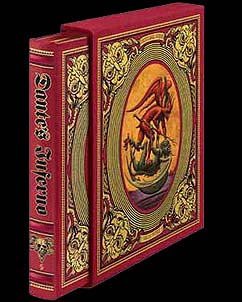 MARC BURCKHARDT - DANTE'S INFERNO

Copro Gallery presents Marc Burckhardt - Dante's Inferno art exhibition and book release. The work in the exhibtion will be the original art featured in the book and a few other related pieces. The book is a very special release of Dante Alighieri's haunting tour through the nine circles of Hell. It ranks among the highest points of literary achievement. This masterpiece book is a stunning Deluxe Limited Edition, featuring eight full-color works of art and a wealth of ornamentation illustrations by Marc Burckhardt especially for this volume. Marc's unique vision combines a contemporary sensibility with a mastery of Old World style to make this edition an Inferno for our times.

Marc Burckhardt now lives in Germany, but his work can be found in galleries, publications, books, advertisements, and album covers throughout the world. His work has received awards from CA, American Illustration, and Graphis, as well as Gold & Silver Medals from the the Society of Illustrators New York, and been profiled in 3x3 magazine, Communication Arts, and Juxtapoz. Marc was commissioned by SONY Records to create a special collector's edition portrait of Johnny Cash for the album "The Legend: Johnny Cash", which went on to become the 2006 Grammy Award Winner for Best Art Direction on a Boxed or Special Limited Edition Package.

His paintings have been exhibited at the Rock and Roll Hall of Fame in Cleveland and the Experience Music Project in Seattle, are featured in the book "The Greatest Album Covers That Never Were", and can be found in the private collections of Oprah Winfrey, Ralph Lauren, Emily Proctor, Patricia Arquette, and the late Johnny Cash.

More about the book: Like all Easton Press books, Dante's Inferno is bound in genuine leather and comes stamped on the spine in 22kt gold. Like the finest illustrated books of days gone by, the color images are position-tipped by hand into each book. The Easton Press edition of Inferno is personally signed by the artist on a specially designed signing page and comes housed in a cloth slipcase. It's a limited edition of 1,200 hand-numbered and signed copies.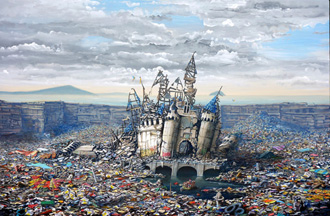 Jeff Gillette, Abandoned Dismaland, 29" x 45"

ART BASIL Group Art Exhibition

December 2-6 Copro Gallery participated in the Miami Art Fair 'Scope'. It was located on the sands of Miami Beach in a giant temporary structure created for the 1 week fair. People came from all over the world to see this and many other art fairs and exhibits in what is the largest and most comprehensive event of its kind in the world celebrating the International Art community of artists and collectors. The artwork has just been returned to the gallery and before we send out the sold pieces to collectors and prepare some of the work to go to the LA ARTSHOW in January 2016 we will be exhibiting it along with other works created for this special 'ART BASIL'exhibit.

Artists included - Gigantic Joe Sorren oil painting, brand new paintings and shack sculptures from Jeff Gillette fresh from his show with Banksy, Olivia, Amandine Urruty, Lola, Candice Tripp, Craig LaRotonda, Matt Dangler, Mark Garro, Alexandra Manukyan, Art Reid and more!