LA ARTSHOW 2021 - Modern + Contemporary group exhibition


Contact: Gary Pressman, Gallery Director
Ph: 310/829-2156
E-Mail: CoproGallery@Live.com
Web: www.CoproGallery.com

WHAT: LA ARTSHOW 2021 - Modern + Contemporary group exhibition

WHEN: Exhibit runs; July 30 – August 1, 2021

GENERAL SHOW HOURS:
Friday, July 30, 2021 / 12pm – 8pm
Saturday, July 31, 2021 / 12pm – 8pm
Sunday, August 1, 2021 / 12pm – 6pm

WHERE: LOS ANGELES CONVENTION CENTER – WEST HALL
1201 South Figueroa Street Los Angeles, CA 90015 / Call or e-mail Gallery for info. coprogallery@live.com


Mark Garro, 'Shell Shock'
artwork

Copro Gallery presents the Modern + Contemporary group exhibition at the LA ARTSHOW 2021 Convention Center, Los Angeles. Located in the Modern Art section, with our largest booth and exhibition yet at an International Art Fair. Copro presents the best and brightest of the alternative modern & contemporary art movement powered by multi-national galleries, collectors and media. We have a great location near the entrance and we'll be raising awareness of this style of art which has so many talented artists involved with incredible paintings, drawings and sculptures!
ARTIST LIST: Adam McCarthy, Alex Garcia, Alex Garrant, Allen Williams, Amandine Urruty, Annie, Montgomerie, Ausgang, Benz and Chang, Brad Gray, Brian Mashburn, Brian Viveros, Charlie Immer, Che Leviathan, Chet Zar, Chris Guest, Chris Mars, Christina Bothwell, Cirius Scion, Dan Quintana, Ed Binkley, Emma Black, Germs, Hanna Jauen, Horacio Quiroz, Jason Limon, Jeff Gillette, Jim McKenzie, Joe Vaux, John Brophy, Jon Huck, Jon Swihart, Jonathan Queen, Karla Pereira, Kevin Llewyn, Kevin Peterson, Laurie Hassold, Lizz Lopez, Luke Chueh, Luke Hillestad, Mark Covell, Mark Garro, Maggie Magpie Rodgers, Michael Brown, Miso, Naoto Hattori, Nick Sheehy, Olivia, Peca, Rachel Bridge, Robert S. Connett, Samantha Schumaker, Sazha Gazova, Shane Pierce, Simona Cardini, Stefanie Vega, Stephanie Inagaki, Travis Louie, Victor Castillo, Xue Wang and more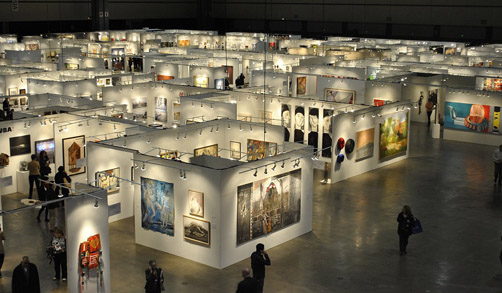 LA ART SHOW
MODERN + CONTEMPORARY
The Most Comprehensive International Contemporary Art Show in America attended by over 70K people each year with more than 200,000 square feet of exhibition space. Los Angeles has emerged as a global epicenter of art & culture, with a distinct, interwoven multi-cultural influence unique to the city. Diversity is our strength and art is most impactful when it includes or transcends all borders. As LA rises as the world-class destination for art, LA Art Show continues to lead the way with innovative programming and one-of-a-kind experiences for an expanding collecting audience.
COVID PROTOCOLS: In line with the citys new mask mandate, face coverings are required Inour venue for all individuals, including those that are fully vaccinated. You may only remove your mask when eating or drinking.
Bergamot Arts Complex, 2525 Michigan Ave T5, Santa Monica, CA 90404 - 310-829-2156
All images and artwork Copyright 2015 CoproGallery
Please e-mail any problems with this site to CoproGallery@live.com