OWEN SMITH 'WAYWARD'/ PECA 'MOONLIGHT DREAMS'

WHERE: Copro Gallery - Bergamot Station Arts Complex
2525 Michigan Ave , Unit T5, Santa Monica , CA 90404

Ph: 310/829-2156
E-Mail: CoproGallery@Live.com
Web: www.CoproGallery.com
WHAT: Owen Smith 'Wayward' / PECA 'Moonlighting'
Owen Smith Web-Preview
PECA Web-Preview


WHEN: Exhibit runs; July 9 – July 30, 2022
Opening Reception: Saturday July 9 , 2022 - 5:00 – 9:00 p.m.

Contact: Gary Pressman, Gallery Director - Copro Gallery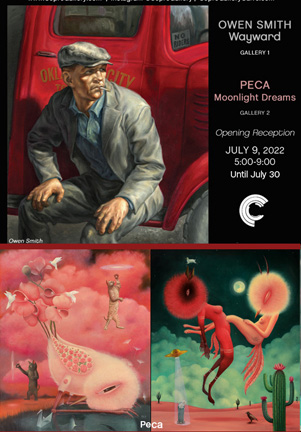 July 2022
Owen Smith's 'Wayward'
opens July 9, 2022 for his first solo exhibition at Copro Gallery. Recently Owen illustrated a special edition limited release of John Steinbeck's famous novel ''Grapes of Wrath' for 'Eaton Press' and all the paintings and drawings in the book will be included in 'Wayward'. New original paintings and the original illustration for 'The New Yorker' COVID19 edition will also be included.

Owen Smith's art is influenced by the American Social Realist tradition, Ashcan School painters, and Film Noir. He explores the darker side of society using archetypal figures, dramatic lighting, and exaggerated proportions and poses. The art is about human interaction, isolation, and social constraint. He often depicts laborers, criminals, politicians, and the working class caught in moments of tension. These images can be seen as realistic, surreal, even melodramatic.

During the Great Depression a drought devastated the midwest. The 'Grapes of Wrath' novel follows the Joad family as they are forced to leave their Oklahoma tenant farm. We see them pack up their possessions and make the perilous journey across the country in search of work and a better life. When they arrive in California they are resented by the locals and exploited by corporate farms. It is story of a family trying to hold together through crisis. The book questions our systems of capitalism and criminal justice. These conflicts are still with us today.
BIO - Owen Smith is an American Postwar & Contemporary artist who was born in 1964. His award-winning illustrations have appeared in Rolling Stone, Sports Illustrated, Time, Esquire, and the New York Times. He has created 20 covers for The New Yorker and recently illustrated a third book for children. His illustrations for the recording artist Aimee Mann helped win a Grammy for Best Recording Package. Smith designed mosaic murals for a New York City Subway Station and murals and relief sculpture panels for a Hospital in San Francisco. For the past 9 years Owen has been the Chair of the Illustration Program at California College of the Arts.

On Owen's web-site there is a quote from author/playwright Raymond Chandler that gives us a look into Owen's subject matter
"In everything that can be called art there is a quality of redemption. It may be pure tragedy, if it is high tragedy, and it may be pity and irony, and it may be the raucous laughter of the strong man. But down these mean streets a man must go who is not himself mean, who is neither tarnished nor afraid."

​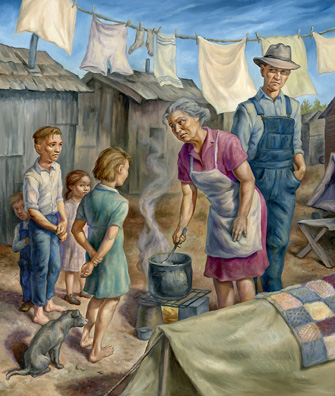 Owen Smith, Hunger 24"x 22" oil on board

PECA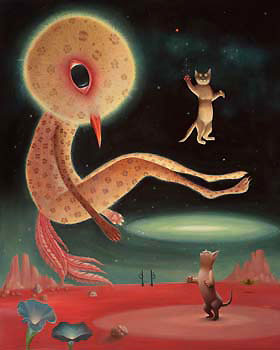 PECA 'Moonlight Dreams' is Peca's latest, majestic body of work, featuring several giant to small dyptychs, all having a companion piece. Peca says; Art is the best way to connect myself with the universe. It is my moment of introspection, the way of not losing my head; it is meditation, decoding of cosmic signals, maybe. Materializing the unconscious in my path to consciousness. A response to the aggressiveness and falsity of the material world that is presented as the only alternative; the way of being outside the rules. All of us have the power of transformation, we are creators of worlds. I love to paint animals awake, connected with the universal movement; ussually they are beings that ignore our rules and have the mission to challenge the viewer to see beyond the limits of our understanding; they push us into the unknown, trying to break the foundations of our belief system puting our world upside down'

Artist Statement: The immense floating rock moves your inner tide and makes your dreams strange. Its power and brilliance shake the spirit, cosmic energy loses its established form through generations, turns into chaos and flies like a flock of migratory birds in search of empathy, wolves howl, cats scratch elemental particles in the confines of the universe, the feathers-in enveloping game-softly spread their garden scent and find their synchronicity. Everything becomes dual.
BIO: Artist born in Argentina and based in Barcelona, she is painter, illustrator and stop motion movie maker. She was graduated with a Licensed degree in Visual Arts at the University of Fine Arts of La Plata, Buenos Aires, Argentina.'Her creations are a door to a dreamy, and mystery universe, that you have visited before, perhaps in dreams, or astral travel. With several solo and group behind her, having worked for major publications such as Rolling Stone and with the confidence that comes from believing that bring the art of another life, Peca invites us to a magical world where fantasy repose on fields strawberries. Welcome to the spiritual version of Wonderland.' —lamono magazine
Bergamot Arts Complex, 2525 Michigan Ave T5, Santa Monica, CA 90404 - 310-829-2156
All images and artwork Copyright 2015 CoproGallery
Please e-mail any problems with this site to CoproGallery@live.com