Joe Vaux - 'Fever Dreams' / Alex Garcia- 'Amor Muerte' / Sazha Gazova 'Follow The White Rabbit'


Contact: Gary Pressman, Gallery Director
Ph: 310/829-2156
E-Mail: CoproGallery@Live.com
Web: www.CoproGallery.com

WHAT: Joe Vaux - 'Fever Dreams' / Alex Garcia- 'Amor Muerte' / Sazha Gazova 'Follow The White Rabbit'
Web Preview:
Joe Vaux - 'Fever Dreams'
Alex Garcia- 'Amor Muerte'
Sazha GazovaFollow The White Rabbit

WHEN: Exhibit runs; June 26 – July 17, 2021
Artist Reception: June 26, 3:00-8:00 PM Open To The Public - Artists will be present!


WHERE: Copro Gallery, 2525 Michigan Ave. T5, Santa Monica, CA 90404 / Call or e-mail Gallery for info. 310-829-2156 CoproGallery@Live.com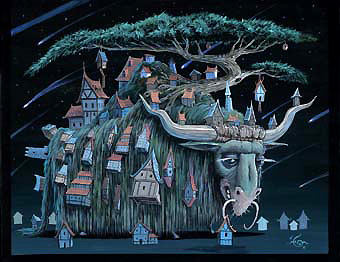 Joe Vaux 'Yak Shacks' 11"x 14" acrylic on wood panel
Copro Gallery presents three solo exhibitions Joe Vaux - 'Fever Dreams' - Alex Garcia- 'Amor Muerte' - Sazha Gazova 'Follow The White Rabbit'

Joe Vaux Fever Dreams Manifesto; "What a year for darkness! So many souls lost, so much hate and ignorance! These days will make a very interesting chapter in future history books. As we emerge from our cocoons after a year unlike any in modern times, let's hope sanity prevails. The work for this show was all produced during lock down. These paintings are my escape, my joy, my fear, my stress. There is light within the darkness. Creativity was my torch."

Joe Vaux bio: Joe Vaux was born in Islip, New York in 1972 and currently lives and works in Los Angeles. He graduated from Syracuse University in 1994 with BFA Illustration, after which time he started his career in the animation industry. Joe's fine art has been exhibited internationally and he partaken in numerous group and solo shows, as well as a couple of museum exhibits. Joe Vaux's name may be familiar to many, through his work as a director on the the hugely popular animated TV series 'Family Guy' . However, Vaux also engages his boundless imagination and creative skills as a prodigious fine artist. The paintings Joe concocts lead viewers into a bizarre, yet strangely familiar world, populated with ghoulish creatures who collectively engender twisted visions sprinkled with generous spoonfuls of humour. It is by way of Joe's fun loving personality that this all important ingredient of humour injects a remarkably playful and distinctly human flavour to his narratives, often shining a light, albeit a metaphorically caliginous and creepy one, on our dreams, fears and all the other good stuff which inextricably goes into making us human.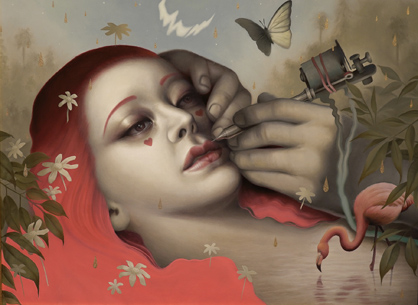 Alex Garcia, Made for Love, 12" x 16" oil on panel


Alex Garcia new body of work 'Amor Muerte' is all about love and death. Each piece has its own message. "My earlier work leaned more into darker imagery but for the past 4/5 years I've been trying to produce more images that invoke something positive. If someone smiles when they see one of my paintings then I know it was a success.

AG bio: Alex has been an artist ever since his first painting in kindergarten. "I remember painting the bowling alley/arcade that my father would take me to as a child. Ever since that day, something clicked inside of me, and I loved to make art. I currently tattoo full time in Los Angeles and paint full time so I keep busy! I like to paint with oil on masonite but recently have been exploring new meduims and surfaces. I also create graphics for clothes".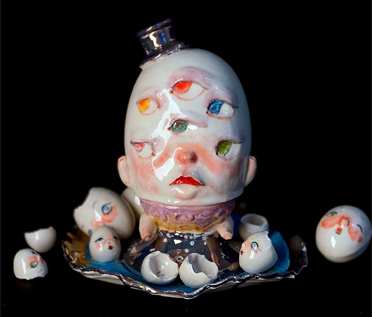 Sazha Gazova , 'Sad Humpty Dumpty'

Sazha Gazova 'Follow The White Rabbit' Mini solo show for the first time at Copro Gallery. Sazha is an artist from Ukraine who paints and sculpts creatures from her childhood.

#
Bergamot Arts Complex, 2525 Michigan Ave T5, Santa Monica, CA 90404 - 310-829-2156
All images and artwork Copyright 2015 CoproGallery
Please e-mail any problems with this site to CoproGallery@live.com