NATURAL HABITAT - SHAWN BARBER, CARL DOBSKY, CORO


WHERE: Copro Gallery - Bergamot Station Arts Complex
2525 Michigan Ave , Unit T5, Santa Monica , CA 90404

Ph: 310/829-2156
E-Mail: CoproGallery@Live.com
Web: www.CoproGallery.com
WHAT: Natural Habitat / Shawn Barber / Carl Dobsky, CORO
Shawn Barber Web-Preview
Carl Dobsky Web-Preview
Coro Web-Preview

WHEN: Exhibit runs; March 5 – March 26, 2022
Opening Reception: Saturday March 5 , 2022 - 5:00 – 9:00 p.m.

Contact: Gary Pressman, Gallery Director - Copro Gallery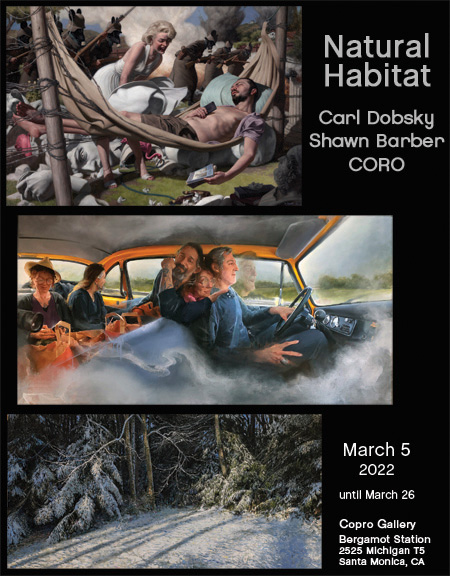 Natural Habitat
Natural Habitat - 3 artist exhibition,
examines the concept of Natural Habitat through the lens of 3 different artists. Although all of the painters, Carl Dobsky, Shawn Barber, and Coro Kaufman, are consummate masters of figurative painting, they each tackle a different element that constitutes our relation to what makes a natural habitat for our species. The elements specifically examined in connection to the theme are the natural world, social community, and the narratives that we tell which help us navigate through our given culture. Kaufman explores the natural world that he encounters around him and instead of straightforward bucolic scenes, he show us the unexpected; whether this is a scene of dandelions illuminated by the back porch light that gives them a haunting quality or a single tree appearing out of the fog which has been elevated to a kind of mythical symbol. As social animals, our communities make up an extremely important part of the world that we inhabit. Shawn Barber addresses this through the engagement and exploration of the tattoo community. Through Barber's work we encounter the traditions, tools, and personalities that shape this social group and that are passed down with the stories concocted to them so that it can continue and thrive in times to come. Dobsky's contribution is a series of narrative works that engage with both art historical themes as well as commentaries on current societal tensions. Although these narratives often have an uneasy or dark undertone that is typical of the modern psyche, they emphasize that the human capacity for inventing and story-telling are one of the key components for how we relate to the world around us.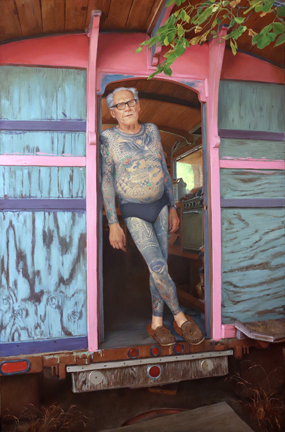 Shawn Barber , 'Portrait of the Artist, Lyle Tuttle,
On the Gypsy Chuck Wagon, Ukiah, CA, 72"x 48" oil on linen

SHAWN BARBER
For the Natural Habitat exhibition, Shawn has created a new body of work combining large scale paintings that he's been working on since 2019, including several new pieces created in 2021/2022. They are all from his 'Tattooed Portraits Series' highlighting artists Lyle Tuttle, Don Ed Hardy, Bill Salmon, Luke Atkinson, Filip and Titine Leu, and other notable tattooists from around the world. This series of works reflects the shared intimate experience of time spent in the artists' personal work spaces and natural environments.
"I've been documenting tattoo culture and contemporary tattoo history with a series of paintings, The Tattooed Portraits Series. I started painting tattooed artists in 2005, obsessively documenting the men and women that have pioneered the genre of contemporary tattoo art and the history of modern tattooing. My dedication and enthusiasm for the art form, gradually opened doors for me to learn the craft from some of the greatest tattoo artists in the world. My life is consumed with tattooing, the art of tattoo and documentation of tattooing through painting works on this subject. Presently, over four hundred and forty works have been made in this series.
BIO
Shawn earned his B.F.A from Ringling College of Art in 1999 and A.A.S. from Cazenovia College in 1997. His paintings are held in private collections throughout the United States, Canada, Asia, Europe and Australia. Among his extensive achievements, he has taught drawing, painting and the business of art for 20 years at various art schools throughout the country. After years of documenting the art of tattoo, it was a logical progression to pick up the tattoo machine and add tattooist to his resume. In 2009, Shawn and his girlfriend Kim Saigh, opened Memoir Tattoo in Los Angeles, CA. His most recent fine art book, 'Memoir : The Tattooed Portraits Series' a 256 page hardcover visual tome, published by Last Gasp Books, was released in July 2012.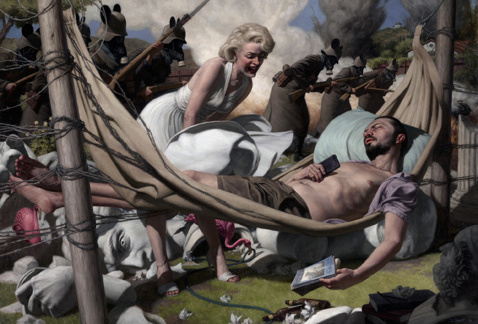 Carl Dobsky, War of the Worlds (Scholars Dream) Oil on linen

CARL DOBSKY
Carl Dobsky's contribution to 'Natural Habitat' is a collection of narrative works that engage in various humanist themes cast in contemporary settings, often with a dark or uneasy undertone. Most of the exhibit is large scale masterpieces that he's painted over the last several years, some just recently finished. Alongside these large scale works are studies and sketches that were used in their development. In addition are also included small scale works that are equal to the narrative complexity and detail of the larger canvases.


ARTIST STATEMENT - While themes such as Drunken Lovers or War of the Worlds (The Scholar's Dream) make direct allusions to past artists, such as Jan Steen and Albrecht Dürer, they are more than simple reboots and contain original twists and plot devices that are clearly meant for a contemporary audience. But far from simply riding on the coattails of time tested themes most of the narratives in this body of work, such as Gravediggers or Taken By Storm (A Return to the State of Nature), are original both in their conception and thematic elements which are clearly meant as commentaries on life in our particular times.
Artist and writer, Michael Pearce, had described the work poignantly in his article titled Prophet of the West, saying, "the Los Angeles artist, paints dark scenes of a society destined for doom, drafting paintings of reckless Angelenos partying poolside like glitterati Neros, while a wildfire inferno devours the Hollywood hills behind them; of blind and self-centered dinner party guests feasting while foul hyenas scavenge at their feet; of savage and roaring white rioters looting a grocery store, and of a ship of fools, idiotically steering themselves to their own destruction at the falls." Mutual Art

BIO - Carl Dobsky is a figurative painter currently living and working in the Los Angeles area. His work is grounded in traditional forms of representation while still incorporating contemporary elements. Dobsky earned a B.F.A from Ringling College of Art and Design and an M.F.A from the New York Academy of Art. Beyond education at these institutions, he also studied classical approaches to drawing and painting at the Water Street Atelier in Brooklyn, NY. He has exhibited throughout the U.S. and in Europe. His work can be found in both private and public collections including the New Britain Museum of Art and the Seven Bridges Foundation.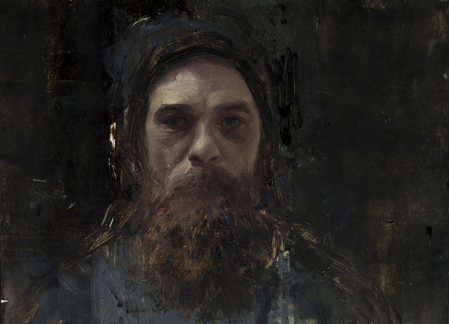 CORO, self portrait with beard Oil on birch panel

CORO
The works for 'Natural Habitat' are all scenes from the 6 acre spread in rural Washington state Coro calls home. Prior to relocating his family from San Francisco 7 years ago, Coro had never painted nature themes, but quickly found himself fascinated with the colors, textures and light in the lush forests around his new home. These paintings are a retrospective of his foray into this subject matter. " I like to paint areas around our property because there's a personal connection to these places . As a trained portrait artist, I try to approach these pieces similarly to how I would a human sitter, aiming to capture both the likeness and spirit of my subject."

BIO - Justin Coro Kaufman is a west coast based illustrator, Art Director, and fine artist . He is the Owner and Art Director of Massive Black, an art collective specializing in concept art and pre-visualization for games, film and emerging technologies. Recent clients include Google, Amazon, DARPA, and Intel.
#


Bergamot Arts Complex, 2525 Michigan Ave T5, Santa Monica, CA 90404 - 310-829-2156
All images and artwork Copyright 2015 CoproGallery
Please e-mail any problems with this site to CoproGallery@live.com