ODD NERDRUM 'PUPILS OF APELLES'
WHERE: Copro Gallery - Bergamot Station Arts Complex

2525 Michigan Ave , Unit T5, Santa Monica , CA 90404

Ph: 310/829-2156
E-Mail: CoproGallery@Live.com
Web: www.CoproGallery.com
WHAT: ODD NERDRUM 'PUPILS OF APELLES 'w/ Luke Hillestad, David Molesky & Caleb Knodell

WEB PREVIEW OF ODD NERDRUM WORKS

WHEN: Exhibit runs; November 15– January 3, 2015
Opening Reception: Saturday November 15, 2014 - 8:00 – 11:30 p.m.

Contact: Gary Pressman, Gallery Director Copro Gallery

ODD NERDRUM 'PUPILS OF APELLES'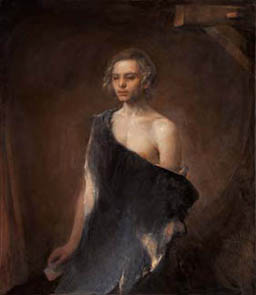 Odd Nerdrum - The Go-between 54" x 47" oil on canvas

Copro Gallery presents an exhibition by master artist Odd Nerdrum with a collection of his latest works. Also on exhibit In gallery 2 several of Odd Nerdrum's students have assembled a collection of their current paintings inspired by time at the Nerdrum school in Norway and by legendary old master artist Apelles.

Odd Nerdrum was born in Helsingborg, Sweden during the last year of World War II, 1944. His parents,Resistance fighters, had been sent to Sweden from German-occupied Norway to direct guerrilla activities from outside the country. Themes and style in Nerdrum's work reference anecdote and narrative. Primary influences by the painters Rembrandt and Caravaggio help place his work in direct conflict with the abstraction and conceptual art considered acceptable in much of his native Norway however he remains the most famous artist in his home country.
Nerdrum creates six to eight paintings a year that include still life paintings of small, everyday objects like bricks, portraits and self-portraits, and large paintings allegorical and apocalyptic in nature. Subjects of Nerdrum's paintings are often dressed as if from another time and place. (from Wikipedia)
For 2000 years Apelles of Cos was known as the greatest of painters. Praised for his grace and sensuality - he was not only Alexander the Great's exclusive portrait painter, but was the single greatest influence on what we know as the Renaissance and Baroque. Tragically, the iconoclasts of the middle ages destroyed the last of his works.

Albrecht Durer was known as the "German Apelles". Botticelli bragged he was Apelles reincarnated and repeated his compositions. Rembrandt, late in life, adopted the"Apelles palette" - red, yellow, black, and white - to achieve his graceful harmony. And Titian unabashedly recreated Apelles' "Armor-bearer" which now hangs at the Getty Museum in Los Angeles. The Old Masters were proud to be "behind the times", unoriginal, and earnest pupils of Apelles.

Hillestad, Knodell, and Molesky have each apprenticed with the living master Odd Nerdrum - a man who, for fifty years, has boldly painted pathos . Together these four painters have sought out the lessons of Apelles - the tradition of the Old Masters. A tradition not isolated to the 16th century, but one that for more than 2400 years continues to return.

Copro Gallery is proud to present Odd Nerdrum, Luke Hillestad, Caleb Knodell, and David Molesky - the living Pupils of Apelles.

Wikipedia on Odd Nerdrum
Odd Nerdrum bio
Luke Hillestad bio
David Molesky bio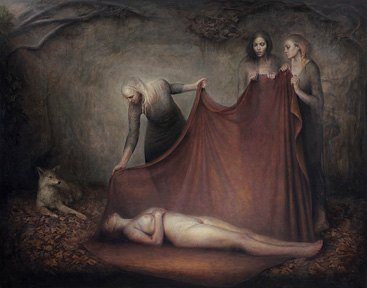 Luke Hillestad - 'Severed Wing' 78" x 99" oil on linen
LUKE HILLESTAD was born in 1982 in Minneapolis. In 2006 he left his work as a land surveyor and began painting full time, with Rembrandt and Odd Nerdrum books open next to an empty canvas. He immersed himself in apprenticeship, later studying with Nerdrum, and traveled to museums and studios around the world to learn from the paintings of the old Masters whose tradition he seeks to follow.
Using the palette of the Ancient Greek painter Apelles Luke paints friends and a collection of taxidermied animals, illustrating the primal beauty of humans at their most noble with narratives that center on themes of death, kinship, ritual, and wilderness.
Luke Hillestad bio
Luke Hillestad web-preview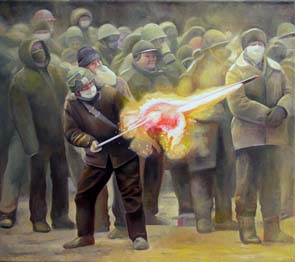 David Molesky - Surface to Air 18" x 20" oil on linen

DAVID MOLESKY was born in Washington D.C. He moved to the west coast in 1995 to study fine art and molecular biology at UC Berkeley.The science/art relationship combined leads to very interesting subject matter in his paintings. Mythological symbolism, animals, the sea, and ancient cultures pervade his work and are reflective of his travels to exotic places.Traces of Rembrandt, as well as the Venetian Renaissance style can be seen in his classical approach to a canvas with the use of light and brushwork. Living in Norway for several years as an apprentice to Odd Nerdrum, Molesky has managed to absorb his encounter with the Norwegian modern master and generate an artistic style that is quintessentially his own, This exhibition includes a continuation of a series of figures finding tranquility in nature juxtaposed with new paintings of political upheaval. In recent months media coverage of the Kiev protests inspired David to combine his interests in painting figures and fire.

David Molesky web-preview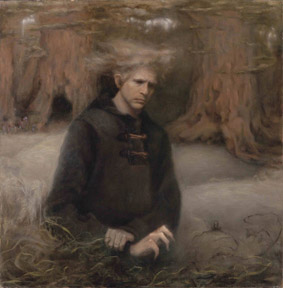 Caleb Knodell - Self Portrait as Possessed 49" x 50" Oil on linen

CALEB KNODELL is a figurative painter born in 1987 in Missouri. He has studied the 'Sight Size' technique in Florence, Italy at Charles Cecil Studios and has a BFA in Drawing from Missouri State University. After undergrad at Missouri State he left to apprentice with Odd Nerdrum in what became an on and off again 3 year apprenticeship. He is currently studying in the graduate program at Indiana University.

Caleb Knodell web-preview