JEFF GILLETTE - MATTHEW BONE - RACHEL BESS - BILLY NORRBY

Where: CoproGallery
Bergamot Station
2525 Michigan Ave T5, Santa Monica , CA 90404
Ph: 310/829-2156
E-Mail: www.copronason.com

Contact: Gary Pressman - Gallery Director CoproGallery
E-Mail for sales inquiries: CoproGallery@Live.com
web-site preview: www.CoproGallery.com
What: Matthew Bone, Imitation of Life - Jeff Gillette, Dismayland
Rachel Bess, Between Dusk and Dawn - Billy Norrby, Stray

Opening Reception, Saturday,April 10 - 8:00 - 11:30 p.m.

Dates: Exhibit runs; April 10 - May 1, 2010
Jeff Gillette : Dismayland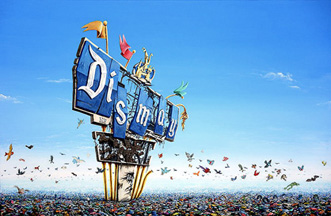 Dismay 1
acrylic and mixed media on canvas 24" x 30"

CoproGallery presents Jeff Gillette's "Dismayland". Inspired by a vacation to India, Jeff depicts the litter-strewn mud banks of the horribly polluted shoreline of Mumbai India in a whole new light. "In a continuing series of what I call "slumscape" paintings, reflective of experiences I've had touring slums in India I have a particular recollection of an early morning stroll near the bay in Mumbai. After rounding a corner of a row of shanties, I saw about a dozen slum-dwellers crouched, pissing on the shoreline. This vision had a strange effect on me, but instead of depicting it realistically, I've altered the "squatters" to be hovering over priceless iconic paintings that have become part of the debris of the rooftops.

Gillette's other series of works has to do with creating foreground shanties from collaged elements of exclusively Disney children's books. " I try to capture the specific direction of light and shadow and linear perspective of the original bits of imagery then "build" the shacks onto painted backgrounds and foregrounds. Afterwards, I add highlights and shadows to integrate the collage into the structures. The juxtaposition from the "Happiest Place on Earth" to one of the ugliest, most wretchedly filthy places, is my intention."


Matthew Bone : Imitation of Life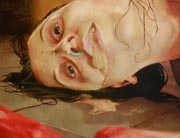 Matthew Bone was born into and reared by a clan of Tuscan Raiders in Los Angeles . Raised on a diet of comic books, horror movies, and pornography, Matthew injects a distinctive voice into his painting. Pride, lust, vengeance, the lurid underbelly of humanity, and the allegories that illustrate the consequences of it's revelation has long been the focus of Matthew Bone's work. By utilizing the conventions of pop culture, and it's willingness to embrace the artifice as the sincere, Matthew is able to create a reinvisioned modern mythology.



Rachel Bess : Between Dusk and Dawn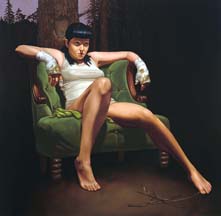 The Battle
oil on panel 12 " x 12 "

ARTIST STATEMENT; My time is divided between creating paintings and having my hands buried in the ground of my tiny urban farm, facilitating the production of food from its plants and animals. These two careers allow me ample amounts of solace, and lately I have utilized that time to consider the way people live with the flora and fauna that surround them. This body of work is about the continuum of relationships between humans and nature - from a harmonic and mutually beneficial relationship to an adversarial one where we try to shape, dominate and control our natural surroundings. The paintings aren't meant to be literal depictions of this balance (or imbalance) but rather to symbolize and evoke the mood of that amity, discord, control and beauty.



Billy Norrby : Stray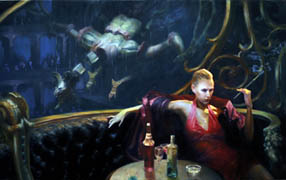 Opera
oil on canvas 20 " x 30 "
Billy Norrby's art is inspired by and pays homage to old master painting, portraiture and the golden age of illustration. Fragments of historical scenes and settings are encountered though dream-like states, nightmares and sub-conscious wanderings.

The inhabitants of "Stray" find themselves at a threshold, increasingly isolated and torn from their former human states. Driven on by violent forces, they are ready to depart into the unknown. Fear, melancholy and loss mingle with excitement and the promise of a limitless beyond.

Billy Norrby is a New York based artist. After spending several years in his native Sweden working for the videogame industry and various magazines, he moved to Brooklyn, New York to pursue a painting career. His artwork has been featured in Spectrum and at the Society of Illustrators.

#########