Miss Van "Wild At Heart", Tin, Alex Garcia

Where:
Copro Gallery - Bergamot Station


2525 Michigan Ave , Unit T5, Santa Monica , CA 90404
Ph: 310/829-2156

E-Mail: CoproGallery@live.com
Web-site www.CoproGallery.com

What: Miss Van "Wild At Heart", Tin, Alex Garcia

Hi-Fructose coverage

Opening Reception, Saturday, August 11, 8:00 – 11:30 p.m.
Free T-Shirt giveaway from "Citizens of Humanity" & special ltd. prints

Dates: Exhibit runs; August 11 –September 1 , 2012

Contact: Copro Gallery




Copro Gallery presents Miss Van's "Wild At Heart ". This will be her first solo exhibition with Copro and one of Miss Van's largest exhibitions ever. For this body of work Miss Van explores "Wild At Heart" through paintings and drawings on paper and wood keeping the movement, lightness of the lines, the spontaneity blurry, as in a dream or vision ..... floating.

"I have been mixing girls and animals for a while now, starting with simple masks and slowly melting the two natures together. For "Wild at Heart " the seduction acts on a different level and I choose to focus on details, hiding a lot and isolating selected sacred parts of the body (eyes, hair, mouth ... ). The forms and elements floating adds complexity, ambiguity and mystery. The masks allow me to show more feelings, other sides of a same character, hiding the face, partly or totally and embracing the animal strength, personality and attitude. I am illustrating the chemistry between the feminine delicacy and the bestial instinct, natural and raw and we all have this duality inside."

Miss Van will be attending the artist reception Satuday, August 11, traveling from her current residence in Barcelona Spain especially for the show.There will be a T-Shirt Giveaway from Citizens of Humanity and some special edition prints available only at the opening. More info. to follow closer to the exhibit.

Miss Van started wall-painting in the streets at the age of 18, initiating the feminine movement in street art. Her sultry female characters began to pop up on city center walls in the mid 1990s and they instantly possessed a timeless quality, as if women had always painted such graffiti in the streets. The more she moved into gallery work and could work with the nuances of more fragile media than the streets would allow, her characters grew more sensitive, subtle, and delicately rendered. She is now exhibiting all around the world from NY to LA, Europe (France, Switzerland, Germ nay, Spain, Italy, UK, etc.), and Asia. She has shown in art centers and museums as the city gallery of Schwaz in Austria (curator : Karin Perrnegger), the Baltic Art Center in the UK or the Von der Heydt Museum, Kunsthalle in Wuppertal, Germany. She has shown with some of the greatest artists such as Os Gemeos, Mike Giant, Banksy, Faile, Shepard Fairey, Barry Mcgee, Ryan McGinness, Takashi Murakami, Ed Templeton, and many others.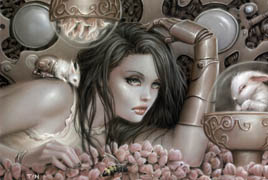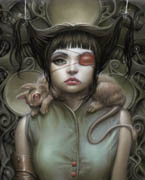 Tin
Tin's earliest influences in childhood were comic books and fantasy cartoons like "Star blazers". Says Tin "I sketched from time to time and did ok in high school art class then I decided to became a fisherman. The dangerous kind like out of the movie "Perfect Storm". I almost died three times and should have lost my drawing hand at least a dozen times. After my last close call with death I decided to become an artist. I didn't look at art as a career though until I was 22".

Tin began doing commercial work and soon burnt out on it. "I was just going through the motions and creating things that didn't challenge me anymore. One day I was finishing a pin-up girl and I remember saying out loud to myself "If I only had a heart" which reminded me of the Tin Man in "Wizard of Oz". That moment I decided to do more interesting works and call myself Tin.

His main influences are Steam punk, a sub genre of fantasy and speculative fiction that came into prominence in the 1980s. The term denotes works set in an era or world where steam power is still widely used—usually the 19th century, and often set in Victorian era England—but with prominent elements of either science fiction or fantasy, such as fictional technological inventions like those found in the works of H. G. Wells and Jules Verne.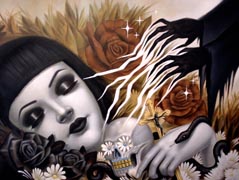 Alex Garcia

Alex Garcia is a California native and has lived in the valley all his life creating art ever since he was young. "I still remember the first painting I ever did in kindergarten so I guess art is in my blood. I've been seriously painting for about 8 years and also tattooing about the same amount of time, always bouncing between both. My style has been influenced by everything from graffiti to the Lowbrow scene in Los Angeles as well as images I saw as a kid growing up in catholic school... but I draw most of my inspiration from music."