CLIVE BARKER 'WUNDERKAMMER' - 'FROM THE DEPTHS' Group Exhibit

WHERE: Copro Gallery, 2525 Michigan Ave. T5, Santa Monica, CA 90404
Ph: 310/829-2156
E-Mail: CoproGallery@Live.com

WHAT: Cris Velasco presents - CLIVE BARKER 'WUNDERKAMMER' & 'FROM THE DEPTHS' Group Exhibit

WHEN: Exhibit runs; August 6 – August 27, 2016
Opening Reception: Saturday August 6, 2016 - 8:00 – 11:30 p.m.
LIVE MUSIC: Marquis and the Rhythm Howlers
BODY PAINTING: ROZ 'EYE LEVEL MEDIA'

ADMISSION FREE - NO AGE LIMIT - NO DRESS CODE

Contact: Gary Pressman, Gallery Director Copro Gallery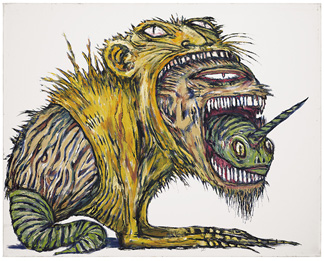 '3 Beasts Devouring Each Other' 48" x 60" oil on canvas

Copro Gallery presents a solo exhibition by visionary, fantasist, poet and painter Clive Barker. Titled 'Wunderkammer' or 'Cabinet of Curiousities' which originated in Renaissance Europe and included works of art and antiquities. The best documented 'Wunderkammer' cabinets were of rulers, aristocrats and early practitioners of science in Europe forming collections that were precursors to museums.

As an artist, Barker frequently turns to the canvas to fuel his imagination. His neo-expressionist paintings provide a window into an unseen world of fantasy, co-existing with our own reality. His characters, while often physically misshapen and outrageous, portray very human emotions. Perhaps it is for this reason that many people find a deeper meaning within Clive's artwork. A wide range of styles, from humorous to shocking, from apparent to complex, his gigantic oil paintings portray characters and concepts that find their way into his huge catalog of movies, books and screenplays. His Artwork has exhibited all over the world in galleries and museums.

Clive Barker is an English writer, film director, and visual artist best known for his work in both fantasy and horror fiction. Barker came to prominence in the mid-1980s with a series of short stories, the Books of Blood , which established him as a leading horror writer. He has since written many novels and other works, and his fiction has been adapted into films, notably the Hellraiser and Candyman series. He was the Executive Producer of the film Gods and Monsters.

For the opening night reception August 6, 8:00 - 11:30 you are encouraged to dress up like a Clive Barker or H.P. Lovecraft character. There will be a live performance from Body Painter Michael Rosner of Eye Level Studios, the music of Marquis & The Rhythm Howlers, and many other surprises!

BIO: Clive Barker has expanded the reaches of human imagination as a novelist, director, screenwriter and dramatist. An inveterate seeker who traverses between myriad styles with ease, Barker has left his indelible artistic mark on a range of projects that reflect his creative grasp of contemporary media -- from familiar literary terrain to the progressive vision of his Seraphim production company. His 1998 "Gods and Monsters," which he executive produced, garnered three Academy Award nominations and an Oscar for Best Adapted Screenplay. The following year, Barker joined the ranks of such illustrious authors as Gabriel Garcia Marquez, Annie Dillard and Aldous Huxley when his collection of literary works was inducted into the Perennial line at HarperCollins, who then published The Essential Clive Barker, a 700-page anthology with an introduction by Armistead Maupin. Barker began his odyssey in the London theatre, scripting original plays for his group The Dog Company, including "The History of the Devil," "Frankenstein in Love" and "Crazyface.". Soon, Barker began publishing his The Books of Blood short fiction collections; but it was his debut novel, The Damnation Game that widened his already growing international audience. Barker shifted gears in 1987 when he directed "Hellraiser," based on his novella The Hellbound Heart, which became a veritable cult classic spawning a slew of sequels, several lines of comic books, and an array of merchandising. In 1990, he adapted and directed "Nightbreed" from his short story Cabal. Two years later, Barker executive produced the housing-project story "Candyman," as well as the 1995 sequel, "Candyman 2: Farewell to the Flesh." Also that year, he directed Scott Bakula and Famke Janssen in the noir-esque detective tale, "Lord of Illusions." Barker's literary works include such best-selling fantasies as Weaveworld, Imajica, and Everville, the children's novel The Thief of Always, Sacrament, Galilee and Coldheart Canyon. The first of his quintet of children's books, Abarat, was published in October 2002 to resounding critical acclaim, followed by Abarat II: Days of Magic, Nights of War and Arabat III: Absolute Midnight; Barker is currently completing the fourth in the series. His neo-expressionist paintings have been showcased in two large format books, Clive Barker, Illustrator, volumes I & II. In 2012 Barker was given a Lifetime Achievement Award from the Horror Writer's Association, for his outstanding contribution to the genre.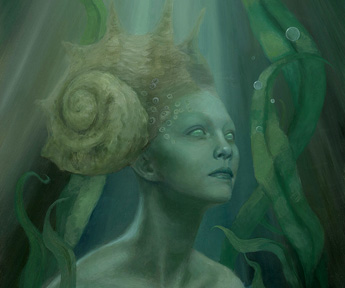 Laurie Lee Brom - detail 'The Sirens Lullaby'
'From The Depths' group exhibit

Artwork inspired by H.P. Lovecaft Curated by art collector, composer Cris Velasco 'From The Depths' features a collection of paintings paying homage to H.P. Lovecraft.

Artists:Chet Zar, Menton3, Brom, Laurie Lee Brom, Matt Levin, Peter Gric, Allen Williams, Billy Norrby, Richard Kirk, Travis Lewis, Erik Gist, Bruce Mitchell, Sean Murray, Brian Smith, Dave Palumbo, Matt Dangler, Christophewr Ulrich, Jim Pavelec, William Hand, Lee Joyner, Nikko Hurtado, David Stoupakis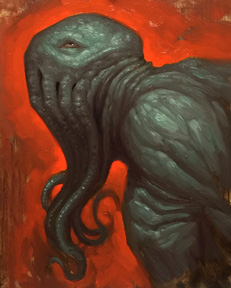 Chet Zar 'Cthulhu'' 20" x 16" oil on canvas