ALLEN WILLIAMS 'COVENANT' - 'PERSONAL GODS' group exhibition

Contact: Gary Pressman, Gallery Director
Ph: 310/829-2156
E-Mail: CoproGallery@Live.com
Web: www.CoproGallery.com

WHAT: ALLEN WILLIAMS 'COVENANT' - 'PERSONAL GODS' group exhibition

WHEN: Exhibit runs; August 11 – September 1, 2018
Opening Reception: Saturday, August 11 , 2018, 8:00 – 11:30 p.m.

WHERE: 2525 Michigan Ave. T5, Santa Monica, CA 90404 / 310-829-2156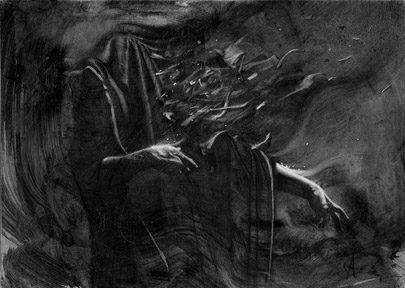 Allen Williams, 'The Saint of Fire' 5" x 7" graphite pencil on board

Copro Gallery presents a solo art exhibition by artist Allen Williams 'Covenant'. This is Allen's first solo exhibit with Copro and his largest to date. The exhibit will feature many small and large paintings and drawings in both b/w and color.

Artists' Statement:
The Blood of the Covenant is thicker than the water of the womb.
It is an Agreement to give voice to these images that I see as metaphors.
Images that are an expression or desire to create Guardians, to stand against the inhumanity I see in our world today.
It doesn't matter that they don't exist physically but only in graphite and paint.
...and now, because you have seen them, they exist in you
The Covenant
We, the Covenant, have come.
the Blood of the seal has been fixed upon the writ, the warrant issued, and the Covenant is entered.
We have come in the service of souls to be executed in the aid of humankind.
You, who have broken your hearts and souls against a callous world that does not tend to broken hearts and souls.
We attend you

… and in your service we are set against the men seated upon high places but who are governed by low ideals.
We attend you.
History: Allen has been a working artist and illustrator for over 28 years. "I began my career working small jobs throughout the industry, progressing into Magic the Gathering cards. I moved onto larger game jobs and books covers and eventually started working in the film and television industry doing concept art. Throughout this time I would also work on my own ideas, concepts and artwork. My art has been exhibited in galleries around the US and overseas. I have also written and illustrated a YA (young adult) book titled The Witches Kitchen published by Little Brown in 2010.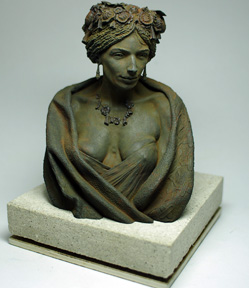 Romain van den Bogaert, 'Astrae' 7" x 5" mixed


Personal Gods is a group exhibition curated by Allen Williams of paintings, drawing and sculpture . Says Allen about the show "Artists have long been associated with the creation of images that represent Deities and holy figures through various mythologies. With that in mind the theme was left open to interpretation. Each artist expresses what Personal Gods means to them whether through aesthetic or emotional narrative or both".
Artists: Vanessa Lemen, Travis Louie, Samuel Araya, Amilcar Fong, Jim Pavelec, Brynn Metheney, Steven Russel Black, Jon Payne, Sam Guay, Dug Stanat, Tim Von Rueden, Natalie Hall, Mark Nelson, Nekro, Romain van den Bogaert, Stephanie Law, Travis Lewis, Adrian Baxter, David Igo, Dave Palumbo, William B Hand, Scott Fischer and more #


Bergamot Arts Complex, 2525 Michigan Ave T5, Santa Monica, CA 90404 - 310-829-2156
All images and artwork Copyright 2015 CoproGallery
Please e-mail any problems with this site to CoproGallery@live.com