ANNIE MONTGOMERIE 'HOME TIME' / JASON LIMON 'PAPER HEART'

Contact: Gary Pressman, Gallery Director
Ph: 310/829-2156
E-Mail: CoproGallery@Live.com
Web: www.CoproGallery.com

WHAT: ANNIE MONTGOMERIE 'HOME TIME' / JASON LIMON 'PAPER HEART'
Jason Limon Web-Preview
Annie Montgomerie Web-Preview

WHEN: Exhibit runs; August 8 – August 28, 2020
Opening Reception: Saturday August 8 , 2020 - 1:00 – 7:00 p.m.
Every Saturday Live Viewing Aug. 15, Aug. 22, Aug. 29 - 1:00-6:00 PM

WHERE: 2525 Michigan Ave. T5, Santa Monica, CA 90404 / 310-829-2156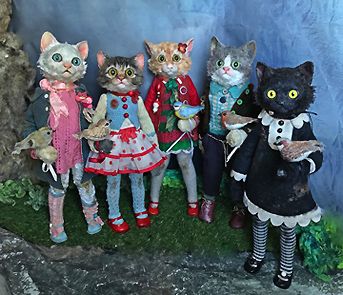 Copro Gallery presents, for her largest solo exhibition yet, Annie Montgomerie. This show will feature 17 of her unique anthropomorphic dolls.

ANNIE MONTGOMERIE: Welcome to my world of storybook beings. Curious creatures from the outside to display inside. Each piece is individual and unique, and because of the recycled nature of my work no two pieces will be quite the same. Most of my fabrics are foraged locally where I live in Dorset UK. I use muslin, 100% wool felt, 'up-cycled' wool garments, velvet, leather, cotton, moleskin and blankets for wall hangings and figures. I then stitch on curious little things I find including vintage buttons, charms and jewellery.#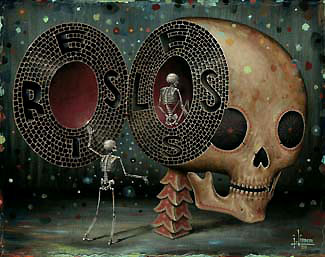 Jason Limon, Restless

Jason Limon solo exhibitrion 'Paper Heart'. Count Every Little Beat and look for Vital Signs. "Most of what I am saying in these paintings is personal and revolves around fear, confusion and the fragility of life – about not having answers and trying to move beyond ominous feelings. As dark as it all may sound, it has shed a positive light on how I create. In most of my new work I have also reintroduced the application of typography as well as the usage of multiple panel paintings; elements that I enjoyed early on in my career but had faded with time. In the past I have explored a range of subjects, from ideas based on nature to otherworldly beings.
BIO Jason Limon is a painter and sculptor that was born in San Antonio, Texas. In early 2007 he moved from a long career in graphic design to begin work as a visual artist exhibiting in galleries across the United States and parts of Europe. He has had solo exhibitions in New York, Albuquerque, and Chicago and has participated in a large variety of group exhibitions. His art has been presented in an array of publications and has received awards and accolades from Communication Arts, American Illustration and The Society of Illustrators of Los Angeles. In 2016, a toy based on one of his paintings won Toy of the Year award from the Designer Toy Awards in New York. He continues to reside in San Antonio, Texas.
Bergamot Arts Complex, 2525 Michigan Ave T5, Santa Monica, CA 90404 - 310-829-2156
All images and artwork Copyright 2015 CoproGallery
Please e-mail any problems with this site to CoproGallery@live.com