"THE OPEN END " Rob Sato, "DIARRHAINBOW" Brendan Danielsson, "PHILOSHOPHY OF FLIES" Matt Rota


Where:
Copro Gallery - Bergamot Station


2525 Michigan Ave , Unit T5, Santa Monica , CA 90404
Ph: 310/829-2156

E-Mail: CoproGallery@live.com
Web-site www.CoproGallery.com

What: "THE OPEN END" Rob Sato, "DIARRHAINBOW" Brendan Danielsson, MATT ROTTA

Rob Sato web-preview
Brendan Danielsson web-preview
Matt Rota web preview


Opening Reception, Saturday, August 13, 8:00 - 11:30 p.m.

Dates: Exhibit runs; August 13 - September 3 , 2011

Contact: Gary Pressman, Gallery - Director Copro Gallery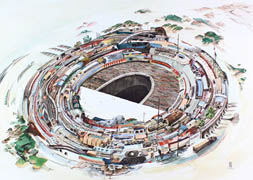 Rob Sato "THE OPEN END "

Rob Sato "The Open End" will be his second solo show at Copro Gallery featuring a full body of work with large and small paintings, drawings as well as prints. It will showcase nearly a years worth of Sato's otherworldly lies and intricate plotting with sumptuous detail. The Open End is the place where no path or plan leads but where you end up anyway. It's the door to the next moment, the next room, the next dimension, the inevitable future and center of the whirlpool.

Los Angeles-based artist Rob Sato produces rich, detailed imagery, mixing scenes of stark horror, quiet beauty, and humor. His heavily yet subtly narrative paintings tend to walk in a tense space between the observed and imagined world, and the massive amount of back story evident in every image rewards long, hard looks. (from ToybotStudio's Blogspot

(from Ashcan Magazine)
Have you ever had a nightmare so real, so horrific, that you swear it actually happened? That's what looking at Rob Sato's artwork is to me—a gateway into a dreamworld filled with morbid creatures acting out their wildest and uninhibited fantasies. Death, decay, and an insatiable deconstruction of the human anatomy are all staples of his work, but even then you're just starting to delve into the curious fascinations filling his head. In person Rob's a modestly humble, down-to-earth kind of guy, but hand him a paintbrush and you're dealing with a certified madman.

Brendan Danielsson "DIARRHAINBOW"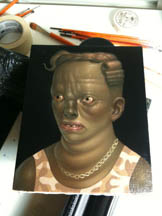 For Brendan Danielsson's "Diarrhainbow" he deals with man vs. beast, beauty vs. ugly, sensuality vs. violence, etc etc.. This show continues the series that could be considered character studies or fake portraits. Ugly people with, hopefully, some beauty mixed in. Some aspects could be considered grotesque, but I just like to think of them as details… a little something extra to give them interest. I also like titties.
Says Brendan "my work isn't conceptual, personal, spiritual or political and there's no secret underlying message or point I'm trying to get across. I simply create art that I would like to see if I were not the one making it and the process, as I develop a piece, is little more than a stream of consciousness. I do try to incorporate a few elements of conflict to create a narrative but believe it or not, I don't enjoy the actual process of creating art and It's a constant struggle in which I'm my harshest critic. The end result is what keeps me going and when I create something that I actually like, I'm a happy man.
Matt Rota "The Philosophy of Flies"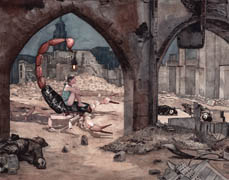 Matt Rota's Philosophy of Flies explores themes of catastrophe. Scenes of War, Famine, Floods and Earthquakes are populated with a civilization of the affected and ambiValent, Victims and Victors. It's an absurd nightmare; one of both comedy and tragedy, where none involved can escape.
Matt Rota is an award winning illustrator based in New York and an instructor at institutions that include the School of Visual Art, and The Maryland Institute College of Art. His clients include T he New York Times, McSweeney's, Nylon, The Utne Reader, LA Weekly, Russian Esquire, Philadelphia Weekly, The Columbia Journalism Review, Science News, Ninja Tune Records, Time Out Chicago, City magazine, Isthmus, Wax poetics , and other publications. His drawings and prints have been shown in galleries in New York, Hollywood, Baltimore, Philadelphia, Maine, Toronto, and San Salvador. He has received recognition and awards from The Society of Illustrators, American Illustration, Communication Arts, 3x3 Magazine, Creative Quarterly, and Lurzer's Int'l Archive. His comics have been anthologized on Top Shelf 2.0, and in Gutter, Rabid Rabbit, and Supertalk.