'ORACLE OF EXTINCTION' Alexandra Manukyan solo exhibition
SUMMER SOIRÉE group show w/ Scott Scheidly & more

WHERE: Copro Gallery / 2525 Michigan Ave. T5 / Santa Monica, CA 90404
310-829-2156

E-Mail: CoproGallery@Live.com
Web: www.CoproGallery.com
WHAT: 'ORACLE OF EXTINCTION' Alexandra Manukyan solo exhibition
SUMMER SOIRÉE group show w/ Scott Scheidly & more

SUMMER SOIRÉE WEB-PREVIEW
ALEXANDRA MANUKYAN WEB-PREVIEW

WHEN: Saturday, August 15 with an opening reception 8:00PM- 11:30PM until September 5

Contact: Gary Pressman, Gallery Director Copro Gallery copronason@msn.com 310-829-2156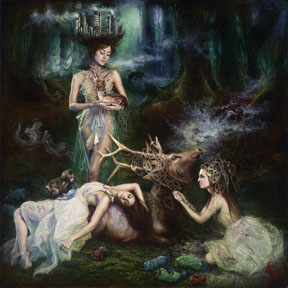 Alexandra Manukyan, 'Echoes of Hope' 40" x 40" oil on canvas
'ORACLE OF EXTINCTION' Alexandra Manukyan

Copro Gallery presents a solo exhibition by artist Alexandra Manukyan. "Oracle of Extinction" is Alexandras' first solo show with Copro and a new body of work with paintings and drawings. Alexandra will be in attendance at the opening reception.
'Oracle of Extinction' explores the damaging factors of human behavior on our environment and the grim future of our planet.
From oil spills to overflowing landfills, man's unsustainable quest to live a better life with little regard for the environment has caused staggering disasters. Pollution is labeled the #1 threat to the planet, affecting all of the 7.3 billion people on earth. More than 1 million seabirds and 100 million mammals are killed by pollution every year and that's just the begining of the end.
Change is imperative ….
Alexandras paintings, while being very real and classic, are also very modern. She focuses on combining traditional oil painting techniques with surrealist symbolism. When you approach her paintings to examine closely, you realize that the realism of the oil painting breaks down, revealing expressive, variegating, energetic, emotional brushstrokes. The enigmatic backgrounds that she uses in her paintings add certain mystery and complement to the powerful characters and subject matter. Her goal is to encourage the viewer to spend time looking at the work up close in order to find hidden clues, textures and expressive elements. She wants her work to not only to be seen by the viewer, but also be felt.

Biography: I was born and raised in Armenia. Since a very young age my parents engaged me in various after school programs including art school. After art school I graduated from Fine Art College, and later from State Pedagogical University where I majored in teaching Fine Arts. When my family and I immigrated to the US in 1990, I decided to study fashion design. After graduating from fashion school, for many years I worked as a fashion designer. At some point in my career I had to learn graphic design as well, and stylized fabrics and designed screen prints. I had to take courses at UCLA, and some additional private classes in graphic design to further improve my skills. Later when I became really proficient in graphic design and various graphic applications I started freelancing for different Entertainment Agencies and designed movie posters.
For all these years, regardless of all the changes in my professional life, I have continued painting and drawing, and stayed true to art. Since 2009 I quit working for fashion and graphic industries and concentrated on my fine art carreer only. I have participated in many group and solo exhibitions and have been represented by various art galleries. I also currently teach fine art classes in my studio.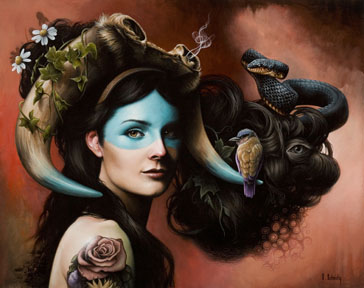 Scott Scheidly , 'Shamanka' 20" x 16 " oil on canvas
SUMMER SOIRÉE group show w/ Scott Scheidly & more

In gallery two a group exhibit featuring Scott Scheidly with Viktor Safonkin, Nick Sheehy, Leslie Ditto, Brian Smith, Clare Toms & Erik Alos.

The 'Summer Soirée' celebrates the sultry, 'Dog Days' of summer where the dog star 'Sirius' appears to rise just before the sun. To the Greeks and Romans they referred to these days as the hottest time of the year and a period that could bring war and disaster.
From Homer,The Iliad -
Sirius rises late in the dark, liquid sky
On summer nights, star of stars,
the star that men call by name the Dog of Orion
Brightest of all is he,
yet withal is he a sign of evil,
and bringeth much fever upon wretched mortals

https://beautifulbizarre.net/2015/08/13/scott-scheidlys-natura-copro-gallery/