NAOTO HATTORI "SUPER BIONICS " - ROB SATO "MUSCLE MEMORIES" - PETER GRIC - VINCENT CACCIOTTI "HUMAN CONDITION "



Where: Copro Gallery
Bergamot Station Arts Complex
2525 Michigan Ave , Unit T5, Santa Monica , CA 90404
Ph: 310/829-2156

E-Mail: CoproGallery@Live.com
Web-Site: www.CoproGallery.com

What: NAOTO HATTORI "SUPER BIONICS " - ROB SATO "MUSCLE MEMORIES" - PETER GRIC - VINCENT CACCIOTTI "Human Condition"

Opening Reception, Saturday, August 7- 8:00 - 11:30 p.m.

Dates: Exhibit runs; August 7 - August 28, 2010

Contact: Gary Pressman, Gallery - Director Copro Gallery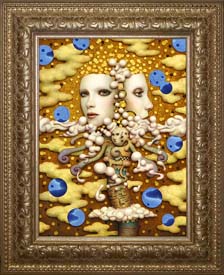 NAOTO HATTORI "SUPER BIONICS "

Naoto Hattori's 4th solo show with CoproGallery introduces us to Super Bionics which is the combination of Biology + Creative thoughts (unit of life form). In ancient Greek Mythology there are so many gods and creatures. Did they actually see the creatures and gods? No, they imagined and created what they look like much like people's imagination of devils, dragons, phoenix's, fairies, aliens etc..
For this show Naoto has painted deities, creatures of his thoughts and theories, alter egos and spiritual beings. Naoto says "Those creatures have never lived in my imagination before but since I have painted them, they have come alive and I feel like I have created a new world in my mind. That's what motivated me to paint Super Bionics."
Naoto studied graphic design in Tokyo before moving to New York to study at the School of Visual Arts where he received his Bachelor of Fine Arts in illustration in 2000. As well as painting, he works in editorial, CD and book covers, flyers, posters, skateboard and snowboard design.Hattori has received awards from the Society of Illustrators and the New York Directors Club and has been featured in publications such as Juxtapoz, Spectrum, Airbrush Action, and others. He has exhibited at numerous galleries across the United States and the world.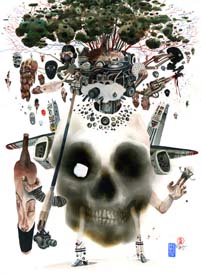 ROB SATO "MUSCLE MEMORIES"

In gallery 2 for the first time at CoproGallery Rob Sato presents "Muscle Memories". This solo show will feature a full body of work with large and small paintings and drawings as well as prints. About the title Rob says "Muscle memory is motor activity made unconscious by instinct and repetition. It's skill made available without thought. It's walking and chewing gum at the same time. Muscle Memories are hyper conscious. They are the living meats of your mind, the ideas given pulsing flesh, the tissue of the past reanimated. They are thoughts made beef."

Los Angeles-based artist Rob Sato produces rich, detailed imagery, mixing scenes of stark horror, quiet beauty, and humor. His heavily yet subtly narrative paintings tend to walk in a tense space between the observed and imagined world, and the massive amount of back story evident in every image rewards long, hard looks. (from ToybotStudio's Blogspot

(from Ashcan Magazine)
Have you ever had a nightmare so real, so horrific, that you swear it actually happened? That's what looking at Rob Sato's artwork is to me—a gateway into a dreamworld filled with morbid creatures acting out their wildest and uninhibited fantasies. Death, decay, and an insatiable deconstruction of the human anatomy are all staples of his work, but even then you're just starting to delve into the curious fascinations filling his head. In person Rob's a modestly humble, down-to-earth kind of guy, but hand him a paintbrush and you're dealing with a certified madman.

Also get the new issue of Hi-Fructose (available at Copro) which has a feature story with plenty of pictures and read the recent interview online@ Erratic Phenomena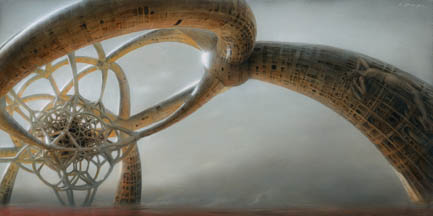 PETER GRIC
..... is a Czech painter living in Austria, who is best known for his mysterious abandoned futuristic architectural landscapes. (from Wikepedia) He practices a very fine technical method of painting as taught by the Vienna School of Fantastic Realism. He studied under professor Arik Brauer at the Academy of Fine Arts Vienna who was one of the original members of the Vienna School of Fantastic Realism so therefore is among the next generation of artists influenced from this movement. Peter has been exhibited alongside many other notable artists such as H. R. Giger and is a member of the Labyrinthe group as well as Ange Exquis .

Says Peter "The canvas (or board) is for me a vehicle, a kind of a space craft, to travel to unknown places in unknown realities. If the origin of my journey is in the world of the explainable and the describable, then I attempt to leave its orbit. However, the gravity of words is pulling me back, that's why I am not taking any questions along on my trip, and consequently I do not expect any answers either. I see my paintings as insights into alternative realities or alternative states of consciousness reflecting on my own perplexity about existence."

CoproGallery will be exhibiting 4 of his paintings in this mini-show and he will be having a solo show with us in 2011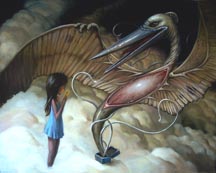 VINCENT CACCIOTTI "Human Condition"

Vincent Cacciotti is inspired by fleeting thoughts of unrest, dreams, and the inexplicable. He is a self taught artist but has taken several art classes along the way to learn the art of the human figure and some of the fundamental basic techniques. He strives to tap into the imagination and open up new doors into the mind.

###