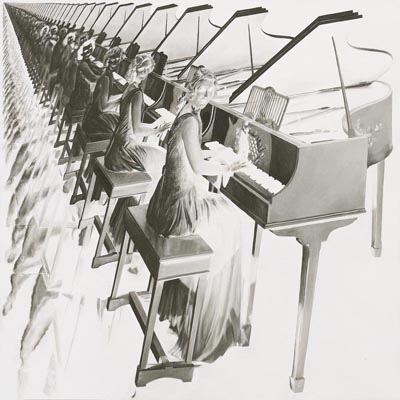 Eric White
The Hereafter Ensemble
2010 Oil on panel
18 x 18 inches


BLABWORLD No. 1 SHOW … scenes from THE HEREAFTER

CoproGallery and Monte Beauchamp proudly present the BLABWORLD No. 1 SHOW ……. scenes from THE HEREAFTER. This exhibition will be the sixth annual BLAB! Show at CoproGallery and feature artwork from BLABWORLD No. 1 and the upcoming BLABWORLD No. 2 which will be released next year. The newly named and formatted first issue of BLABWORLD will premiere at the show and be available for sale and many artists will be present to sign your books.

The 25-person show includes: ERIC WHITE, FEMKE HIEMSTRA, NICOLETTA CECCOLI, RYAN HESHKA, MARTIN WITTFOOTH, KRIS KUKSI, GARY BASEMAN,
JEAN-PIERRE ROY, YOKO D' HOLBACHIE, TRAVIS LAMPE, ANDY KEHOE,
OWEN SMITH, FRED STONEHOUSE, and MANY MORE.
BLABWORLD No. 1 is a 128-page, full-color, hardcover published by Last Gasp featuring a cover by SHAG. Contents include: ARTPOCALYPSE--artists interpret END TIMES, featuring Mark Ryden, Ron English, Kris Kuksi, Joe Sorren, Natalia Fabia, Alex Gross, Gary Baseman, Gary Taxali, Sue Coe, Travis Lampe, Femke Hiemstra and many more; SKULL: a history of the skull motif in pre-code comics, pulps, and paperbacks; a loving analysis of R. Crumb's WEIRDO Covers by Steven Heller; AX THE AXIS: Propaganda Caricature Art of WW2; the debut of CJ Pyle and Kari Laine McCluskey, and much, much more.
BLABWORLD No. 1 -- a deluxe anthology of art, illustration, found graphics, and sequential art -- is the brainchild of BLAB! founder and Chicago-based art director and designer Monte Beauchamp, whose work has appeared in GRAPHIS, PRINT, COMMUNICATION ARTS, AMERICAN ILLUSTRATION, and THE SOCIETY OF ILLUSTRATORS. He has received numerous design awards for Excellence in Print and Television Communications. His books include: STRIKING IMAGES: Vintage Matchbook Cover Art (Chronicle), THE DEVIL IN DESIGN (Fantagraphics), THE LIFE & TIMES OF R. CRUMB (St. Martin's Press), NEW & USED BLAB! (Chronicle), and DEVILISH GREETINGS (Fantagraphics).