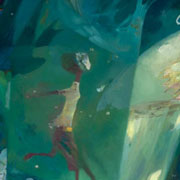 Joe Sorren
L'Importante C'est La Rose
20"x20"; Oil on Panel
Zoombify

THE BLAB SHOW

Copro Gallery and Monte Beauchamp proudly present the the seventh annual BLAB! SHOW, previewing artwork from the upcoming volumes of BLABWORLD No. 2 and 3.

Among the artists included in this exhibit are:
JOE SORREN, SAS CHRISTIAN, SHAG, MARC BURKHARDT, RYAN HESHKA, MARTIN WITTFOOTH, GARY BASEMAN, JEAN-PIERRE ROY, ANA BAGAYAN, MARK GARRO, BROOK SLANE, OWEN SMITH, ROBERT CONNETT, JANA BRIKE, ALEX KUNO, MARK TODD,
LAURIE HOGIN and more!

BLABWORLD (formerly BLAB! magazine) -- a deluxe anthology of art, illustration, found graphics, and sequential art -- is the brainchild of Chicago-based art director and designer Monte Beauchamp, whose work has appeared in GRAPHIS, PRINT, COMMUNICATION ARTS, AMERICAN ILLUSTRATION, and THE SOCIETY OF ILLUSTRATORS. He has received numerous design awards for Excellence in Print and Television Communications. His books include: STRIKING IMAGES: Vintage Matchbook Cover Art (Chronicle Books), KRAMPUS: The Devil of Christmas (Last Gasp), THE LIFE & TIMES OF R. CRUMB (St. Martin's Press), NEW & USED BLAB! (Chronicle), and DEVILISH GREETINGS (Fantagraphics).


BLAB! Presents
RYAN HESHKA "STRANGE POWERS"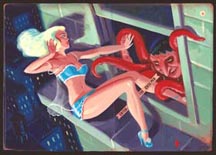 Ryan Heshka
"Enter the Creeper"
6 3/8" x 9" acrylic & mixed on panel

This year's BLAB SHOW also feature's in gallery 2 Ryan Heshka's "Strange Powers " an exhibit of 16 paintings (of 32) from his forthcoming BLAB! trading card set.

Ryan Heshka was born in Manitoba, Canada in 1970, and grew up in Winnipeg. Fueled by long prairie winters, he spent a lot of his childhood drawing, building cardboard cities and making super 8 films. Early influences that persist to this day include antiquated comics and pulp magazines, natural history and music, movies and animation that are unintentionally creepy. Formally trained in interior design, he is self-taught as an artist. In addition to gallery shows, he is currently working on several picture book projects for children as well as adults. He lives in Vancouver, B.C., Canada with his wife Marinda.