THE BRITISH ARE COMING - BRIT WEEK - ONE NIGHT ONLY!
WHERE: Copro Gallery - Bergamot Station Arts Complex

2525 Michigan Ave ,#T5, Santa Monica , CA 90404

Ph: 310-829-2156
E-Mail: CoproGallery@Live.com
Web: www.CoproGallery.com
WHAT: 'THE BRITISH ARE COMING' - BRIT WEEK - ONE NIGHT ONLY! Group Art Exhibition curated by Charlie Jane

THE BRITISH ARE COMING WEB-PREVIEW

BRIT WEEK

WHEN: Exhibit runs; May 3, 2014, 8:00 – 11:30 p.m. ONE NIGHT ONLY - Art Opening and Party. RSVP

Contact: Gary Pressman, Gallery Director Copro Gallery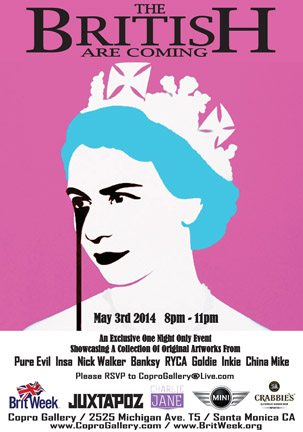 'THE BRITISH ARE COMING' Group Art Exhibition & Party
BRIT WEEK - ONE NIGHT ONLY!

The British will be arriving in LA Saturday May 3rd for an exclusive one night only take over of Copro Gallery for BritWeek LA 2014:

showcasing a unique collection of original artworks from top British Artists including: Pure Evil, Insa, Nick Walker, RYCA, Banksy, Inkie, Goldie, China Mike, Ben Eine..and a celebration British style! There are many surprises in store for the night and it will be an evening not to be missed!

The Event is Invite for VIP guests and RSVP
Please RSVP to Copronason@msn.com

Pure Evil
Charles Uzzell-Edwards a graffiti and urban street artist more commonly known as 'Pure Evil'. His father is a Welsh painter John Uzzell Edwards. Charley confesses that "Having Pure Evil as a moniker is a bit of a laugh,but it has been a license to have some fun with darker imagery. It also reflects the darkness that is in the world in the present day.


Pure Evil's street art started in California, where he would paint 'DUMP BUSH' on freeways and 'MURDERERS' on gun stores. After a decade in California, heavily influenced by West Coast graffiti artists, such as TWIST & REMINISCE also the skate art scene, he returned to London and began painting his signature oddly fanged Pure Evil bunny rabbits everywhe re. "I started to miss London", he explains, "It's a dirty places, but it's the dirt that helps things to grow."

Pure Evil fell in with the people behind Banksy's Santas Ghetto and started producing dark new prints and artwork. In the past five years he has exhibited worldwide in China, Russia, Mongolia, Brazil, USA, and all over Europe. He produces a monthly radio show and regularly gives workshops and participates in lectures about street art.

In May 2012 Pure Evil appeared on the prime time BBC TV show The Apprentice, where he took part in an urban art task, this led to a huge increase in interest for his work.

Perhaps it is illuminating to know that Pure Evil is a descendant of Sir Thomas More, an English lawyer, social philosopher, author and statesman, who was Lord Chancellor from October 1529 to May 1532. Hewrote the controversial work Utopia and who was later beheaded by King Henry VIII. His ancestry is also alleged to include eight saints, several European Families, and the Old English Chieftain Ailric, Kings Thane to Edward the Confessor, who held Cawthorne and much of South Yorkshire before the conquest. With this ancestry, perhaps it is only natural that Pure Evil explores the darker side of the wreckage of Utopian dreams and the myth of the Apocalypse.

Pure Evil's father is a painter so he grew up surrounded by art and artists and that has been a big influence. A lot of his work has to do with American identity because he loves the USA. He's drawn to the American landscape. His work is also often politically driven, "I think if you can say anything then why not say SOMETHING?" He believes painting on walls is a good way to get his message across in a big way.
Pure Evil uses stencils, spray paint, acrylic, marker pen, phosphorous paint and glow in the dark paint, neon and tempera paint


Insa
INSA's world is one where art, product, graffiti, fetishism, and desire collide.
INSA is a fine artist and designer who has established himself from a graffiti background through extensive street level work and gallery shows around the world. Throughout his career, INSA has allowed himself to explore different approaches and outlets for his artistic agenda, including designing signature collections for brands such as Kangol, Kid Robot and Oki-Ni, as well as starting his own heel company 'Insa Heels'. He has undertaken many private commissions for clients such as Sony and Nike and was recently invited out to Sweden as one of only two British artists to help curate and sculpt the 2008/2009 ICE hotel.

INSA's canvases and installations are often hyper real, finely crafted creations in which sexual desire and commodity-fetishism merge and contrast. Always with a heavy sense of irony, INSA visually exaggerates the notion of objectification meets commodification with graphically depicted oversized body parts that are suspended in the controlled architectural lines of a sneaker or bold black and white graphic patterns. INSA uses these powerful patterns to play with and distort the spaces where his work is installed to entice the viewer into the 'fantasy'; a shallow fantasy of materialistic aspiration where sexual objectification is flaunted as a symbol of wealth and success.

Nick Walker
Nick Walker is one of the world's best known street artists. Born in 1969, he emerged from the infamous and ground-breaking Bristol graffiti scene of the early 1980s. He is credited with introducing stencil graffiti to Bristol hence being a big influence on Banksy.


As a forerunner of the British graffiti phenomenon, Nick's work has become a blueprint for hundreds of emerging artists. His work is constantly evolving and remains innovative, modern and thought-provoking.

Nick draws on the energy and imagery of graffiti but he succeeds in combining the freedom the spray can brings, with very controlled and intricate stenciling. The results are highly sophisticated and infinitely desirable. The methods he uses retain their forcefulness and integrity on the traditional medium of canvas.

Nick Walker's instantly recognisable style and humour have gained him a worldwide following. In 2008 Nick had sellout shows in LA and London, where collectors queued for over 24 hours to be among the first to get his latest print edition. In 2008, his iconic Moona Lisa sold over ten times its estimated value at auction at Bonhams.

Over the years Nick's work has been accoladed by the media and has attracted headlines worldwide, including the front page of the Independent arts magazine and the Observer's round up of the year's biggest events of 2008.

In 1999 Walker was invited by film director Stanley Kubrick to recreate the graffiti'd streets of New York for his film Eyes Wide Shut

He currently lives and works out of his studio in New York




Banksy

Banksy began as a freehand graffiti artist in 1990–1994 as one of Bristol's (UK ) DryBreadZ Crew (DBZ). He was inspired by local artists and his work became part of the larger famous Bristol underground scene with Nick Walker, Inkie and 3D. The name Banksy ignites controversy, starts conversations and piques curiosity. Banksy is undoubtedly the most controversial street artist to emerge on the global stage. The fact that his identity remains unknown after 20 years on the graffiti scene only adds to the intrigue that surrounds his work. The works of Banksy have appeared in America, Australia, Canada, England, France, Israel, Jamaica and Palestine. Wherever Banksy goes, he makes an impact. His pictorial and satirical messages cross the boundaries between art, philosophy, politics, sociology, humor and narcissism.


He used a foundation created by peers to spread powerful messages using accessible street art. Anyone can see Banksy's stencil art, which enables him to reach a large audience and to make strong statements. City officials have the power to paint over works or allow them to stay. Even when his ephemeral art is destroyed, it draws attention to political issues.

Banksy's first known large wall mural was "The Mild Mild West" painted in 1997 to cover advertising of a former solicitors' office on Stokes Croft Avenue, Bristol. It depicts a teddybear lobbing a molotov cocktail at three riot police.


RYCA

Ryan Callanan aka RYCA is an artist working in contemporary printmaking and graphics. Already a prominent artist on the Street Art scene, the last FEW years have seen Ryan move away from this aesthetic towards a new practice that draws upon his in-depth knowledge of materials and craftsmanship acquired through his training in industrial model making and 3-D design.

From the starting point of the emblematic visual sign, Ryan began a series of works using the smiley face synonymous with acid house rave culture in the 1980s. Working in bas-relief, this iconic motif was recontextualised by rendering it in material and style usually associated with traditional pub signs - gold inlay and black lacquered background. This highly technical skill obtained and finessed through Ryan's parallel career in the sign making industry.

This lead to a series of works in this visual style of the subverted pub sign, playing with further motifs such as the Cherry and the Watermelon of a fruit machine, again their meaning sent array using this simple visual pun. Ryan chose symbols to begin with as a means to accessibility, this is art that everyone can enjoy and understand the reference point. There is a common theme that has run throughout his practice, which has seen him draw upon a broad spectrum of contemporary popular culture, including film, music and art history in work that is often refreshingly comic and accessible.

From symbols Ryan progressed this visual aesthetic onto text, using colloquial words or phrases such as 'fanfuckintastic' or quotes from song lyrics that were personally significant, such as 90s hip hop and rap, all in an appropriate pub style font. Important to all Ryan's work to date is this concept of the cross reference: taking one item out of its context and splicing it with another to create something that feels familiar but whose meaning is subtly shifted. This is used to great effect by Ryan's use of the pub sign style, something so atmospherically nostalgic and locked in the collective British psyche it becomes an unconsciously absorbed reference point against which the words or symbols can react.

Ryan continues to progress his artistic practice and is working on new projects with song lyrics as well as numerous public commissions, recently adding hollywood film director Michael Bay to his list of collectors




Goldie




Goldie's style began on the streets of Birmingham and Wolverhampton UK where a desire to express himself became externalized in the bright jarring colours and dimensionally challenging motifs of the modern day caveman 'graffiti".

His creations now hang in galleries around the world and in private collections of film stars, millionaires and royalty.

In the early eighties, Goldie earned his name as a graffiti artist with his work appearing in Dick Fontaine's 1985 feature film documentary 'bombin' broadcast on Channel 4 in the UK. He took part in the largest British graffiti art battle alongside Bristol artist 3D, who later went on the form Massive Attack

Goldie is also known as a British electronic music artist, disc jockey and actor. He is well known for his innovations in the jungle and drum and bass music genres.





Inkie

Named in Timeout's Top 100 most influential UK creatives 2012, Tom Bingle aka Inkie, has emerged as one of the most prolific graffiti writers in UK history. He has painted with some of the most notorious artists on the scene, including Banksy, Nick Walker and 3D. Denounced as "Banksy's right-hand man" by The Daily Mail and simultaneously lauded by The Times, his work has been published in books such as Banksy's Bristol, Children of the Can, Graffiti World and Street Fonts and well respected magazines such as Rolling Stne, GQ and Dazed & Confused. In 2007, he was featured in the LA graffiti documentary Bomb It. His work is coveted by celebrity followers including: Cara Delevingne, Robbie Williams, Jade Jagger, Fatboy Slim, Sean Pertwee and Seth Troxler.

The art of Inkie is characterised by a unique collaboration of graffiti and figurative imagery. His widely recognised style draws on Art Nouveau influences with an unmistakeable urban twist; Portraits of beautiful women are usually accompanied by a poignant words or phrases; faces are understated, almost anime and are framed with his iconic stylised flowing hair. Works can be found on walls, prints, canvas and even jewellery, sold and exhibited worldwide

As well as creating his own works, Inkie has worked as head of design for SEGA Europe, Xbox and until recently, worked as Jade Jagger's in-house designer. He also runs a West London design studio creating prints, illustrations, clothing, ceramics, jewellery and with his trademark beauty on large-scale pieces.

Exhibitions include London, Copenhagen, Barcelona, Los Angeles, Ibiza, Warsaw and Lisbon. His recent projects include the Art Wars collective featuring artists such as Damien Hirst, the Chapman brothers, D-face and Mr Brainwash and he opened in October 2013 at Saatchi Gallery.




China Mike


Mike Carr, aka China Mike was born in Bedford, England in 1976. m Initially working as a brush for hire for local promoters, record labels and clothing lines during the nineties boom for independent retailers, his illustrative style became a trademark in Bristol which would be adapted by many.

Old notebooks reveal more than his line work - a versatile mark-maker, his abilities as a draughtsman have returned to the fore in recent years; the photorealistic paintings which had become a trade mark, have given way to more abstracted figurative work.

"Process is as important as the end result. I don't really feel a pressure to create realistically defined images these days. I want there to be a playfulness in my work, to not get bogged down in mechanical routines".

Usually preferring to avoid the madding crowd, he continues to quietly produce his paintings from his studio in Bishopston, Bristol.

He has exhibited with galleries around the globe, and his paintings and printed works are represented in the private collections of art enthusiasts worldwide.