Copro 20th anniversary - group art exhibition
WHERE: Copro Gallery - Bergamot Station Arts Complex
2525 Michigan Ave , Unit T5, Santa Monica , CA 90404

Ph: 310/829-2156
E-Mail: CoproGallery@Live.com
Web: www.CoproGallery.com
WHAT: Copro 20th anniversary - group art exhibition
WHEN: Exhibit runs; August 17 – September 7, 2013
Opening Reception: Saturday August 17, 2013 - 8:00 – 11:30 p.m.

Contact: Gary Pressman, Gallery Director Copro Gallery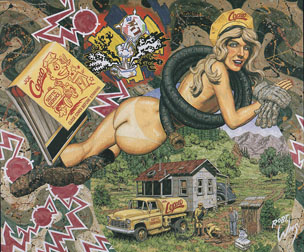 Copro Gallery celebrates its 20th anniversary. Hatched from a friendship of Douglas Nason and Greg Escalante, that began when Doug bought a Robert Williams seriagraph from Greg that he published in 1989, Copro Nason Fine Art Publishing was formed in 1993. Publishing several serigraphs with Robert Williams, Big Daddy Roth, Sandow Birk, Russell Crotty and many other luminaries during the 1990's and curating several group shows, Greg Escalante, Douglas Nason and occasionally Gary Pressman collaborated with many artists during the beginnings of the Lowbrow / Pop Surreal movement. Greg Escalante's art juggernaut led him to co-found Juxtapoz Magazine as well as sit on the board of several local art museums during this time and working with Doug Nason curated many important museum exhibitions as well as gallery shows. Copro/Nason didn't have a permanent venue until December1999 when Copro/Nason Fine Art Gallery opened in Culver City with an exhibition called the "Leeteg Tribute". Followed by "The Art of Robert Williams" in March 2000, Mark Ryden Illustration show, Night of the Tiki with Shag and solo and group shows with artists such as Liz Mcgrath, Keith Weesner, Coop, Kozik, Rockin' Jelly Bean, Sandow Birk, David Choe, Brian Viveros, Van Arno the gallery continued to grow.
Gary Pressman started as Gallery Director at Copro/Nason gallery, Culver City 2002 and began curating feature and group shows with artists such as Isabel Samaras, Ausgang, Sas Christian, Chris Mars, Mark Ryden, Marion Peck, Esao Andrews, Glenn Barr, Shag, Tim Biskup, Kenny Scharf, John John Jesse, Joe Vaux, Ray Caesar, Luke Chueh, Alex Gross, Joe Ledbetter, Naoto Hattori, Jeff Gillette, Brian Viveros, and several others.
In the interest of expanding, June 2005 saw Copro/Nason's "Bergamot Invasion group show" christening Copro into a new space in Santa Monica at Bergamot Station. Some of the early exhibitons at Bergamot Station up to 2008, when Douglas Nason left the gallery were Ron English/Daniel Johnston, BLAB, Cannibal Flower, Chet Zar, Dan Quintana, Audrey Kawasaki, Lori Earley, Amy Sol, Luke Chueh, Kris Lewis, Kukula, becca, Yosuke Ueno, Lola, Travis Louie. From these formative years Copro grew into a serious art gallery and continues to hunt for new artists and break new ground. 20 years from inception to Copro Gallery 2013 we're still here with the same mission.
Copro Gallery 20th anniversary will feature many artists dating back to the beginning as well as current artists that are exhibiting at Copro today!

Artist List: Mark Ryden, Robert WIlliams, Big Daddy Roth, Liz Mcgrath, Shag, Sandow Birk
Brian Viveros, Andy Kehoe, Esao Andrews, Chris Mars, Adam Miller, Alexandra Manukyan
Ana Bagayan, Annie Owens, Ausgang, becca, Cathie Bleck, Chet Zar, Chloe Trujillo
Brian Smith, Chris Peters, Chrystal Chan, Clare Toms, Clark, Craig Larotonda
Dan Quintana, Dave MacDowell, David Molesky, Eric Fortune, Erik Alos, Genevive Zacconi
Germs, Glenn Barr, Isabel Samaras, Jason Hite, Jason Maloney, Jeff Christensen, Kelly Allen
Leslie Ditto, Luke Chueh, Macsorro, Mark Garro, Matt Dangler, Miran Kim, Miss Van
Naoto Hattori, Nathan Spoor, Nouar, Peter Chan, Peter Gric, Phil Lumbang, Richard Kirk
Robert Connett, Rose Freymuth-Frazier Santiago Caruso, Stella Im Hultberg, Timothy Smith
Tin, Vincent Cacciotti, Brian Despain. Von Dutch, Yoko dHolbachie and More!

#