Menton3 'KATABASIS ll' / 'The Underworld' group exhibit

WHERE: Copro Gallery - Bergamot Station Arts Complex

2525 Michigan Ave , Unit T5, Santa Monica , CA 90404

Ph: 310/829-2156
E-Mail: CoproGallery@Live.com
Web: www.CoproGallery.com
WHAT: Menton3 'KATABASIS ll' / 'The Underworld' group exhibit
Menton3 Web-preview
THE UNDERWORLD Web-Preview

WHEN: Exhibit runs; December 2 – December 30, 2017
Opening Reception: Saturday December 2 , 2017 - 8:00 – 11:30 p.m.

Contact: Gary Pressman, Gallery Director Copro Gallery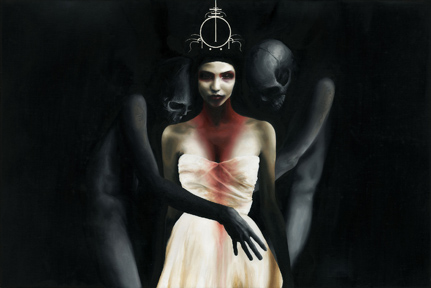 Menton3 'The Strength To Fight Untruth'



Copro Gallery presents artist MENTON3 solo exhibition 'KATABASIS 2'. For this exhibition brand new oil paintings and works on paper will be featured.

Katabasis or catabasis is a descent of some type, such as moving downhill, the sinking of the winds or sun, a military retreat, a trip to the underworld ,The term has multiple related meanings in poetry, rhetoric, and modern psychology.

Menton has had a lifelong interest in the relationship between symbols, signs and images and that part of ourselves we most commonly refer to as "unconscious". Though he has always drawn and painted, his first methodical exploration of this field was through music, which he saw as a tool enabling a composer to bring to light 'interior' imagery in the listener and reveal frozen phantasmagoric instants, realized subjective memories and encapsulated emotions.Says Menton, "Many of the mythological, religious, alchemical, and historical icons, symbolic figures and shapes stimulate, if not summon, internal functions."


The Cumaean Sibyl (prophetess) leads Aeneas to the Underworld for his katabasis in the Aeneid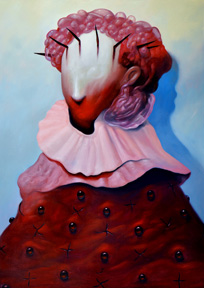 Dos Diablos,'La Violentina'


In gallery 2 a group exhibition 'The UNDERWORLD' is a mytheme of comparative mythology found in a diverse number of religions from around the world. The hero or upper-world deity journeys to the underworld or to the land of the dead and returns, often with a quest-object or a loved one, or with heightened knowledge. The ability to enter the realm of the dead while still alive, and to return, is a proof of the classical hero's exceptional status as more than mortal. A deity who returns from the underworld demonstrates eschatological themes such as the cyclical nature of time and existence, or the defeat of death and the possibility of immortality.
Artist list to be posted very soon:
#