XUE WANG -NOUAR - STEFANIE VEGA - AMANDA ADOMAITIS - LAURIE HASSOLD - KARIKATURA

WHERE: Copro Gallery - Bergamot Station Arts Complex
2525 Michigan Ave , Unit T5, Santa Monica , CA 90404

Ph: 310/829-2156
E-Mail: CoproGallery@Live.com
Web: www.CoproGallery.com
WHAT: Xue Wang -Nouar - Stefanie Vega - Amanda Adomiatis- Laurie Hassold - Karikatura
Xue Wang Web-Preview
Nouar Web-Preview
Stefanie Vega Web-Preview
Amanda Adomiatis Web-Preview
Laurie Hassold Web-Preview
Karikatura Web-Preview

WHEN: Exhibit runs; December 11 – December 21, 2021
Opening Reception: Saturday November 6 , 2021 - 3:00 – 9:00 p.m.

Contact: Gary Pressman, Gallery Director - Copro Gallery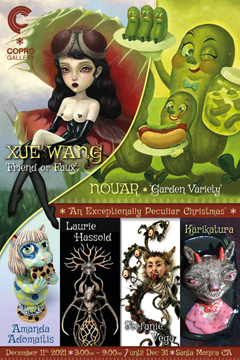 December 2021 Ad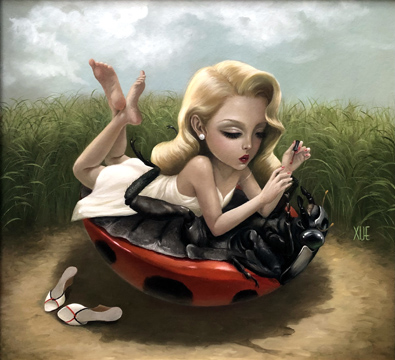 Xue Wang, 'Me Time' Oil on Panel
Xue Wang 'Friend or Faux' solo exhibition

-
Copro Gallery presents a Xue Wang solo exhibition 'Friend or Faux'. This new body of work about the trickery of false friends consists of 6 paintings and 2 drawings. About the work "Xue says: "I love vintage pin-up imagery, film noir and silent films. We cannot escape the past and our sweet yesterdays, whether imaginary or real. They are my repository. Superficially my paintings may appear 'cute' but my intention is to unsettle, albeit subtly. As the creeping wasp on the fairy cake does."
BIO XUE was born in northern China in 1980, the year of the mischievous monkey. After a BA degree in Fashion in China at Lu Xun Academy of Fine Art in Shenyang she relocated to London at age 22 to finish her MA at University of Westminster. Painting and drawing, playing around with ideas, juxtaposing images and allowing her imagination free reign have all helped guide her development however her career has not followed a linear path. The self-reflective intimacy of art, which has always been latent in her, forced Xue's transition from fashion to painting. For each character, Xue sketches out the faces before adding makeup, hairstyles, clothes and accessories. She uses oils on board and paints at home on her easel, with her dog Kuma and daughter Macey - who is sometimes too helpful!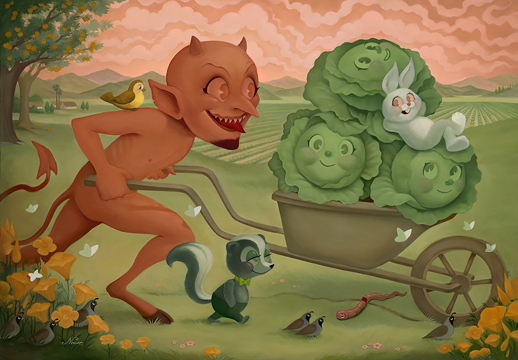 Nouar, 'Hazy State' Oil on Panel
Nouar 'Garden Variety'
-
For Nouar's 3rd solo exhibition at Copro she expands upon her character-based aesthetic. A feast for the eyes in the most literal sense, her highly stylized, crisply rendered figures depict a variety of edible subjects & sexy pin up girls, personified and bursting with life. The artist's work is reminiscent of—and inspired by—vintage imagery that encompasses post-WWII era animation, packaging and advertising art, particularly of the food industry. Paintings in this show are tied together by theme, and presented in a vibrantly appetizing color paletteThe messages in Nouar's paintings parallel the aberrations and accidental humor found in advertising imagery, intertwined with the artist's darker personal narratives. While humorous and inviting on the surface, her subjects convey multiple levels of meaning. Nouar explains. "I have always been completely fascinated by our massive consumer culture and often feel everything around us is a commercial, constantly manipulating us into desiring things we don't really have a need for, or shouldn't want in the first place." Nouar also works as a background painter for the TV animation industry and a freelance illustrator. .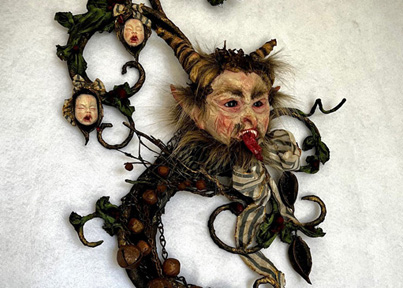 Stefanie Vega, 'The Krampus Cometh' mixed media

Stefanie Vega 'An Incredibly Pecuilar Christmas' containing an Incredibly Pecuilar accumulation of work by artist Stefanie Vega celebrating Krampus and Christmas.

Artist Statement - It is my intention to jar the collective memory we have of imagery & symbolism through a crossbreeding of the unexpected. I hope to give new voice to an age-old doll tradition that insists on singing its own songFrom the tales that left profound impressions in my earliest childhood memories, I began working not only with unwanted doll parts, but with skull & bones & birds. They spoke to me of wanting to tell the bigger story. The dolls we played with as children were the totems of our dreams. Upon them we laid our hopes & fears…upon them we projected our greatest selves. I was serenaded by haunting lullabies from long ago. So, drawing on an enormous pool of archetypes & folklore & developing characters based on children's literature & faerie tales, a new hybrid was born. I began to write verse in order to share the tales that influenced the work. This rogue taxidermy with discarded porcelain doll parts and accompanying limerick became a cross-breeding of the unexpected & a departure from the familiar."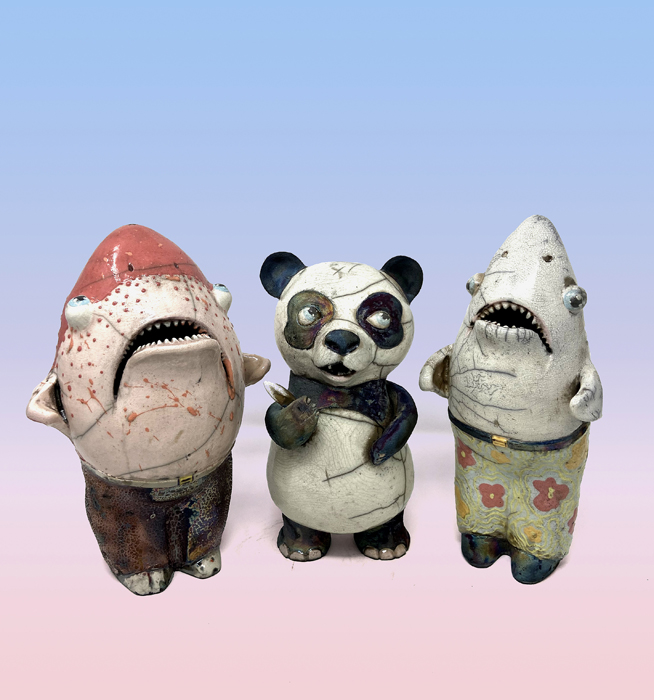 Amanda Adomaitis , The Trio mixed media

Amanda Adomaitis Beauty that enhances people lives. That is the creative motive of designer and ceramicist Amanda Adomaitis.

BIO - Amanda originally studied literature and that love of character and story has continued to inform her work across varied disciplines ever since. For the last 15 years, Amanda has worked in the fashion industry in a variety of roles, most recently specializing in textile design. While studying at Central Saint Martins and the London College of Fashion where she obtained her MA in Fashion Design, she found her creative voice. It is during these studies that she first started to imagine and illustrate her own creaturesAt the root of these creations is her fascination with the idea of the uncanny and the notion of feeling as action. The simultaneous reaction of being drawn to something while also being repelled by it, the combination of the familiar and the unfamiliar: these are the ideas that drive her. Crucial to this notion is the difference between the sensation of the uncanny and its position in stark difference to shock or gothic sensibilities. She is constantly striving to reach that level of engagement that is paramount to the uncannyMuch of her work is focussed on how we, as people, move among each other. She is driven by a desire to understand the motives behind people's actions and often works these feelings out through her creaturesShe fell in love with ceramics early in life but it is only recently she has picked the practice up again and fallen deeply in love with the process of envisioning the characters in her mind through the medium.. . .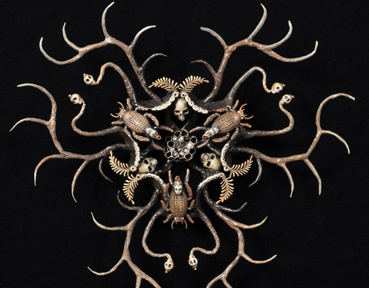 Laurie Hassold , detail 'Radial Bug' mixed media

Laurie Hassold makes sculptures that she presents to the world as possible "future fossils"; remnants of what could be and might well be a result of the impact of our species on the planet. Fully speculative yet imbued with a reverence for Nature and its brutal force, these creatures are amoral and magnificent.

Bio - Laurie Hassold was born in Louisville, Kentucky, but has spent most of her life in southern California. She shares a home and studio with her husband, painter Jeff Gillette, and teaches art and design at Orange Coast College, Irvine Valley College and Cal State Fullerton University. Selected museum exhibitions that have featured her work include Confronting Mortality with Art and Science, at the Historic Halls of the Antwerp Zoo (Antwerp, Belgium), The Shack Show at Laguna Art Museum (Laguna Beach, CA), and Extreme Materials II at the Memorial Art Gallery (Rochester, NY)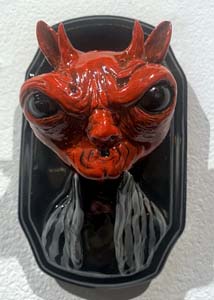 Karikatura, 'Dante' mixed media

Karikatura - In the spirit of the season Karikatura has created some Krampus pottery wall sculptures. Krampus is a horned, anthropomorphic folklore figure who, during the Christmas season, punishes children who have misbehaved, in contrast with Saint Nicholas, who rewards the well-behaved with gifts. Have you been good this year?

Karikatura is a Mexican Postwar & Contemporary artist born in 1986 who resides in Mexico.
#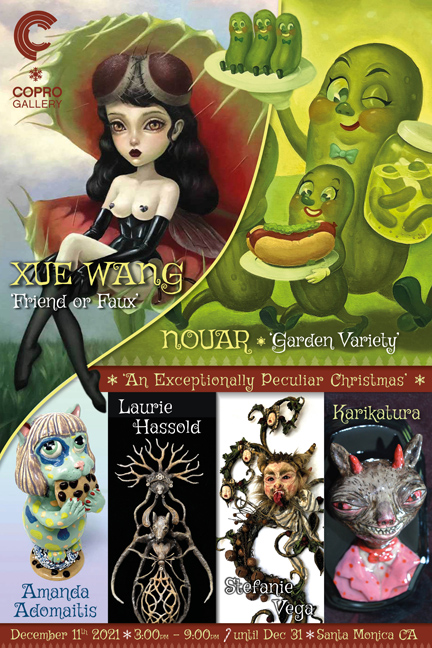 Bergamot Arts Complex, 2525 Michigan Ave T5, Santa Monica, CA 90404 - 310-829-2156
All images and artwork Copyright 2015 CoproGallery
Please e-mail any problems with this site to CoproGallery@live.com