Dan Quintana / Brian Viveros "DESENSITIZED 13"
WHERE: Copro Gallery - Bergamot Station Arts Complex
2525 Michigan Ave , Unit T5, Santa Monica , CA 90404
Ph: 310 - 829-2156

E-Mail: Copronason@msn.com
Web: www.CoproGallery.com
WHAT: Dan Quintana / Brian Viveros "DESENSITIZED 13"

WHEN: TWO DATES; December 4 – December 8, 2013 - Scope Art Fair Miami - On the Sands
SCOPE Miami Beach Pavilion 1000 Ocean Drive Miami Beach, FL 33139 Booth K03

December 14, 8:00 - 11:30 PM, @ Copro Gallery (read below for details) through January 4

Contact: Gary Pressman, Copro Gallery Director / Copronason@msn.com / 310-829-2156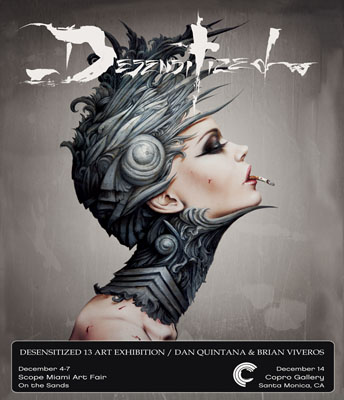 Viveros / Quintana Desensitized 13

ABOUT THE TWO DESENSITIZED 13 OPENINGS (Both presented by Copro Gallery): The first opening will be December 4-8 at Scope Art Fair in Miami Beach during Art Basel week. This exhibition will feature about 1/2 of the Desensitized 13 Original Art however no posters or prints will be available at this show. If you come to Scope you will be able to purchase paintings and drawings and an online preview will be avialable to the public fror purchasing art. Brian Viveros and Dan Quintana will be at the fair however only at the booth at special times which will be posted later.

THE SECOND OPENING: @ Copro Gallery December 14, 8:00-11:30 will be the Big Event for Desensitized 13. All of the Art will be on exhibition and for sale, Brian Viveros Films will be on view & Brian Viveros and Dan Quintana special edition prints will be available as well as a special poster available only at the opening. Brian and Dan will be signing your posters and personalizing prints all evening. For collectors that dress up like a character from a Viveros or Quintana painting the poster will be free so Go Crazy!

Brian Viveros & Dan Quintana " Desensitized 13" - In a culture where we are bombarded with overwhelming visual stimuli, have we become desensitized to art? From sexual content on TV, graphic violence & mass shootings in the news & flashy ads everywhere we look, obtrusive images are in constant competition for our attention.
Brian Viveros and Dan Quintana are two painters whose respective backgrounds lie in creating the strong commercial imagery we see everyday, and this striking style has carried over into their fine art. Both of these artists know how to arrest your attention, and aim to captivate even the most jaded eyes.
Acting as book markers of the 20th Century, their paintings are both reflections of their own inner worlds and society at large; realms where fantasy intermingles with pop culture. Whether it be a doe-eyed beauty with a Marlboro dangling from her lips, or a Dominatrix acting as sheriff in the untamed West, in these painstakingly rendered vignettes romance battles vice and sensuality meets consumerism.
Adhering to the show's theme, the opening reception itself will be an attack to the senses. In addition to the art on the walls, the event will feature a loop of Brian Viveros' films " a custom made sculpture of one of the paintings, cocktail servers costumed like the art and in honor of the holidays a wild Holiday Krampus party featuring music & performance by Los Angeles Krampus Troupe KRAMPUSLA .Designed to open your eyes and invigorate your mind, this culmination of creativity is not to be missed.

Brian Viveros' images of sexy women with their sensual eyes and a cigarette dangling in the corner of their mouths have became his trademark .With no formal training, his medium is a drunken mix of oil/acrylic/airbrush and ink. Brian made his directing debut in 2005 with his quietly eerie, boldly stylized short film " Dislandia ," a psycho-drama revolving around a young girl who exists in a desolate world full of dreamlike images that range from bizarre to symbolic and erotic. This was followed by the surreal film "Southern" which returns cinema to the unclean. "Southern" is an experience of primordial sights, sounds, and sentiment, blanketed by a fog of troubling eroticism and violence. www.brianmviveros.com
Dan Quintana's
oil on wood panel paintings are influenced by his Catholic upbringing, the Streamline architecture of Los Angeles, street art, hot rods, and comics. Quintana creates a world where angels and demons intermingle with girls and cars and Art Deco cityscapes meet surreal dreamscapes. In sepia toned allegories he tells the story of good versus evil, the physical versus the spiritual. A Los Angeles native born in 1982, Quintana began experimenting with oil painting in high school then shifting his focus to street art, creating numerous murals, many of which can still be seen around Los Angeles. In his early twenties Quintana embarked on commercial commissions for numerous CD covers and shirts. Quintana's talent has also found a home in the custom car culture in his work as artist for West Coast Customs on the MTV show Pimp my Ride and TLC's Street Customs and he has been featured in publications including LA Weekly, Juxtapoz, Hi Fructose, Car Kulture Deluxe , and more.
As always the Copro Gallery show is Free to the public and no snobby RSVP is required. Attendees are encouraged to dress up like a Viveros or Quintana painting character and all participaters will receive a free poster!