CHRIS MARS - AMANDINE URRUTY - CIOU


WHERE: Copro Gallery - Bergamot Station Arts Complex

2525 Michigan Ave , Unit T5, Santa Monica , CA 90404

Ph: 310/829-2156
E-Mail: CoproGallery@Live.com
Web: www.CoproGallery.com
Web-Previews
Chris Mars Web-Preview
Amandine Urruty Web-Preview
Ciou Web-Preview
WHAT: CHRIS MARS - AMANDINE URRUTY - CIOU

WHEN: OPENS SATURDAY, February 25, 8:00 - 11:30PM
Exhibit runs; February 25 – March 18, 2017

Contact: Gary Pressman, Gallery Director Copro Gallery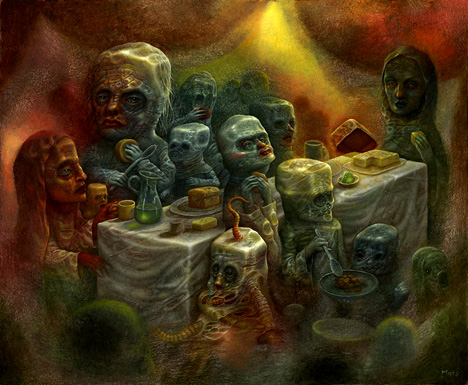 Chris Mars - The Next Meal
Copro Gallery presents a solo exhibition of new oil paintings by Chris Mars. Chris's artwork is mostly influenced and inspired by his brother Joe's experiences with mental illness. Joe was periodically institutionalized during Chris's childhood, and with which Joe continues to struggle. The sensitivity and empathy Chris developed relative to these experiences are evident in his visual art, which serves to raise awareness of the various issues associated with mental illness and its treatment, as well as confronting xenophobia in its various social and psychological incarnations.

Included in this exhibition will be some of the ongoing series of paintings about Hanford, Washington, a cold war era nuclear bomb plant that continues to this day to contaminate the area around it with vast amounts of highly radioactive waste. Industrial pollution and the forces that corrupt the regulatory system to contain it are alarming to say the least. People are suffering, grieving, dying. When asked about his message Chris says "Painting is a way to simply escape; I don't exclusively wrestle with how people treat other people negatively. Luckily there are problems people are solving for one another as well. Either way, painting is good therapy."

Artist Chris Mars was born in Minneapolis, Minnesota, where he still lives and works today. His pieces are held in numerous public collections including The Minneapolis Institute of Arts, The Erie (PA) Art Museum, The Tweed (Duluth, MN), The Longview (TX) Museum of Fine Arts and The Minnesota History Center. Public exhibition venues have additionally included The Mesa (AZ) Museum of Contemporary Art, The American Visionary Art Museum (Baltimore), Laguna (CA) Museum of Art, The Steensland Art Museum (Northfield, MN), Fredrick Weisman Art Museum (Minneapolis, MN) and Art Center South Florida, among others. His debut monograph, TOLERANCE, was published in late 2008. In addition to his painting, Mars endeavors in film and animation. An accomplished musician, Mars also released four solo albums (on Polygram and Bar None) subsequent to his tenure as drummer in The Replacements, a band he helped found in 1979 with Bob Stinson, Tommy Stinson and Paul Westerberg.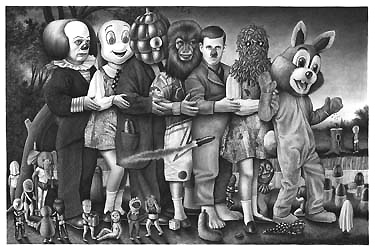 Amandine Urruty - Dancers
Amandine Urruty lives and works on her bed at home, with a suit case full of pencils and pens always nearby. After studying at the University for many years and a brief career in underground music, Amandine Urruty spread her repertoire of beasts and gallery of weird characters on all kind of mediums, papers and walls. As she masters techniques of traditional drawing, Amandine offers us a cheerful gallery of deviant portraits, associating grotesque outfits with baroque decorum which miraculously reconciles lovers of alchemistic symbolism to young ladies with too much make up. Indeed, Amandine builds her images like we would wander in the alleys of a Sunday flea market, borrowing from the mass of objects and second hand toys with their fundamental ambivalence, being wicked & peaceful, decorative and saturated at the same time.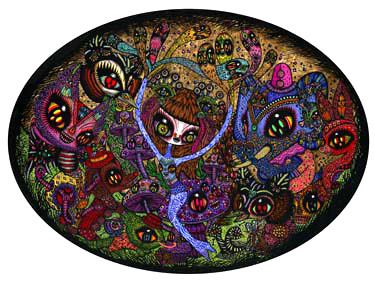 Ciou - Nothing's Going to Change My World
Suspended between dreams and nightmares, Ciou's paintings consist of a base made of collages from old papers taken from medical books, dictionaries and nature manuals. She then paints over the base with acrylic paint and ink, creating her own personal mixed media art. Her Influences are diverse :American vintage culture from the 30's -70's , Victorian style and the European Barocco, however she is focused on the japanese culture traditional and contemporary art. Her style is characterized by a line of great expressive force and a language where the power of color and deformation of shapes combine to make her stroke unmistakable. Ciou creates her own « necro-kawai » cosmology of characters mainly centered around witch-y nature burlesque girls and their strange animal companions. Her new works feature florescent psychedelic colors as a foil for her obsessive black line work. Her darkly charming works are creepy in a very playful way, a little bit of sweet and a little bit of sour in a friendly and dangerous world.
#