Sonya Palencia The Unquiet Waltz: Tales of Majesty and Demise in the Chaparral / a small group exhibit

WHERE: Copro Gallery - Bergamot Station Arts Complex

2525 Michigan Ave , Unit T5, Santa Monica , CA 90404

Ph: 310/829-2156
E-Mail: CoproGallery@Live.com
Web: www.CoproGallery.com
WHAT: Sonya Palencia The Unquiet Waltz: Tales of Majesty and Demise in the Chaparral / a small group exhibit
Sonya Palencia Web-preview
small group show Web-Preview

WHEN: Exhibit runs; February 17 – March 10, 2018
Opening Reception: Saturday February 17 , 2018 - 8:00 – 11:30 p.m.

Contact: Gary Pressman, Gallery Director Copro Gallery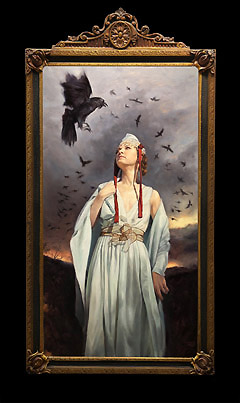 Sonya Palencia, Volant Magistrate, 26" x 14" oil on wood panel


Copro Gallery presents artist Sonya Palencia first solo exhibition with Copro Gallery 'The Unquiet Waltz: Tales of Majesty and Demise in the Chaparral'. All of these new oil paintings are inspired by Sonya's tenacious backyard in the Los Padres National Forest

Sonya Palencia, is a painter, illustrator, sculptor and woodcarver, whose work celebrates nature and the mystical with the romantic aesthetics of the old world.
As a child, Sonya began creating art and studying the nearby wilderness, historical landmarks, and the extraordinary past of her native California. She later traveled abroad to research the classical arts and traditional folklore of numerous countries. Sonya graduated from the Art Center College of Design (Pasadena, CA) with distinction in Film & Fine Art, and served 10 years in the film industry as a designer and sculptor. She and her husband (fellow artist Jeff Nentrup) have since left the city to pursue their fine art on a ranch nestled within the inspiring Californian Los Padres National Wilderness.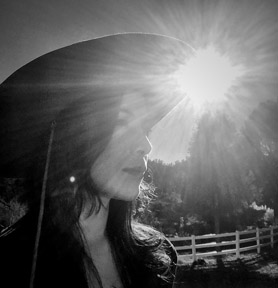 Sonya Palencia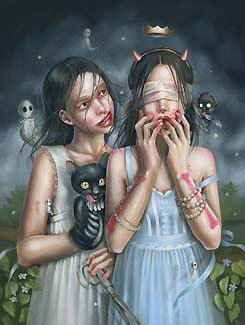 Hanna Jaeun 'Teased To Death'


'a small group exhibit' spotlights artist Hanna Jauen and Stephanie Inagaki with a small amount of other work by Lizz Lopez, Jean Bastarache, Ver Mar and AbbyBelle.
#