CONJOINED 10 'THE RECKONING'- KAZU HIRO - JOSE MANUEL SCHMILL - BRAD GRAY - MARK WALDMAN


Contact: Gary Pressman, Gallery Director
Ph: 310/829-2156
E-Mail: CoproGallery@Live.com
Web: www.CoproGallery.com

WHAT: CONJOINED 10 'THE RECKONING' - JOSE MANUEL SCHMILL SOLO EXHIBIT

Conjoined 10 Web-Preview
Jose Manuel Schmill Web-Preview

WHEN: Exhibit runs; February 22 – March 14, 2020
Opening Reception: Saturday February 22 , 2019 - 6:00 – 10:30 p.m.

WHERE: 2525 Michigan Ave. T5, Santa Monica, CA 90404 / 310-829-2156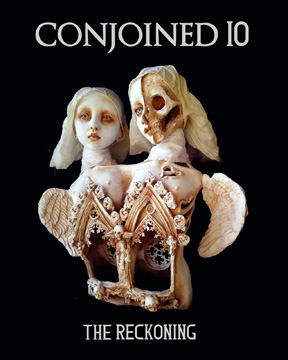 Copro Gallery presents a group art exhibit curated by artist Chet Zar & Copro Gallery. 'CONJOINED 10 - The Reckoning' will feature Sculptures, paintings, drawings, Hyperreal Portraits and feautured this year are 4 small exhibitions by Kazu Hiro, Jose Manuel Schmill, Brad Gray and Mark Waldman! Gigantic oil paintings, Bizzarre & Hyperreal Sculptures, Lifelike & Life sized models, Surreal assemblages, mixed media paintings, Renegade Taxidermy, Twisted Art Toys and other Conjoined work will all be featured. Many of the artists in the exhibit are from the Dark Contemporary Art Movement as well as Motion Picture and Music Industry artists, Special F/X technicians, Master Painters and others exhibiting their Top Notch #1 craft for this unique curated exhibition.........

FEATURED ARTISTS: Kazu Hiro, José Manuel Schmill, Brad Gray, Mark Waldman
Artist List: Adam McCarthy, Aimee Kuester, Aki, Ave Rose, Bayard Baudoin, Ben Schwenk, Brain Smith, Brian Poor, Carin Hazmat, Chet Zar, Chris Haas, Cig Neutron, Daphne Yap, Dos Diablos, Emily Binard, Fabrice Lavollay, Gabriel Marquez, Jack Howe, Jacqueline Tse, Janda Farley, Jasmine Worth, Jason Hite, Jason Rosen, Jeremy Cross, Jody Fallon, John Haley lll, Karikatura, Katya Tal, Kevin Mack, Laurie Hassold, Liz McGrath, Mari Shimuzi, Mate Jacko, Matt Ullman, Matthew Dutton, Mike Regan, Mikey Carrasco, Milan Debert, Miso, Mow Skowz, Nathan Reidt, N.C. Winters, Panik Collective, Sarina Brewer, Shane Izykowski, Stefanie Vega, Stephanie Inagaki, Steve Cleff, Tas Limur/Jake Roanhaus collab, Vanessa Lemen, Ver Mar, Wendy Olson, Wes Benscoter, Zulu & More!


KAZU HIRO will have 6 of his sculptures on display at Conjoined 10, 2 of them brand new! Kazu is a contemporary hyperrealist sculptor living and working in Los Angeles. After working 25 years as a special effects makeup artist in Hollywood, Kazu decisively shifted focus in 2012, dedicating himself full time to fine art sculpture. Using resin, platinum silicone, and many other materials, Kazu constructs three-dimensional portraits in a scale two times life size.
Kazu has received numerous awards throughout his career including 2 Academy Award Oscars. One for his work in "Darkest Hour" helping good friend Gary Oldman to portray Winston Churchill and most recently for 'Bombshell' working with Charlize Theron, John Lithgow, Nicole Kidman and the rest of the cast to recreate the characters and story of Fox News and Roger Ailes.

Currently, Kazu is primarily focused on producing large scale hyperrealist portrait sculpture in his custom built modeling and casting studio in Los Angeles. The recent work he has exhibited widely at major art fairs and museums, has magnetized the attention from collectors, Hollywood, press and visiting art enthusiasts alike.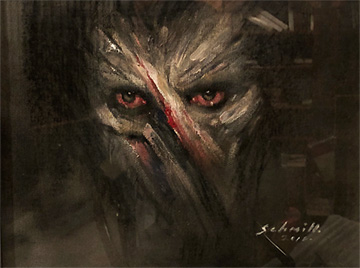 José Manuel Schmill (1934-2018) is a Mexican Postwar & Contemporary artist. His work has been exhibited in important venues such as the Antonio Souza Gallery, the Palacio de Bellas Artes, the Salon de la Plástica Mexicana, the HR Giger Museum, Musee d'Art Moderne de la Ville de Paris, Weyhe Gallery in New York, Gallery Misrachi and the Mexican Institute of Culture in San Antonio, Texas. Exhibiting at Copro Gallery in gallery 2 in conjunction with Conjoined 10, Copro will have 20 paintings and drawings on exhibit representing Josés' darker work.

In art, as in life, truculency does exist, and we see its results in the work of José Manuel Schmill who spent a lifetime exposing the dark truths of our shared reality and he helped to awaken the conscience of humanity. Through reading the masterpieces of Schmill, we see no boundaries to his imagination and vision. He has trespassed through the darkness of human nature and enlightened both its beauty and its ugliness. We experience the cruelty within our world but we also see that hope remains. Whether Schmill is screaming, or merely whispering, we are shown what lurks in the minds of men and we feel the very soul of what art can accomplish. In Mexico and many countries throughout Central and South America, as well as Europe, Jose Manuel Schmill is considered the Poet of Disharmony. Through his magnificent body of work, we are shown the possibilities of the human conditon; the good and the bad, the fears and the joys, as well as the terror and the gentle kindness of which we are capable.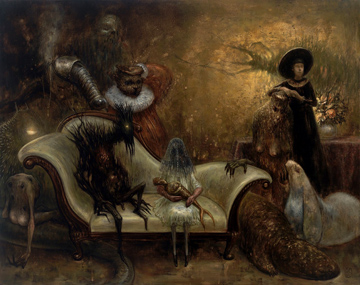 Brad Gray works range from small, atmospheric oils to large, more complex compositions. The smaller pieces focus primarily on texture, creating mood and movement through the use of strong tonal ranges and loose brushstrokes. The larger works are often theatrical in nature depicting an array of peculiar characters thrown together in a world not entirely of our own. Influences of Bosch, Bruegal and Neo Rauch are evident in their compositional arrangements. I employ fantasy and satire to unravel the complexities of the human story. The works are rich in symbolism, reflecting life experience and issues of a wider nature. The paintings are often deeply personal that mirror contradictions within all of us-light and dark, peace and violence, life and death. Such dualities fill our lives. Despite having a conflicted outlook I weave humour through the narratives of my work, conveying the absurdity and pathos of a situation.

Born in Germany to English parents in 1971, Brad Gray has travelled widely, living and working in Ireland, England, Saudi Arabia, Borneo, Colorado, Sardinia, Vietnam, South Africa, and China. After two years serving in the Marines, Brad enrolled in Illustration at Bristol Technical College before studying at the Falmouth School of Art in Cornwall until 1994. The artist had a successful career as an illustrator in London until his move to Saudi Arabia in 1999, where he worked for six years as an art teacher alongside his wife. Later settling in South Africa, Brad established himself as a full-time artist, earning a reputation for his theatrical and richly symbolic scenes. After undertaking the Swatch residency in Shanghai, China, Brad has since returned to Ireland with his wife and three children. He has recently completed an artist's residency at Cill Rialiag (West of Ireland) after a three-month residency in Bavaria, Germany.


| | |
| --- | --- |
| | |


Mark Waldman Mixed-media artist Mark Waldman's early work was fueled by the dark clouds that hovered over his life. While raising a family and pouring his time into opening The Dented Can in Redondo Beach and Gasoline in El Segundo, the demons stayed under the surface. "The work that I do is a lot of personal emotional digging," said Waldman, who was born and raised in Redondo Beach. "You're doing a lot of inventory. If I was painting bowls of fruit or something, I'm sure I wouldn't have to dig. I always try to explain it as, an art show for me feels the same as dropping my clothes and leaning up against a wall (naked) for hours while people talk. It's a heavy one." But his life was turned upside down when his Gasoline East gallery venture in Japan was wiped away by the 2011 Tohoku tsunami, he got a divorce, and his son faced a life threatening illness. Instead of returning to the bottle or something stronger he threw himself into his art.


Chet Zar BIO:
Zar's interest in the darker side of art began in the earliest stages of his life. A natural fascination with all things strange fostered within himself a deep connection to horror movies and dark imagery. He could relate to the feelings of fear, anxiety and isolation that they conveyed. These are themes which had permeated most of his childhood drawings and paintings and are reflected in his work to this day.
The combined interest in horror films and art eventually culminated into a career as a special effects make up artist, designer and sculptor for the motion picture industry, designing and creating creatures and make up effects effects for such films as, "The Ring", "Hellboy I & II", "Planet of the Apes" and the critically acclaimed music videos for the art metal band Tool. Zar also embraced the digital side of special effects as well, utitlizing the computer to translate his dark vision with 3D animation for Tool's live shows and subsequently releasing many of them on his own DVD of dark 3D animation, "Disturb the Normal".
Through the many years spent dealing with all of the politics and artistic compromises of the film industry left Zar feeling creatively stagnant. At the beginning of 2000 (at the suggestion of horror author Clive Barker), he decided to go back to his roots and focus on his own original works and try his hand at fine art, specifically painting in oils. The result has been a renewed sense of purpose, artistic freedom and a clarity of vision that is evident in his darkly surreal (and often darkly humorous) paintings.
"Chet's art is beautiful & scary. His style has a modern twist crashing into a classical approach. I think Chet is a master painter on his way to making a great mark in our little world. Wanna do something smart with your money? Invest in a Chet Zar painting." - Adam Jones (TOOL)

Bergamot Arts Complex, 2525 Michigan Ave T5, Santa Monica, CA 90404 - 310-829-2156
All images and artwork Copyright 2015 CoproGallery
Please e-mail any problems with this site to CoproGallery@live.com