LA ARTSHOW 2020 - Modern Art group exhibition


Contact: Gary Pressman, Gallery Director
Ph: 310/829-2156
E-Mail: CoproGallery@Live.com
Web: www.CoproGallery.com

WHAT: LA ARTSHOW 2020 - Modern Art Group Exhibition

WHEN: Exhibit runs; February 6 – February 9, 2020
GENERAL SHOW HOURS
Thursday, February 6, 2020 | 11am – 7pm
Friday, February 7, 2020 | 11am – 7pm
Saturday, February 8, 2020 | 11am – 7pm
Sunday, February 9, 2020 | 11am – 5pm

WHERE: LOS ANGELES CONVENTION CENTER – SOUTH HALL
1201 South Figueroa Street Los Angeles, CA 90015 / Call or e-mail Gallery for info. 310-829-2156


Matt Duffin, Billboard Blinders 2019

Copro Gallery presents the Modern Art Group Exhibition Pop-Up at the LA ARTSHOW 2020 Convention Center, Los Angeles. Located in the Modern Art section, with our largest booth and exhibition yet at an International Art Fair, Copro presents the best and brightest of the alternative art movement powered by multi-national galleries, collectors and media. In the past our style of art was put into the 'Littletopia' section of the LAARTSHOW but now we are with all the other galleries in the Modern Art section. We have a great location near the entrance and we'll be raising awareness of this style of art which has so many talented people involved and incredible paintings, drawings and sculptures! We will also be feauturing Academy Award winning artist Kazu Hiro's newest Hyperreal Portrait Sculpture in our booth and In the front of the LA ARTSHOW with a seperate booth presented by Copro Gallery, Kazu is exhibiting a retrospective of many of his past works. There will be an oppurtunity for collectors to take photos with each piece and Kazu will be present at scheduled times TBA.

ARTIST LIST: Annie Montgomerie, Brian Viveros, Brad Gray, Bruno Pontiroli, Chet Zar, Chris Buzelli, Chris Mars, Clare Toms, Danny Galieote, Dan Quintana, Esao Andrews, Femke Hiemstra, Hanna Jaeun, Horacio Quiroz, Jason Limon, Jason Wheatley, Jim McKenzie, Joe Vaux, John Brophy, Jon Jaylo, Jon Swihart, José Manuel Schmill, Kazu Hiro, Lola Gil, Lucia Heffernan, Luke Chueh, Luke Hillestad, Mab Graves, Madeline von Foerster, Marc Burckhardt, Mari Shimizu, Mark Garro, Matt Duffin, Miso, Naoto Hattori, Nouar, Olivia, Ray Caesar, Renee French, Ross Jaylo, Stephanie Inagaki, Tim O'Brien, Tom Bagshaw, Wayne Barlowe, Wes Benscoter and more!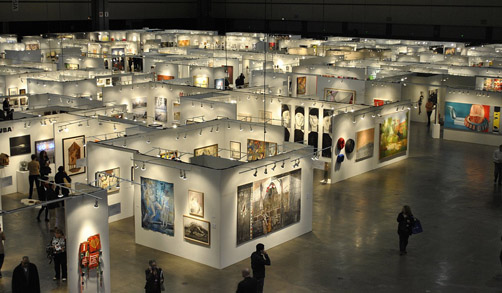 LA ART SHOW
MODERN + CONTEMPORARY
The Most Comprehensive International Contemporary Art Show in America attended by over 70K people each year with more than 200,000 square feet of exhibition space. Los Angeles has emerged as a global epicenter of art & culture, with a distinct, interwoven multi-cultural influence unique to the city. Diversity is our strength and art is most impactful when it includes or transcends all borders. As LA rises as the world-class destination for art, LA Art Show continues to lead the way with innovative programming and one-of-a-kind experiences for an expanding collecting audience.
KAZU HIRO is a contemporary hyperrealist sculptor living and working in Los Angeles. After working 25 years as a special effects makeup artist in Hollywood, Kazu decisively shifted focus in 2012, dedicating himself full time to fine art sculpture. Using resin, platinum silicone, and many other materials, Kazu constructs three-dimensional portraits in a scale two times life size.

Kazu is a self taught pioneer in the craft of using contemporary materials to create the illusion of life. As an early pioneer in Japan, Kazu founded one of the country's first companies of its kind, Makeup and Effects Unlimited, and worked with director Akira Kurosawa in the production of "Rhapsody in August". In 2007, Kazu started KTS Effects Inc. in Los Angeles. In retrospect his film career had served as a laboratory for developing cutting edge styles of portrait painting, photography, and sculpture. This led to a collaboration with Contemporary Artist Paul McCarthy where Kazu was hired to supervise the projects that have become some of McCarthy's latest major works.

2018 Kazu received numerous awards including Academy Awards Oscar for his work in "Darkest Hour" helping good friend Gary Oldman to portray Winston Churchill.
Currently, Kazu is primarily focused on producing large scale hyperrealist portrait sculpture in his custom built modeling and casting studio in Los Angeles. The recent work he has exhibited widely at major art fairs and museums, has magnetized the attention from collectors, press, and visiting art enthusiasts alike.

Bergamot Arts Complex, 2525 Michigan Ave T5, Santa Monica, CA 90404 - 310-829-2156
All images and artwork Copyright 2015 CoproGallery
Please e-mail any problems with this site to CoproGallery@live.com