JOE VAUX 'ESCAPE POD'/ H.R. GIGER 'BRAIN SALAD SURGERY' TRIBUTE GROUP EXHIBITION


WHERE: Copro Gallery - Bergamot Station Arts Complex
2525 Michigan Ave , Unit T5, Santa Monica , CA 90404

Ph: 310/829-2156
E-Mail: CoproGallery@Live.com
Web: www.CoproGallery.com
WHAT: JOE VAUX 'ESCAPE POD'/ H.R. GIGER 'BRAIN SALAD SURGERY' TRIBUTE GROUP EXHIBITION
Joe Vaux Web-Preview
Giger Tribute Web-Preview

WHEN: Exhibit runs; March 11 – April 1, 2023
Opening Reception: Saturday March 11 , 2023 - 6:00 – 10:00 p.m.

Contact: Gary Pressman, Gallery Director - Copro Gallery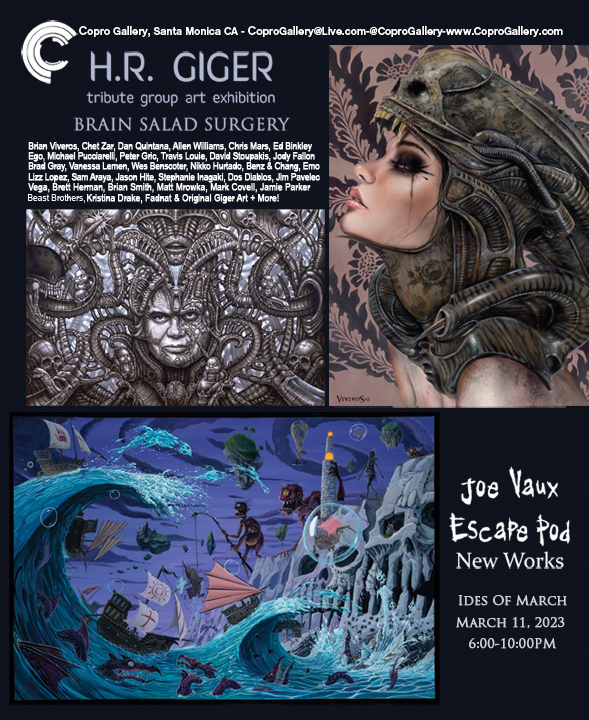 March 11, 2023- Two Great Exhibits, One Opening Night!
JOE VAUX 'Escape Pod'
Solo Exhibition


Joe Vaux's 'Escape Pod' solo exhibition features 12 new paintings by Joe, all created in 2022-2023. Joe Vaux has exhibited 7 solo exhibitions at Copro Gallery since it's beginings in early 2000 with his first solo exhibit, 'Trifecta' in 2006 and has painted a unique body of work every time. An escape pod is ubiquitous in science fiction as a capsule or craft, usually only big enough for one person, used to escape from a vessel in an emergency.

MANIFESTO: Hey, stress of the world, suck it!
Inspired by dreams and the world around, this collection of paintings is an adventure. Get your ticket and board an air ship to the Land of Vaux. All are welcome, but be kind, for there are beasts abroad that will feast on bad behavior. Escape Pods leave soon. Safe travels.


Joe Vaux bio: Joe Vaux was born in Islip, New York in 1972 and currently lives and works in Los Angeles. He graduated from Syracuse University in 1994 with BFA Illustration, after which time he started his career in the animation industry. Joe's fine art has been exhibited internationally and he partaken in numerous group and solo shows, as well as a couple of museum exhibits. Joe Vaux's name may be familiar to many, through his work as a director on the the hugely popular animated TV series 'Family Guy' . However, Vaux also engages his boundless imagination and creative skills as a prodigious fine artist. The paintings Joe concocts lead viewers into a bizarre, yet strangely familiar world, populated with ghoulish creatures who collectively engender twisted visions sprinkled with generous spoonfuls of humour. It is by way of Joe's fun loving personality that this all important ingredient of humour injects a remarkably playful and distinctly human flavour to his narratives, often shining a light, albeit a metaphorically caliginous and creepy one, on our dreams, fears and all the other good stuff which inextricably goes into making us human.


'Grass Is Greener' Joe Vaux 24"x 36" acrylic on panel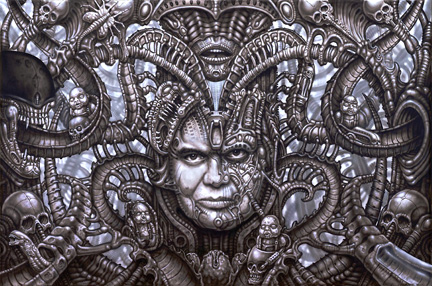 'GigerLand' Michael Pucciarelli 24"x 36" acrylic on canvas



H.R. GIGER 'Brain Salad Surgery' Tribute Group Art Exhibition


Hans Ruedi Giger was a Swiss artist best known for his airbrushed images that blended human physiques with machines, an art style known as "biomechanical". Giger later abandoned airbrush for pastels, markers and ink. He was part of the special effects team that won an Academy Award for the visual design of Ridley Scott's 1979 sci-fi horror film Alien, and was responsible for creating the titular Alien itself.His style has been adapted to many forms of media, including album covers, furniture, tattoos and video games. Giger is often referred to in popular culture, especially in science fiction and cyberpunk. His art has greatly influenced tattooists and fine artists worldwide. This exhibition pays tribute to his influence on modern art and culture and every artist in this show has been inspired by Giger in one way or another.
30 EXHIBITING ARTISTS and Originl Giger Art: Brian Viveros, Chet Zar, Dan Quintana, Allen Williams, Chris Mars, Ed Binkley, Ego, Michael Pucciarelli, Peter Gric, Travis Louie, David Stoupakis, Jody Fallon, Brad Gray, Vanessa Lemen, Wes Benscoter, Nikko Hurtado, Benz & Chang, Emo, Lizz Lopez, Sam Araya, Jason Hite, Stephanie Inagaki, Dos Diablos, Jim Pavelec, Vega, Brett Herman, Brian Smith, Matt Mrowka, Mark Covell, Jamie Parker ++
#
Bergamot Arts Complex, 2525 Michigan Ave T5, Santa Monica, CA 90404 - 310-829-2156
All images and artwork Copyright 2015 CoproGallery
Please e-mail any problems with this site to CoproGallery@live.com