Martin Wittfooth - " Tempest " - Chris Ryniak " The Burgeoning "

Where: Copro Gallery
Bergamot Station
2525 Michigan Ave , Unit T5, Santa Monica , CA 90404
Ph: 310/829-2156
E-Mail: www.copronason.com
What: Martin Wittfooth - " Tempest " - Chris Ryniak " The Burgeoning " paintings & sculptures
Opening Reception, Saturday February 13 - 8:00 - 11:30 p.m.

Dates: Exhibit runs; February 13 - March 6, 2010
Contact: Gary Pressman, Gallery - Director Copro Gallery
Martin Wittfooth - " Tempest "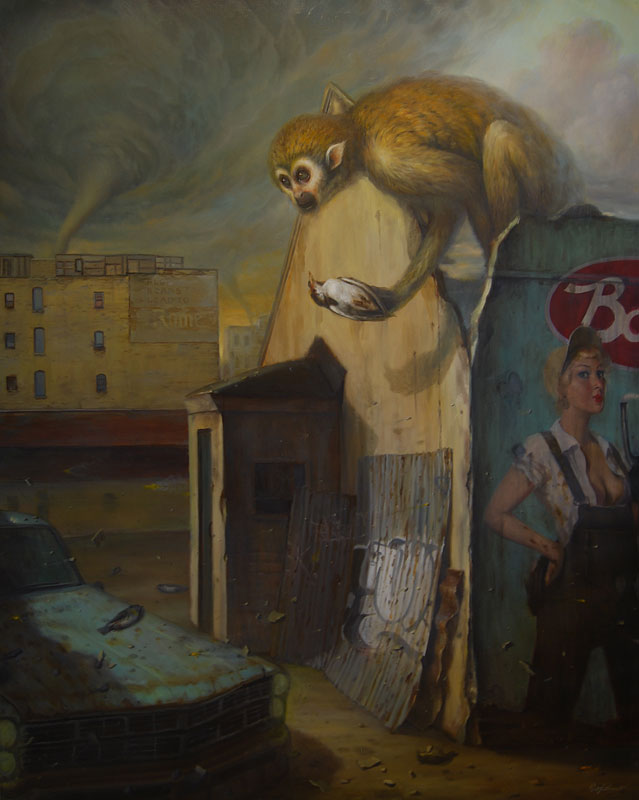 Tempest, 48" x 60" Oil on linen
Martin Wittfooth's " Tempest " explores the theme of storm in both its physical form as well as its allegorical implications. Wittfooth's latest body of work is a visceral response to the anxiety of our era: uneasy forecasts, both of an increasingly menacing climate as well as unpredictable social upheaval. The hysterical and aggressive, often hypocritical nature of religion. violence and intolerance, and corruption are also themes explored in this series. The show will consist of of a large-scale installation, sculptures, oil paintings executed on linen, canvas, and panel, and a series of graphite studies. Framed Artist Proofs of select Limited Edition prints will also be included.

Martin Wittfooth lives and works in Brooklyn, New York. The rusted, crumbled, and otherwise urbanely Mad Max'ian landscape of his neighborhood is a constant inspiration for his paintings. www.martinwittfooth.com

____________
Chris Ryniak " The Burgeoning"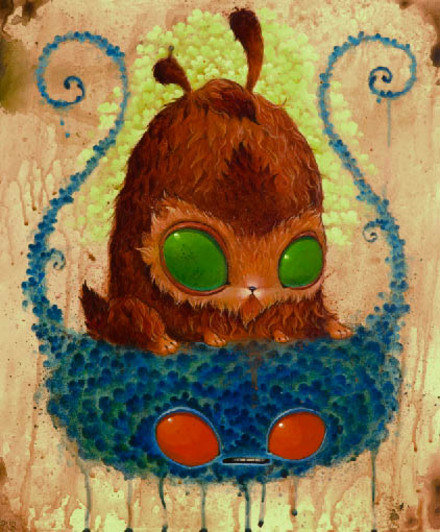 High Pressure System, 15" x 12.5" acrylic on panel

Painter and sculptor Chris Ryniak's first west coast solo show and new body of work, " The Burgeoning , " is a collection of paintings and hand-painted resin cast sculptures. Ryniak has been acknowledged internationally as a "creature creator," but a deeper look at these beings shows the tumultuous world in which they are forced to struggle to survive. While the creatures that inhabit Ryniak's world are unfamiliar, they serve as an embodiment of the natural world that human beings have grown to all but ignore.

" The Burgeoning " further explores the theme of the neverending cycle of life in the natural world, the flawless system of checks and balances that flourishes without human meddling. Through color and an ordered chaos of mark-making, this world is brought to life in this new series of paintings and sculptures.

Chris Ryniak has shown nationally and internationally in numerous group and solo exhibitions since 2002. In 2009 Chris rapidly gained the attention of collectors through a series of sold out editions of Vinyl toys and Limited edition sculptures. Ryniak's work has been featured in numerous books and publications including Hi Fructose, Juxtapoz Magazine , the UK hardcover magazine MyNameIs as well as books by Fantagraphics and Gestalten. www.chrisryniak.com
###