MARK GARRO 'Peace, Love & B29's'-THE CONVERGENCE - ESPIONAGE ll group exhibition
WHERE: Copro Gallery - Bergamot Station Arts Complex

2525 Michigan Ave ,#T5, Santa Monica , CA 90404

Ph: 310-829-2156
E-Mail: CoproGallery@Live.com
Web: www.CoproGallery.com
WHAT: MARK GARRO 'Peace, Love & B29's' - CONVERGENCE group exhibition - ESPIONAGE ll group exhibition

Mark Garro Web-Preview, Convergence Web-Preview, Espionage ll Web-preview
WHEN: Exhibit runs; March 22 – April 15, 2014
Opening Reception: Saturday March 22, 2014 - 8:00 – 11:30 p.m.

Contact: Gary Pressman, Gallery Director Copro Gallery

Mark Garro's 'PEACE, LOVE & B29'S' solo exhibition

Copro Gallery presents Mark Garro's 4th solo show with the gallery 'PEACE, LOVE & B29'S. California Dreamin and Nuclear Nightmares collide in an explosion of visionary surrealism while beautiful Nymphettes tangle with the cosmos in unexpected and thought provoking ways. Garro's apocalyptic yet strangely hopeful narratives address the various ways the human race coexists yet exploits Mother Earth.
Mark's new body of work will include slightly larger in scale paintings, drawings and an installation illustrating the theme of Peace & Love and the Flower Children of the 1960's living in the age of "Duck and Cover".
Garro says "When I am free of distraction and tuned in to the Universe, sometimes serendipitous events fuel ideas lurking in the back of my mind, illuminating the shadows. I depend on this dynamic and for this exhibition it was the icing on the conceptual cake".

Mark Garro Bio and Resume


'The Convergence' group art exhibition

Copro Gallery presents 'The Convergence', a group exhibition curated by Nathan Spoor. Each individual artist was chosen for this exhibition because of their unique approach to the painted image. Each separate voice interacts independently, yet synergistically. These works are celebrations of unique and harmonic differences lending a vivid harmonic interlink in the current phase of Artmorphosis.

Artists featured in this exhibition include: Jen Lobo, Soey Milk, Kikyz1313, Bec Winnel, So Youn Lee, Jason Limon, Heather Watts, Winnie Truong, JeanPaul Mallozzi, Yevgeniya Mikhailik.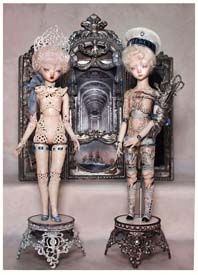 'ESPIONAGE ll' group art exhibition

The 'Espionage' exhibition opened in Miami, Florida during Art Basel last December 2013 in the Wynwood District at the Harold Golen Gallery. This continuation is the California version, Espionage ll featuring some of the work from part one and many new pieces. Espionage is unwelcome, illegal, done without consent and punishable by law!

artists included: Eli Effenberger, Leslie Ditto, John Brophy, Chris Mars, Annie Owens, Billy Norrby, Vincent Cacciotti, Mark Garro, Peter Adamyan, Isabel Samaras, Macsorro, David Molesky & more
#