LA ARTSHOW 2022 - group art exhibition


Contact: Gary Pressman, Gallery Director
Ph: 310/829-2156
E-Mail: CoproGallery@Live.com
Web: www.CoproGallery.com

Web-Preview:
LA ARTSHOW WEB-PREVIEW
LA ARTSHOW INFO

WHAT: LA ARTSHOW 2022 - group art exhibition

WHEN: Exhibit runs; January 19 – January 23, 2022

SHOW HOURS:
OPENING NIGHT PREMIERE
January 19, 2022
7pm – 11pm
Opening Night Ticket, $250

SHOW HOURS/TICKETS
General Admission, One Day Ticket $30
Thursday, January 20, 2022
12pm – 8pm
Friday, January 21, 2022
12pm – 8pm
Saturday, January 22, 2022
10am – 8pm (Early entry, with Opening Night Ticket)
12pm – 8pm (General Admission)
Sunday, January 23, 2022
10am – 6pm (Early entry, with Opening Night Ticket)
12pm – 6pm (General Admission)
WHERE: LOS ANGELES CONVENTION CENTER – SOUTH HALL
1201 South Figueroa Street Los Angeles, CA 90015 / Call or e-mail Gallery for info. coprogallery@live.com



Copro Gallery presents a group art exhibition at The LA ARTSHOW 2022 Convention Center, Los Angeles. Located in the Modern Art section, with our largest booth and exhibition yet at an International Art Fair. Copro presents the best and brightest of the alternative modern & contemporary art movement powered by multi-national galleries, collectors and media. We have a great location near the entrance and we'll be raising awareness of this style of art which has so many talented artists involved with incredible paintings, drawings and sculptures!
ARTIST LIST: Adam McCarthy, Adam Walcavage, Alex Garcia, Allen Williams, Amanda Adomaitis, Anthony Ausgang, Benz and Chang, Brad Gray, Brian Viveros, Carl Dobsky, Chet Zar, Chris Guest, Chris Haas, Chris Mars, Christina Bothwell, Ciou, CORO, Dan Ianos, Dave Lebow, David Lyle, Ed Binkley, Jason Limon, Jeff Gillette, Jim McKenzie, Joe Vaux, John Brophy, Jonathan Queen, Laurie Hassold, Luke Hillestad, Luke Chueh, Marie Larkin, Naoto Hattori, Nikko Hurtado, Nouar, Olga Esther, Paul Barnes, Pooch, Renee French, Richard Ahnert, Sazha Gazova, Scot Rohlfs, Shawn Barber, Simona Candini, Stefanie Vega, Stephanie Inagaki, Tim O'Brien, Travis Louie, Vanessa Lemen, Xue Wang, and more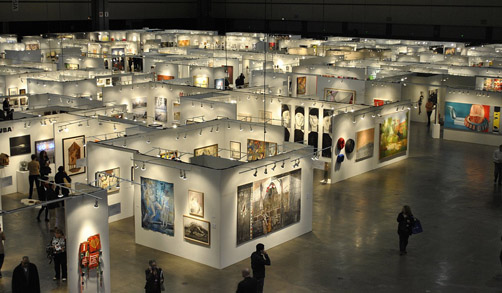 LA ART SHOW
MODERN + CONTEMPORARY
Los Angeles has emerged as a global epicenter of art & culture, with a distinct, interwoven multi-cultural influence unique to the city. Diversity is our strength and art is most impactful when it includes or transcends all borders. As LA rises as the world-class destination for art, the LA Art Show continues to lead the way with innovative programming and one-of-a-kind experiences for an expanding collecting audience. LA Art Show is the unparalleled international art experience with over 80 galleries, museums, and non-profit arts organizations from around the world exhibiting painting, sculpture, works on paper, installation, photography, design, video and performance. All works presented by galleries are available for your purchasing pleasure.
More than 180,000 square feet of exhibition space is committed to today's prominent galleries. These domestic and international galleries, beyond their booths, curate special exhibits that are at the forefront of the burgeoning contemporary art movement. The fair offers an extraordinary array of works and experiences in specialized sections.

COVID PROTOCOLS: Prevailing protocols require all visitors to show proof of full vaccination or proof of a negative COVID-19 rapid test taken within 24 hours or negative COVID-19 PCR test taken within 48 hours as a prerequisite for attending the LA Art Show. All visitors are also required to wear masks indoors, unless consuming food or beverage in designated areas. No food or beverage should be taken outside of the designated areas and consumed while art browsing.
Bergamot Arts Complex, 2525 Michigan Ave T5, Santa Monica, CA 90404 - 310-829-2156
All images and artwork Copyright 2015 CoproGallery
Please e-mail any problems with this site to CoproGallery@live.com