Joe Ledbetter "INNARDS" - solo exhibition
Joe Vaux "My Brain Made Me Do It" - solo exhibition


Where:
Copro Gallery - Bergamot Station


2525 Michigan Ave , Unit T5, Santa Monica , CA 90404
Ph: 310/829-2156

E-Mail: CoproGallery@live.com
Web-site www.CoproGallery.com

What: Joe Ledbetter "INNARDS" - Joe Vaux "My Brain Made Me Do It"
Joe Ledbetter pre web-preview , Joe Vaux web-preview

Opening Reception, Saturday, June 11, 8:00 – 11:30 p.m.
Live music from "The Ghosts of Searchlight"

Dates: Exhibit runs; June 11 – July 2, 2011

Contact: Gary Pressman, Gallery - Director Copro Gallery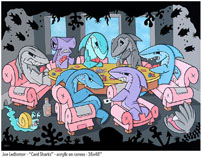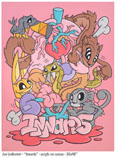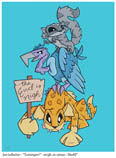 Copro Gallery presents a solo art exhibition by Joe Ledbetter "INNARDS"

This will be Joe's 3rd exhibition at Copro Gallery. When asked about the title of the show "Innards," Joe explains, "the goal of the show is to open up my work and ignore any restrictions. The theme of the show is that there is no theme. I want to reveal what's been living inside me for the past year, and I'm ready to spew my guts all over the gallery." Disregarding his past, Ledbetter says he has "erased any self-inflicted boundaries". His most fun, colorful and impressive paintings to date are to be expected for this ambitious show.

Influenced by classic animation, graphic design, and daily life, Joe Ledbetter's art is... well... a lot of things. Light-hearted in its approach, he often combines cute and cuddly creatures with unfortunate — albeit humorous — situations. With a lean on the subversive and absurd, these scenarios are all too familiar, questioning our tendency of taking life (and ourselves) too seriously.

While working as a graphic apparel artist for three years, Ledbetter got involved in the Los Angeles underground art scene around 2004. Since then he has had numerous solo art exhibitions in Los Angeles, Tokyo, London, Paris, Rome, Toronto, Taipei, Istanbul, and Amsterdam. His incredible cast of creatures have since been emblazoned on over 100 designer vinyl toys, as well as apparel and lifestyle brands, the world over.
#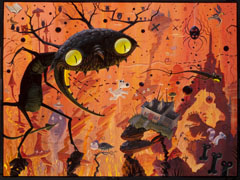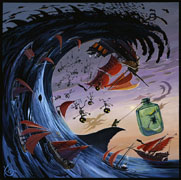 In gallery 2, solo art exhibition with Joe Vaux, "My Brain Made Me Do It"

When asked to make a statement about his current show Joe said "My Brain Made Me Do It!"

.....A product of two artists, I was always surrounded by an abundance of art materials and inspiration. Whether working with pencil, paint, Styrofoam or Lego I found ways to make my fantasy worlds a bit more real.
After receiving a B.F.A. in illustration at Syracuse University in 1994, I moved to California and began working in the animation industry. I refer to these years as graduate school, continuing to learn from some of the animation world's top artistic talent. It was during this time that I refined my voice as a painter.
..... Although my influences and abilities have grown, my imagery seems to grow out of an adolescent's sensibility. Strange environments and absurd characters are the players in a demented adaptation of my life story. I hope that within the madness the viewer will find the comedy that is our existence.