Copro Gallery presents "Second Skin" Tattoo Artist Exhibition curated by Chet Zar. This show features highly respected and established artists in the field of tattooing creating fine art on paper, wood and canvas. Says Chet "I only discovered the tattoo community about 3 years ago when I was invited by tattoo artist Jon Lane to paint live at the 2009 Visionary Tattoo Art Festival. I was impressed from the start. Not only were these artists creating truly cutting edge art work on skin, but I was truly blown away at the variety of styles, techniques and ideas in the fine art they were creating." Many of the artists will be present at the show and are flying in from around the globe to attend.

Tattoo Artists include:
Alan Padilla, Alex Garcia, Adrian Dominic, Big Gus, Black Mass, Carlos Torres, Chris Dingwell, Christian Perez, Chuy Ortega, Cory Norris, Damon Conklin, Dan Plumley, Gunnar Gaylord, Guy Aitchison, Jaime Lee Parker, Jeff Johnson, Jesse Smith, Joey Remmers, Jon Clue, Joshua Carlton, Juan Salgado, Kim Saigh, Kirk Alley, Michele Wortman, Mike DeVries, Misha, Nick Baxter, Nikko Hurtado, Paul Booth, Paolo Acuna, Pepper, Pooch, Rob McClurg, Shawn Barber , Teresa Sharpe, Tim Plumley… And more…

also a mini show of tattoo inspired artwork by Matthew Grabelsky, Marc Willey, Rick Zar, Erik Alos, Clare Toms and more in the front gallery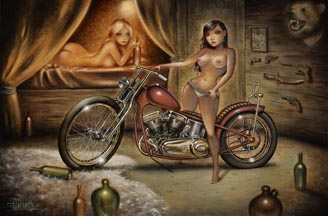 Keith Weesner - Heathens Den

Gallery 2 features Keith Weesner's "Heathens Den". Keith is a painter and illustrator whose work reflects his obsession with car culture, vampy women, cinematic settings and brooding characters. Keith studied automotive design at Art Center in Pasadena, and is inspired by golden age illustrators like N.C. Wyeth and Andrew Loomis, and 20th century painters like Sargent and Hopper. His brush inking style sprang from Rex Burnett, Wally Wood, Ed Newton and Robert Williams. Keith worked in animation doing background designs for 13 years mostly at Warner Brothers on Bruce Timm's Batman, Superman, Batman Beyond and Justice League shows. He was also instrumental in the Batman Mask of the Phantasm and Return of the Joker features, as well as the Power Puff Girls feature for Cartoon Network, and Gary Baseman's Teacher's Pet at Disney.