'Morpheus' group art exhibition
WHERE: Copro Gallery - Bergamot Station Arts Complex

2525 Michigan Ave , Unit T5, Santa Monica , CA 90404

Ph: 310/829-2156
E-Mail: CoproGallery@Live.com
Web: www.CoproGallery.com
WHAT: 'Morpheus' group art exhibition - Web-Preview
Live Music from MACSABBATH
WHEN: Exhibit runs; July 12 – August 2, 2014
Opening Reception: Saturday July 12, 2014 - 8:00 – 11:30 p.m.

Contact: Gary Pressman, Gallery Director Copro Gallery


'Morpheus' group art exhibition

Copro Gallery presents a group exhibition curated by James Cowan & Morpheus Gallery. Morpheus began in 1989 by publishing books and prints by Swiss surrealist and ALIEN designer, H.R. Giger, and expanded to include such artists as De Es Schwertberger, Jacek Yerka, Judson Huss, and Zdzislaw Beksinski. Morpheus has focused on contemporary masters of the fantastic and surreal, all with a strong technique and unique imagination. Recently, Morpheus has begun working with Polish artist Dariusz Zawadzki, American painter Geoffrey Gersten and the transformative portraitist, Jota Leal.

James began the art publishing and exhibiting firm over twenty years ago in Beverly Hills, CA , and currently operates it out of Las Vegas. Cowan also began Morpheus Fine Watches recently and released an H.R. Giger watch design. When not managing Morpheus, Cowan writes, and currently has a film in development with Star Wars producer Gary Kurtz.
The exhibition at the Copro Gallery will include numerous works by Jota, Geoffrey Gersten and Dariusz Zawadzki, with a sampling of other fine artists. Jota and Gersten will attend the opening event and there will be live music from MAC SABBATH!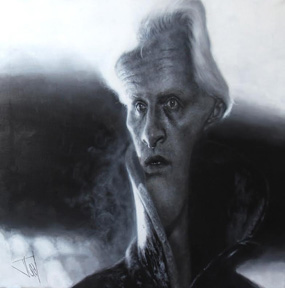 JOTA:
Jota paints all the time. He blames his obsession on his parents. "They made me believe it was something I was good at. I have not stopped painting since." In 2001 Jota traveled to Spain and lived there, immersing himself in the history and technique of art. He then returned to his hometown in Venezuela, where he received the Caricaturist of the Year Award for 2003. His art follows the grand tradition of the great portrait painters of the past, as well as the more recent caricature masters. Jota's oevre is a part with the likes of Honore' Daumier and Otto Dix. His sense of humor shows the delicate whimsy of a Max Beerbohn or Al Hirschfeld, but with a more fully rendered painting style.
Jota's style results in a synergy of remarkable painting skill and a probing sense of the subject's soul, and often tweaked with a remarkable sense of humor. Leal works with pencil on paper, acrylic on board, and acrylic on canvas to achieve his amazing images. He paints the inner soul of his subjects, and manifests this as their outer persona. He is an interpreter of the subconscious, translating with his pencils and brushes.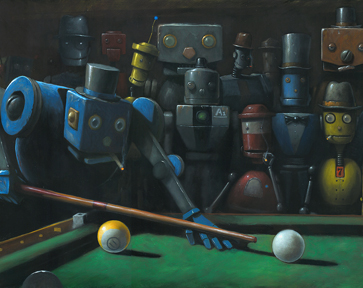 GERSTEN: An American Surrealist
Painting is who I am. There was always something in me that was going to grow into an artist. As a youth, two images profoundly impacted me; I will never forget the fear and distraction I felt when I first took in the eternal repose of the characters in Grant Wood's great American Gothic. Then, I saw The Persistence of Memory, or Soft Watches, by Dali. I have a romance with the old memory.
I cannot remember many details of the painting, but I saw it differently then.
When I view the painting now, my mind goes hastily to work, examining perspective, composition, atmosphere. I cannot help but conduct automatic analysis. This is how I learned to create.
It was not until 2007, however, that I sat before a sheet of paper and began to arrange meaningful strokes upon it. I became so hooked, like nothing I had ever experienced. This was it! This was really, really it. I began to collect art books maniacally. My very first studies and infatuations were with the best abstract paintings and the entire impressionist movement. I found a pleasing similarity between the suggestive shapes of abstract expression, and the well timed strokes of an impressionist composition. I could not stop with mere visual suggestion, though. I was destined for more. I rediscovered Dali and explored the Surrealist movement. Magritte, love and hate, will always be a part of my foundation as a visual composer.For I knew from the start that I was going to be a surrealist. To grow as an artist and learn how to paint, I would flip through documentary books on Turner, Velasquez, and Gainsborough until I encountered paintings so immensely beautiful that I could not turn the page. I would not turn the page for several days. I left books open on my bed, the floor, the desk, any surface around to display the paintings that I "reverse engineered" to discover the secrets of traditional technique in oil painting. I felt like my heart lived in those great paintings.
Through reference and practice, my artistic vision began to flourish.
My influences are as a "great cloud of witnesses," a family of historical personalities: surrealist imagery, the gem-like quality and intense beauty of Bosch's hell paintings. Andrew Wyeth's quiet despair, Caravaggio's dramatic entourage, Rogier van der Weyden's passion and tears; Leonardo da Vinci's excellence, Rembrandt's heartsick truth, Odd Nerdrum's strange mysteries; a dash of Philip C Curtis, Titian, Andrea Mantegna, and Albrecht Durer. --Geoffrey Gersten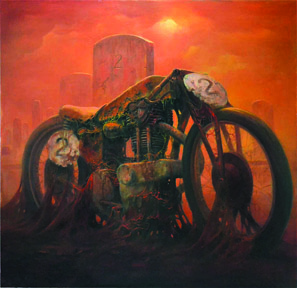 ZAWADZKI:
Dariusz Zawadzki was born in Szczecin in the northwest Poland in 1958. Since his early childhood Zawadzki was regarded for having unusual sensitivity to the surrounding world. His artworks are widely admired for being able to deeply move the spectators, with both the feelings and emotions as well as high attention to painterly details. His artistic style is exceptional, and in the great tradition of contemporary Polish masters, such as Zdzislaw Beksinski.
Zawadzki paints with a mix of oils and acrylics, usually on masonite. His paintings have a wonderful texture and depth to them, noted for their remarkable imagery and palette. Zawadzki is also an accomplished sculptor.
Since I was a child I have had various visions and dreams that built surreal worlds in my imagination. These worlds came first, and then I felt a need to express them by drawing. When I was eleven years old I started painting.
I never use a sketch-book, because I don't want to force myself to reproduce on a painting something that was already put on paper. The most beautiful moment is when I'm standing in front of a white, clear board when I am just starting to paint.
http://www.fantasy-magazine.com/new/artist-spotlight/artist-spotlight-dariusz-zawadzki/