TEX BUSS 'FUGUE STATE'- MIKE EGAN 'SPIRIT ANIMALS'- NICK SHEEHY

WHERE: Copro Gallery - Bergamot Station Arts Complex
2525 Michigan Ave , Unit T5, Santa Monica , CA 90404

Ph: 310/829-2156
E-Mail: CoproGallery@Live.com
Web: www.CoproGallery.com

Mike Egan Web-Preview
Tex Buss Web-Preview
Nick Sheehy Web-Preview
WHAT: Tex Buss 'FUGUE STATE'- Mike Egan 'SPIRIT ANIMALS', Nick Sheehy


WHEN: Exhibit runs; July 8 – July 27, 2023 email for appointment CoproGallery@live.com

Contact: Gary Pressman, Gallery Director - Copro Gallery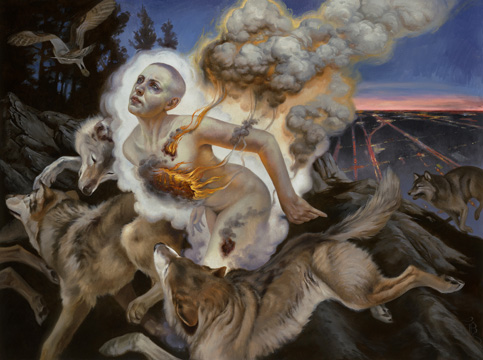 Tex Buss 'In Consideration' 36 "x 48 " oil on panel
TEX BUSS 'FUGUE STATE' - Copro Gallery presents a solo exhibition by artist Tex Buss. This will be her 1st exhibition at the gallery and features her most recent oil paintings. Tex's work is both illustrative and figurative, and features elements from the natural world. She began studying art at the School of Visual Arts in New York, with a focus in photography and painting. After College she travelled and worked as a painter of signs and portraits. Her love of art took her into varied directions, including an ongoing career in tattooing at Red Kestrel Tattoo, as well as oil painting with a heavy focus on figurative work. Tex has been tattooing in San Francisco for over 25 years
ARTIST STATEMENT: This body of work is the result of being forced to rest at 150 miles per hour. To nap on a galloping horse. Of having no other option than to crawl inward on oneself and confront that dark place with all its horrors, both acute and mundane, as well as its revelatory beauty, to get through to the other side. It is the press for freedom, as well as the disassociation—the fugue state—that occurs when it cannot be reached. It is the exhale after a wild ride. How did we get here? What the hell just happened?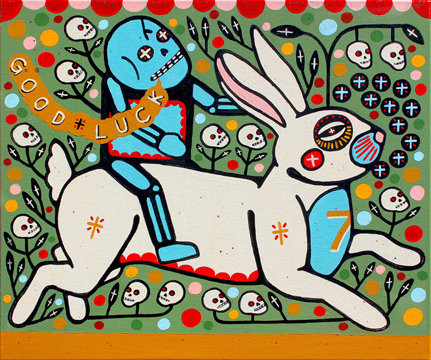 Mike Egan , 'Good Luck with Life' acrylic on wood

MIKE EGAN "Spirit Animals" - For his first solo exhibition at Copro Gallery Mike Egan's 'Spirit Animals' consists of a body of work all connected to the theme. 'Spirit Animals' are meant to guide and protect us on specific journeys. I wanted to do a series of paintings about animals and how they play a role in my world as an artist and human being. In this series I've created a world full of black cats, wolves, snakes, lions and more. I choose powerful animals that make me feel stronger. These paintings are about the spirit animals and how they help me in certain situations. However if you look deeper these paintings are about me and what I face in my life. Like everyone I can struggle with depression, anxiety, fear and they can affect how I live my life. By making the art that I make I am able to empower myself and lift myself. You could say that the artwork in this show is my "spirit animal" and it's been inside of me this whole time.
BIO - Mike was born outside of Pittsburgh, PA in 1977 (a reason why you'll find those numbers in my artwork). As a kid, I was really shy but eventually found art that helped me find my voice. I would trace cartoons, skateboard graphics and album covers. I can recall drawing Guns N Roses "Appetite For Destruction" many times in sixth grade or sitting in church every Sunday doodling on whatever paper I could find. I took art classes throughout high school and decided to pursue a degree in fine arts after school. I went on to college at Edinboro University of Pennsylvania, two hours north of Pittsburgh. I focused on printmaking at the time, which is where I learned about artists like Jose Guadalupe Posada and the German Expressionists like Kathe Kollwitz. I loved woodcut printing as it offered bold black line work and a graphic quality that I'd later use in my paintings. After I finished school and returned home, I did not have the necessary supplies to continue making my prints. Instead, I turned to painting so I could keep making art. I'll be honest, in the beginning my paintings were bad. Like REALLY bad, but I enjoyed making them and I continued to learn what worked and what didn't. In the meantime, I lived near the airport and ended up picking up a job with the airlines. My first day of work was an intro class on we should expect while working there. After two hours of videos we took a quick break. When we returned to class, we were shocked to see the horrific images of planes crashing into the twin towers. My first day of a full time job with the airlines ended up being September 11, 2001. Shortly after this day, I was let go and went back to making (bad) art, while I tried to figure out what I wanted to do with my life. I contemplated going back to school, but the thought of a multi-year investment deterred me. I tried to find a new career that required limited schooling and, somehow or another, I stumbled on funeral directing. I looked into it more and had discovered that there was a mortuary school in Pittsburgh where I could get licensed as a funeral director/embalmer fairly quickly. I knew nothing about the business or what I was getting myself into. I went to school for a year and followed that up with an internship for another year. I learned how to do removals, embalm, do restorations, dress and casket people, do the cosmetics and assist on funerals. During all of this, I continued to paint and make even more bad art. I eventually got a job as an embalmer out in Reading, PA in 2005, four hours east of Pittsburgh. Between four locations, we did 500 calls a year, so it was a busy time for me. The hard thing about being an embalmer is that you're always on call, so when someone passed away my phone rang and I had to go to work. I spent a lot of time alone in my apartment waiting for said phone to ring. A lot. This is where I learned to craft my paintings and style. I started to take influence from my printmaking days in 2000, as well as my appreciation of traditional (American & prison style) tattooing and used it to create new work with bold lines and dark imagery. Once I started to paint in that style, things really started to click for me and I felt like I had finally found my voice as an adult. During 2006, a friend of mine put together a gallery show in Pittsburgh and offered to include my paintings. I sold three the opening night, and I was so excited and realized that maybe I was onto something. I used my love of religious imagery, my experiences dealing with life and death, and my love for skeletons and devils to make my art. Since then, I've been working with galleries and collectors all over the world, as well as the opportunity to work on some really cool projects/collabs across other mediums as well.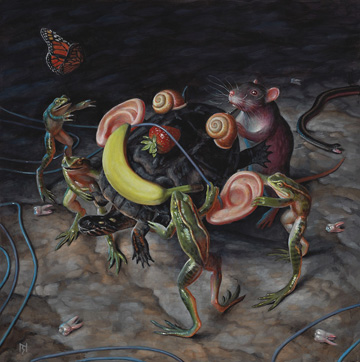 Nick Sheehy 'Turtle Face' 12"x 12 " acrylic on panel

NICK SHEEHY 'Feasts' - For his second mini solo with Copro Gallery, Nick Sheehy presents 'Feasts'. Nick is an Australian-born artist and illustrator living in London. After studying bronze sculpture in the wilds of Tasmania, Nick gave up on art only to re-discover his love of drawing whilst living in London, sparked by an interest in the city's low brow art, illustration, street art, and graffiti.In his work, Nick explores the dreamlike, sometimes semi-autobiographical scenes and oddball characters that echo from his childhood imagination. Employing a laborious technique, building up layers of texture and thin colour, his work infuses precision and attention to detail with random abstraction and clumsines
#

Bergamot Arts Complex, 2525 Michigan Ave T5, Santa Monica, CA 90404 - 310-829-2156
All images and artwork Copyright 2015 CoproGallery
Please e-mail any problems with this site to CoproGallery@live.com