MCMONSTER 'SONDER' / STEPHANIE INAGAKI 'LUXE PAWS'

Contact: Gary Pressman, Gallery Director
Ph: 310/829-2156
E-Mail: CoproGallery@Live.com
Web: www.CoproGallery.com

WHAT: MCMONSTER 'SONDER' / STEPHANIE INAGAKI 'LUXE PAWS'

WHEN: Exhibit runs; June 6 – June 27, 2020
Opening Reception: Saturday June 6 , 2019 - 6:00 – 10:30 p.m.

WHERE: 2525 Michigan Ave. T5, Santa Monica, CA 90404 / 310-829-2156



Copro Gallery presents, for his his first solo exhibition, McMonster (Joshua McQuary). This show will feature all the art from McMonster's brand new book and other new works on paper. The book 'Sonder, A collection of short stories' will be officially released in the very near future (delayed by pandemic)
McMonster is a story teller without a narrative. Both dreary and whimsical he enchants viewers to create their own allegory within each painting. Rooted in horror and fantasy he blends these themes into a cocktail of fantastical story telling that'll leave you wanting to know what happens next. He creates with India ink and water for the tones of black & gray and bright white acrylic ink to bend light and focus. Hailing from the gloomy Pacific Northwest, Based out of Portland, Oregon McMonster is heavily active in the local artist community. Solely surviving off of what he creates, He purposely tries to make the world just a little more creepy.
Sonder: The profound feeling of realization that everyone, including strangers passed in the street, have a life as complex as one's own, which they are constantly living despite one's personal lack of awareness of it.
"I've been asked repeatedly to create a book that has stories that go along with my paintings. That dream is now a reality with a twist! My book will include short stories to fit images I've created. There will also be a section where the reader can write in their own story. After 1 year of the original release I will take submissions of stories for the book, pick my favorites and re issue a limited edition of books with the reader's stories printed as the final stories that go with the artwork.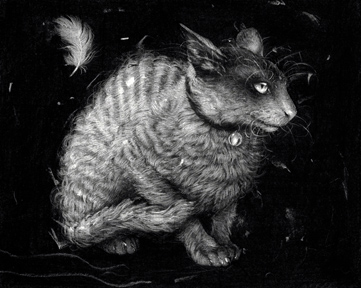 Sam Wolfe Connelly, Cat-Scratch

Stefanie Inagaki presents 'Luxe Paws' group art exhibition & fund raiser

Curated by artist Stephanie Inagaki the 'Luxe Paws' group exhibit will benefit the Luxe Paws rescue in Los Angeles which is a volunteer street rescue effort based in the LA neighborhoods of Los Feliz/Silver Lake/Echo Park. Laser-focused on TNR (Trap/Neuter/Return) spay/neuter & rescue for the youngest, most at-risk kitties Stepahnie has brought together a group of artists to help with a percentage of the sales of the art being donated to Luxe Paws.

Join Stephanie (@stephanieinagaki) on Instagram for a livestream of the exhibit opening day on Saturday June 6 at 12pm PST/3pm EST.

Artist List: Stephanie Inagaki, Brain Viveros, Sam Wolfe Connelly, David Van Gough, Hidden Velvet, Darla Jackson, Carin Hazmat, Allan Amato, Brian Busch, Lana Crooks, Dos Diablos, Ivonne Garcia, Karikatura, Paul Koudounaris, Sma Litzsinger, Olivia, Karla Pereira, Kat Philbin, Ave Rose, Spinestealer, Lizz Lopez, Kevin E. Taylor, Babs Webb, Izumi Yokoyama, Ver Mar, Vega, Zakuro Aoyama
Bergamot Arts Complex, 2525 Michigan Ave T5, Santa Monica, CA 90404 - 310-829-2156
All images and artwork Copyright 2015 CoproGallery
Please e-mail any problems with this site to CoproGallery@live.com