DEAD END TRAIL - Sonya Palencia - Jeff Nentrup - Sean Cheetham - Kate Zambrano

WHERE: Copro Gallery - Bergamot Station Arts Complex
2525 Michigan Ave , Unit T5, Santa Monica , CA 90404

Ph: 310/829-2156
E-Mail: CoproGallery@Live.com
Web: www.CoproGallery.com
WHAT: DEAD END TRAIL - Sonya Palencia - Jeff Nentrup - Sean Cheetham - Kate Zambrano
WEB-PREVIEW

WHEN: Exhibit runs; June 3 – June 24, 2023
Opening Reception: Saturday June 3, 2023 - 6:00 – 10:00 p.m.

Contact: Gary Pressman, Gallery Director - Copro Gallery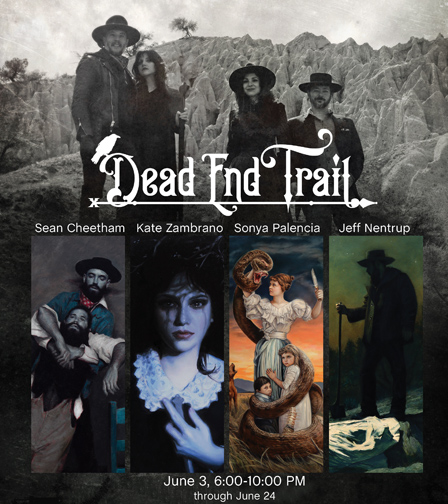 Dead End Trail - Copro Gallery presents 'Dead End Trail' a four person group exhibition featuring provocative Western paintings by Sean Cheetham, Jeff Nentrup, Kate Zambrano and Sonya Palencia. 'Dead End Trail' will explore the shadows of the American West, inspired by their first hand experience of settling adjacent ranches down a dead end trail in the California mountains.

Artist bios and statements: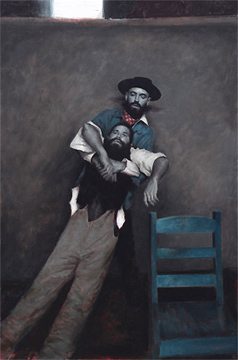 Sean Cheetham 'Keseberg's Cabin'

Sean Cheetham
bio: Sean Cheetham was born in 1977 in San Francisco, studied at the College of San Mateo, in California, and earned a B.F.A. degree with honors from Art Center College of Design, in Pasadena, California. His paintings have been included in numerous significant exhibitions internationally including the National Portrait Gallery in London and the Smithsonian in Washington DC. He has a devoted following of collectors and art students that are inspired by his work and
distinctive technique. Primarily a figurative painter, Sean is known for his technical prowess in achieving accuracy and harmony in his alla prima paintings which he credits to a deep understanding of drawing and a system of mixing colors which he uses adeptly to govern shadows, midtones and highlights. In addition to having an exceptional ability to understand, draw, and paint the human form, Cheetham's selection of subjects typically in familiar urban scenes contributes a
truthful and often raw spirit that makes his work distinctive and a contemporary testimony of our time.
Statement:
I've been dabbling with western themes for a handful of years and I'm always drawn to some of the more gritty and intense stories. One of those stories, in particular that I am studying, is the Donner party, and their attempt to head west in
the 1840s to California across the Sierras during one of the worst recorded winters in history, resulting in a major loss of life and tales of cannibalism for survival. Living at the edge of the woods in a high elevation we've gotten to experience
some of nature's unforgiving harshness and it's hard to imagine anyone could survive a journey like that and live to tell the tale. Bon Appetit y'all
.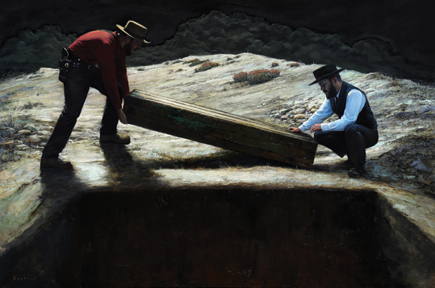 Jeff Nentrup 'Substrate'

Jeff Nentrup
bio: As a Southern California native, Jeffrey Nentrup developed a love for art and nature at a young age. Upon receiving his BFA with Distinction in Illustration from the Art Center College Of Design in 2002, Nentrup immediately went to work fulltime for Hollywood. After years of painting digitally in the high-octane commercial art ranks and working on marquee projects for A-list clients (Dreamworks, Warner Bros., Universal, Sony, Disney, Paramount, NASA) and a top cover artist who's artwork has been featured on dozens of novels worldwide, Jeff has returned to the immediacy of his first love, oil painting. As an avid plein-air painter and outdoorsman living on a secluded ranch property north of LA, Nentrup finds his
subjects from a mixture of the rugged western landscape with a cinematic sense of light and narrative informed by the highly imaginative worlds he's helped create for clients across the globe.
Statement:
Having made our home and studio on a sprawling rustic property at the end of a dirt road, a deep immersion in nature has served my wife Sonya Palencia and I as both a source and subject of artistic focus for over a decade. Since relocating to the Southern California mountains in 2012 that inspiration has also been shared with long time collaborator Sean Cheetham, who now occupies the neighboring ranch with artist Kate Zambrano. Over this period my work has brought together a strong influence of classical European realism and humanist philosophy, while being viewed through the distorted lens of the American West. An inherently American subject, the West provides a familiarity and context to ideas about struggle, freedom and revisionist history. Making frequent use of nocturnes invokes a surreal mood that blurs the lines between reality and mythology, while the presence of ambiguity beckons the viewer into dialogue with the subject.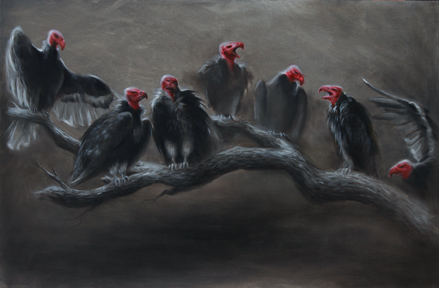 Kate Zambrano 'Proof Of Life'

Kate Zambrano
bio: Kate Zambrano is a self-taught artist living in California. She was born in Texas, but left at age seventeen to live a semi-nomadic lifestyle. Kate studied psychology in college, but realized that she was more interested in the subject than pursuing an actual career in the field. In 2011, Kate was introduced to the world of fine art. She spent the subsequent two years teaching herself how to draw. The journey to garner techniques through trial and error was daunting, but small epiphanies would occur to push her forward. Each step was a building block for the next. And so it has gone ever since. Kate is constantly learning and trying to better both herself and her work.
Statement:
I am usually quite inspired by whatever surrounds me. Since moving into the mountains and encountering vastly fewer people than ever, I have been exploring the natural world more in my work. Revisiting an old self portrait painting in the
nature that I now live in has been a supremely wonderful feeling. I feel that this body of work allows me to express my endless love and respect for this planet and its non-human inhabitants.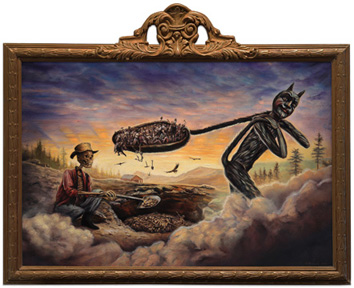 Sonya Palencia 'The Unfortunate Fate of the California Mining Co.'

Sonya Palencia
bio: Sonya Palencia is a California artist with an appetite for peculiar subjects, old world aesthetics and multiple mediums. She is a graduate from the Art Center College of Design with distinction in Film & Fine Art and served several years in the film industry as a designer and sculptor. She is greatly inspired by the natural world, history and folklore. She and her husband Jeff Nentrup currently pursue their fine art on a ranch nestled within the Los Padres National Wilderness.
Statement:
Living off this dusty trail in the California mountains has provided us plenty of creative kindling. During the winter we face the threat of blizzards… and fires during our dry windy summers. Cut off at times from our lifeline to the city, we
learn to make due and ration our provisions. We share the terrain with venomous creatures and hungry scavengers. The idea of harmony is fleeting and a daily test. After 11 years of rural living I've concluded it's for the strong… and slightly mad. Alas, it's rugged majestic beauty has captivated our spirit! Still, our humble inconveniences cower to the experience of the native dwellers and early settlers during the 19th century Western Expansion. I often reflect on the stories of
immigrants that were beckoned by tantalizing promises, only to be met with a grueling journey into the bowels of mother nature. These mountains, valleys and canyons still echo of their of tragedy, throbbing hope and at times… Triumph.