CAM RACKAM / JOE VAUX 'BALANCING ACT' / MARK GARRO PREVIEW


WHERE: Copro Gallery - Bergamot Station Arts Complex

2525 Michigan Ave , Unit T5, Santa Monica , CA 90404

Ph: 310/829-2156
E-Mail: CoproGallery@Live.com
Web: www.CoproGallery.com
WHAT: Cam Rackam / Joe Vaux 'Balancing Act' / Mark Garro Preview
Joe Vaux Web-preview
Cam Rackam Web-preview

WHEN: Exhibit runs; March 24 – April 14, 2018

Opening Artist Reception: Saturday March 24 , 2018 - 8:00 – 11:30 p.m.

Cam Rackam Art Talk 4:30-5:30 PM during Bergamot 'Spring Fling'

Gallery will be open Saturday March 24, 2:00 - 6:00PM for Spring Fling Event

Contact: Gary Pressman, Gallery Director Copro Gallery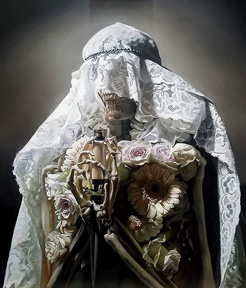 Cam Rackam 'Bitter Spring' 33" x 29" oil on wood


Copro Gallery presents artist Cam Rackam with a selection of 10 new oil paintings. Cam will be at the gallery before the artist reception at 4:30PM doing an artist talk during Bergamot's 'Spring Fling' so show up early!

Cam Rackam is from Southern California and grew up surrounded by different cultures and art styles. He is most influenced by the old masters and illustrators such as Caravaggio, Zubaran, and Velázquez.
While attending Cal State Fullertons art program, he worked as an illustrator and art director for Avenged Sevenfold, Slipknot, Danzig, and even Sir Paul McCartney. His work is primarily oil, but he is also a very adept sculptor and adds hand-made dimensional art to many of his iconistic frames.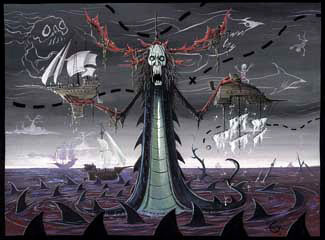 Joe Vaux 'Scales' 12" x 16" oil on wood


JOE VAUX's "Balancing Act" is a selection of small works produced over the past couple years. Says Joe about the exhibit "We all have many balls in the air in this life of ours. Being a father, a husband, a Director on the televison show "Family Guy" and a person who has a ton of monsters in his head, I've found it challenging to keep all my balls moving. (Ha!) This art exhibit includes work from the histories of Hand vs Foot as well as creatures that inhabit my mind-scape. Enjoy!

BIO: Joe Vaux was born in Islip, New York in 1972 and currently lives and works in Los Angeles. He graduated from Syracuse University in 1994 with BFA Illustration, after which time he started his career in the animation industry. Joe's fine art has been exhibited internationally and he partaken in numerous group and solo shows, as well as a couple of museum exhibits. Joe Vaux's name may be familiar to many, through his work as a director on the the hugely popular animated TV series 'Family Guy' . However, Vaux also engages his boundless imagination and creative skills as a prodigious fine artist. The paintings Joe concocts lead viewers into a bizarre, yet strangely familiar world, populated with ghoulish creatures who collectively engender twisted visions sprinkled with generous spoonfuls of humour. It is by way of Joe's fun loving personality that this all important ingredient of humour injects a remarkably playful and distinctly human flavour to his narratives, often shining a light, albeit a metaphorically caliginous and creepy one, on our dreams, fears and all the other good stuff which inextricably goes into making us human.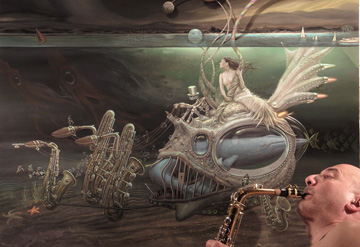 Mark Garro playing sax in front of his painting 'Blue Whale Blues' 35" x 46" oil & acrylic on panel

Mark Garro's
solo show
'Blues of the World'
has been rescheduled for May 12 due to emergency medical reasons. Copro has all the paintings at the gallery and will have an online web-preview available soon for interested collectors. A select few paintings will be on display for the March 24 exhibition. Thanks for your understanding!
#