KARLA PEREIRA - PRINCESSES AND WARRIORS - SOLO EXHIBITION

Contact: Gary Pressman, Gallery Director
Ph: 310/829-2156
E-Mail: CoproGallery@Live.com
Web: www.CoproGallery.com

WHAT: Karla Pereira - Princesses and Warriors - Solo Exhibition

WEB-PREVIEW

WHEN: Exhibit runs; March 27– April 10, 2021
Opening Viewing: Saturday March 27 , 2021 - 1:00 – 6:00 p.m. FREE AND OPEN TO THE PUBLIC BY RSVP
MASKS REQUIRED & SOCIAL DISTANCING - 10 People admitted at a time

WHERE: 2525 Michigan Ave. T5, Santa Monica, CA 90404 / 310-829-2156



'Rapunzel' oil on wood w/ vintage wood frame 19" x 23"

Copro Gallery presents artist Karla Pereira's first solo exhibition with the gallery, 'Princesses and Warriors'. Karla's new series shows her view of famous princesses that she would have liked to see in movies and books when she was a child. More warriors than princesses, they are independent, powerful, free and strong women ready to face the adversities of the world. Her new vision of the "Princess" has more relevance today than in the past and instills important values in today's women.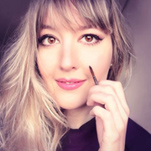 BIO: Karla Pereira is a pop surrealist painter based in Zaragoza (Spain). Since she was young she was intrigued with drawing, painting, singing, dance and all art in general however she never recieved any formal training. Her interest continued throughout the years and in 2012 she started studying towards a degree in History of Art, at the same time beginning to oil paint, self taught.
Her early work focused on an expressionist style like painters Edvard Munch and Jackson Pollock. After some time, inspired by the Blythe dolls, she started doing paintings that focus on female characters, whose appearance resembled Blythe. During the course of her career in History of Art, she discovered new styles and iconography that inspire her work, exerting a great influence from the Renaissance, Baroque and European portraiture periods from the eighteenth and nineteenth centuries.
#