Hi- Fructose 5th Anniversary Group Exhibition - Michael Page " Return of the Nephilim "

Where: Copro Gallery
Bergamot Station
2525 Michigan Ave , Unit T5, Santa Monica , CA 90404
Ph: 310/829-2156
E-Mail: www.copronason.com
What: Hi- Fructose 5th Anniversary Group Exhibition - paintings & sculptures
gallery 2 - Michael Page " Return of the Nephilim "
Opening Reception, Saturday, March 13 - 8:00 - 11:30 p.m.

Dates: Exhibit runs; March 13 - April 3, 2010
Contact: Gary Pressman, Gallery - Director Copro Gallery
Hi- Fructose 5th Anniversary Group Exhibition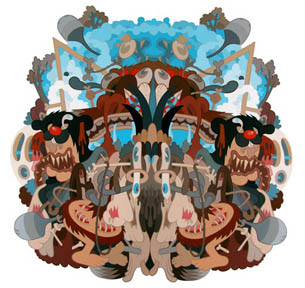 Sam Gibbons , "Jungle Jam"
29 " x30" acrylic on carved wood
Hi-Fructose Arts Magazine celebrates its 5th anniversary with a group show presenting a selection of some of the most distinguished artists to have graced their pages.

Hi-Fructose was founded by artists, Attaboy and Annie Owens in 2005 and is published by Ouchfactory Yumclub Publishing. Not a lifestyle magazine, Hi-Fructose puts its focus squarely on the art which transcends genre and trend, assuring readers thorough coverage and content that is relevant, informative and original. Hi-Fructose showcases an amalgamation of new contemporary, emerging as well distinguished artists, with a spotlight on awe inspiring spectacles and developing counter cultures from around the world.

Each beautifully designed, full color issue goes beyond the comfort zone of the "alternative" norm to deliver a diverse cross section of the most influential and defining art of our time.

The works included in this 5th Anniversary show pays an homage to the artists we've featured over the past 5 years and who've helped to shape and define the future of art in our culture.

artists include: Kris Kuksi, Jonathan Viner, Martin Witfooth, Candice Tripp, Jesse Hazelip, Lori Earley, Chris Mars, Jeff Soto, Kevin Cyr, Mark Ryden, Thomas Doyle, Scott Musgrove, Victor Castillo, Amy Sol, Audrey Kawasaki, Brendan Danielsson, Brian Dettmer, Greg "Craola" Simkins, Harma Heikens, Attaboy, Alex Pardee,Scott Hove, Sas Christian, Colin Christian, Yoko D'Holbachie, Travis Lampe, Junko Mizuno, Brandt Peters, Mia, Chet Zar, Kathie Olivas, Johnny "KMNDZ" Rodriguez, Sam Gibbons, Annie Owens, Yosuke Ueno, Skinner, Ewelina Ferruso, Shag, Mike Shine


LIVE MUSIC FROM "THE BLACK WIDOWS" FOOD BY "DON CHOW"
ICE CREAM LAKE STREET CREAMERY
http://www.hifructose.com/
____________
Michael Page "Return of the Nephilim"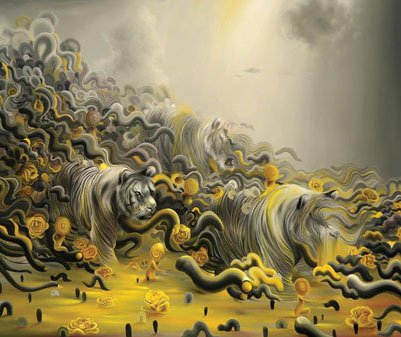 "Enkis Gold"
40 x 48, oil on wood panel

In "Return of Nephilim' Michael Page comtemplates our planet and ecosystem as not yet seen before in our current times. This latest body of work reflects on global transformation and ecological upheaval with the aftermath of what has become and is to come. These new works illustrate how all living things on this earth are intertwined and are as one; with one needing the other in every step of life.

The Nephilim were an antediluvian race (pre-flood) race which are referred to in the Bible as giants. They were reportedly the children born from the "daughters of men'', and the "Sons of God''. It is most important to note that they are mentioned almost simultaneous to God's statement that He would destroy the earth by flood, and it seems from this association that their affect upon mankind was one of the primary justifications that brought the destruction.

Michael Page works full time as an artist and lives in San Francisco, California. He has shown throughout Europe and the U.S and was recently in Volume 12 of High Fructose Magazine and the current issue of DPI, an international art magazine from Asia. Michael regurgitates what is thrown at him daily by poking mud with brushes onto wood.

more info on the Nephilim
www.michaelpageart.com
###