ROADSIDE ATTRACTIONS lll Curated by Cris Velasco / MARK GARRO - BLUES OF THE WORLD


Contact: Gary Pressman, Gallery Director
Ph: 310/829-2156
E-Mail: CoproGallery@Live.com
Web: www.CoproGallery.com

WHAT: ROADSIDE ATTRACTIONS lll Curated by Cris Velasco / MARK GARRO - BLUES OF THE WORLD

WHEN: Exhibit runs; May 12 – June 2, 2018
Opening Reception: Saturday May 12, 2018 - 8:00 – 11:30 p.m.

WHERE: 2525 Michigan Ave. T5, Santa Monica, CA 90404 / 310-829-2156


| | | |
| --- | --- | --- |
| | | |
| Shane Pierce | Magpie Rodgers | Dos Diablos |
Copro Gallery presents 'Roadside Attractions lll' a group exhibition curated by art collector and music composer, Cris Velasco. 'Roadside Attractions' is a collection of oddities presented through paintings, sculptures and strange ephermera all slanted towards the dark art movement.

Artists included : Chet Zar, Matt Levin, Richard Kirk, Allen Williams, Martin Wittfooth, Cam Rackam, Brom, Neal Acree, Sean Andrew Murray, Naoto Hattori, Matthew Mrowka, Travis Lewis, Dos Diablos, Lee Shamel, Bruce Mitchell, Emil Melmoth, Magpie Rodgers, Shane Pierce, Matt Dangler, Jeff Christensen, Stephanie Inagaki, Dug Stanat, Artem Grigoryev, Brian Smith, Chris Mars, Chad Herrion, Patrick Thai, Vega, Olivia, Dariusz Zawadski, Charlie Immer, Jeosh Chua, Laurie Hassold, and many more!

CRIS VELASCO is one of the largest collectors of Dark Art is Los Angeles. As a patron of art, he often hosts parties where his collection can be viewed and shared by fellow collectors and artists. He is also a multiple award-winning composer of music for video games, film and television. Cris has become one of the most sought after composers in interactive entertainment, scoring many major titles including Resident Evil 7, Bloodborne, The Invisible Hours, The Long Dark, Company of Heroes 2, Mass Effect 2-3, Borderlands 1-2, Warhammer: Space Marine, God of War 1-3, Tron: Evolution, Darksiders, Clive Barker's Jericho, and many more. He also currently has two tv shows, Dimension 404 and Freakish, airing on Hulu and HBO. Cris Velasco's orchestral music is performed in concerts worldwide and has received numerous accolades including "Best Original Score" from the Academy of Interactive Arts and Sciences, "Best Original Music" nomination from the British Academy of Film and Television Arts, NBC News' "Best Video Game Music of 2012", GameTrailers' "Best Soundtrack of the Year" and IGN's "People's Choice Award - Best Overall Music".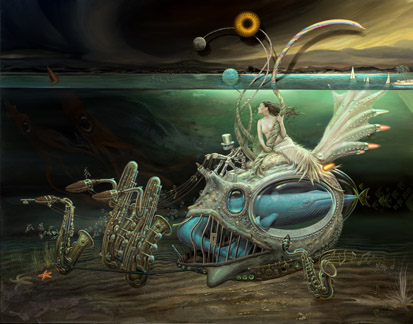 Mark Garro 'Blues of the World'


MARK GARRO'S "Blues of the World" is his 7th solo show at Copro Gallery. Garro's work presents a visual map of the human condition and portrays apocalyptic vignettes sprinkled with a dash of hope. Garro's unique style can be described as Technical Fusion combining Hyper-Realism and Trompe-l'oeil. Opposing themes are depicted through his signature motif of "Above and Below" featuring water, women and his recurring characters such as "The Pupil" and is also a nod to his dedication to music and his saxophones.

Mark Garro Bio and Resume

#
www.CoproGallery.com , On Facebook On Facebook2 On Instagram

Bergamot Arts Complex, 2525 Michigan Ave T5, Santa Monica, CA 90404 - 310-829-2156
All images and artwork Copyright 2015 CoproGallery
Please e-mail any problems with this site to CoproGallery@live.com