CHRIS MARS - PECA 'Nature of Mind' - ANNIE MONTGOMERIE



Contact: Gary Pressman, Gallery Director
Ph: 310/829-2156
E-Mail: CoproGallery@Live.com
Web: www.CoproGallery.com

WHAT: CHRIS MARS - PECA 'Nature of Mind' - ANNIE MONTGOMERIE

Chris Mars Web-Preview
Peca Web-Preview
Annie Montgomerie Web-Preview

WHEN: Exhibit runs; May 11 – June 1, 2019
Opening Reception: Saturday May 11 , 2019 - 6:00 – 10:00 p.m.

WHERE: 2525 Michigan Ave. T5, Santa Monica, CA 90404 / 310-829-2156



Copro Gallery presents 3 solo exhibitions featuring artists: Chris Mars, PECA & Annie Montgomerie.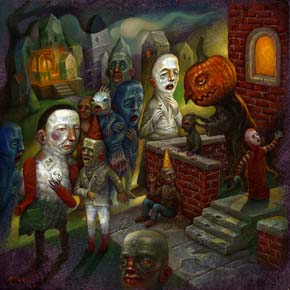 Chris Mars
Chris Mars presents a large body of work consisting of mostly new and some older paintings. He is primarily influenced and inspired by his brother Joe's experiences with mental illness, who recently passed away. Joe was periodically institutionalized during Chris's childhood. The sensitivity and empathy Chris developed relative to these experiences are evident in his visual art, which serves to raise awareness of the various issues associated with mental illness and its treatment, as well as confronting xenophobia in its various social and psychological incarnations.
Included in this exhibition will be some of the ongoing series of paintings about Hanford, Washington, a cold war era nuclear bomb plant that continues to this day to contaminate the area around it with vast amounts of highly radioactive waste. Industrial pollution and the forces that corrupt the regulatory system to contain it are alarming to say the least. People are suffering, grieving, dying. When asked about his message Chris says "Painting is a way to simply escape; I don't exclusively wrestle with how people treat other people negatively. Luckily there are problems people are solving for one another as well. Either way, painting is good therapy."

BIO: Artist Chris Mars was born in Minneapolis, Minnesota, where he still lives and works today. His pieces are held in numerous public collections including The Minneapolis Institute of Arts, The Erie (PA) Art Museum, The Tweed (Duluth, MN), The Longview (TX) Museum of Fine Arts and The Minnesota History Center. Public exhibition venues have additionally included The Mesa (AZ) Museum of Contemporary Art, The American Visionary Art Museum (Baltimore), Laguna (CA) Museum of Art, The Steensland Art Museum (Northfield, MN), Fredrick Weisman Art Museum (Minneapolis, MN) and Art Center South Florida, among others. His debut monograph, TOLERANCE, was published in late 2008. In addition to his painting, Mars endeavors in film and animation. An accomplished musician, Mars also released four solo albums (on Polygram and Bar None) subsequent to his tenure as drummer in The Replacements, a band he helped found in 1979 with Bob Stinson, Tommy Stinson and Paul Westerberg.
Essay on Chris Mars for upcoming book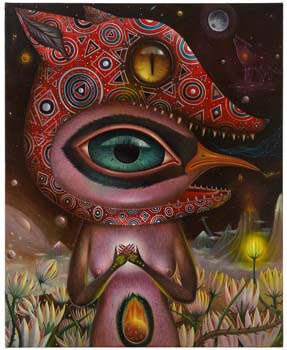 PECA
Nature Of Mind: Says Peca about her show, 'This series is an initiatory journey of learning and self knowledge towards the innermost part of my mind
When we reach the depths of our own being, we can touch the beginning of life and find alternatives to our reality.
Art is my best way to connect myself with the universe. It is my moment of introspection, the way of not losing my head; it is meditation, decoding of cosmic signals maybe.
Materializing the unconscious is my path to consciousness
A response to the aggressiveness and falsity of the material world that is presented as the only alternative; the way of being outside the rules
All of us have the power of transformation, we are creators of worlds
I love to paint animals awake, connected with the universal movement;
ussually they are beings that ignore our rules and have the mission to challenge the viewer to see beyond the limits of our understanding; they push us into the unknown, trying to break the foundations of our belief system puting our world upside down'

BIO: Artist born in Argentina and based in Barcelona, she is painter, illustrator and stop motion movie maker. She was graduated with a Licensed degree in Visual Arts at the University of Fine Arts of La Plata, Buenos Aires, Argentina.'Her creations are a door to a dreamy, and mystery universe, that you have visited before, perhaps in dreams, or astral travel. With several solo and group behind her, having worked for major publications such as Rolling Stone and with the confidence that comes from believing that bring the art of another life, Peca invites us to a magical world where fantasy repose on fields strawberries. Welcome to the spiritual version of Wonderland.' —lamono magazine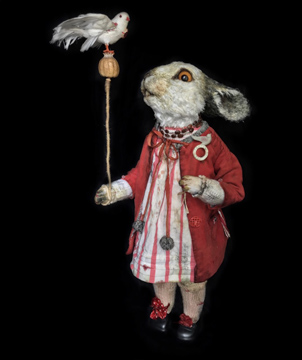 ANNIE MONTGOMERIE: Welcome to my world of storybook beings. Curious creatures from the outside to display inside. Each piece is individual and unique, and because of the recycled nature of my work no two pieces will be quite the same. Most of my fabrics are foraged locally where I live in Dorset UK. I use muslin, 100% wool felt, 'up-cycled' wool garments, velvet, leather, cotton, moleskin and blankets for wall hangings and figures. I then stitch on curious little things I find including vintage buttons, charms and jewellery.#
Bergamot Arts Complex, 2525 Michigan Ave T5, Santa Monica, CA 90404 - 310-829-2156
All images and artwork Copyright 2015 CoproGallery
Please e-mail any problems with this site to CoproGallery@live.com