CHRIS MARS - SIMONA CANDINI, MARTINEZ CANOVAS

WHERE: Copro Gallery - Bergamot Station Arts Complex
2525 Michigan Ave , Unit T5, Santa Monica , CA 90404

Ph: 310/829-2156
E-Mail: CoproGallery@Live.com
Web: www.CoproGallery.com
WHAT: Chris Mars, Simona Candini, Martinez Canovas
Chris Mars Web-Preview
Simona Candini Web-Preview
Martinez Canovas Web-Preview

WHEN: Exhibit runs; May 13 – May 27, 2023
Opening Reception: Saturday May 13 , 2023 - 4:00 – 9:00 p.m.
In Conjunction with Begamont Spring Open May 13

Contact: Gary Pressman, Gallery Director - Copro Gallery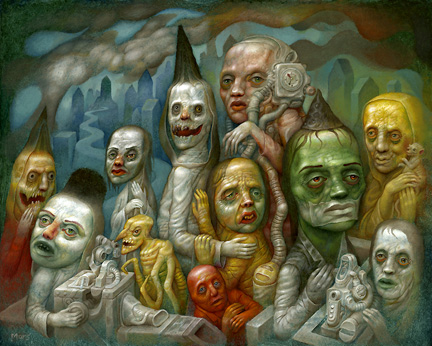 Chris Mars "The Governor" 17"x 20" oil on panel
CHRIS MARS - Copro Gallery presents a solo exhibition by artist Chris Mars. This will be Chris's 5th exhibition with the gallery starting in 2004. This exhibit features over 15 Amazing new oil paintings.

Artist Statement: Tree Of Smoke; The Bastardization of the Dissemination of Information - In his novel Tree of Smoke, author Denis Johnson describes a passage of history during which the gathering of intelligence shifted in purpose from informing policy to supporting policy, a practice which by its nature corrupts the gathering and sharing of information more generally. This body of work responds to Information as a construct – predominately, how it impacts the individual and the culture, but also how the information itself is often broken, or hobbled by selective context.
Chris Mars, May 2023

BIO: Artist Chris Mars was born in Minneapolis, Minnesota, where he still lives and works today. His pieces are held in numerous public collections including The Minneapolis Institute of Arts, The Erie (PA) Art Museum, The Tweed (Duluth, MN), The Longview (TX) Museum of Fine Arts and The Minnesota History Center. Public exhibition venues have additionally included The Mesa (AZ) Museum of Contemporary Art, The American Visionary Art Museum (Baltimore), Laguna (CA) Museum of Art, The Steensland Art Museum (Northfield, MN), Fredrick Weisman Art Museum (Minneapolis, MN) and Art Center South Florida, among others. His debut monograph, TOLERANCE, was published in late 2008. In addition to his painting, Mars endeavors in film and animation. An accomplished musician, Mars also released four solo albums (on Polygram and Bar None) subsequent to his tenure as drummer in The Replacements, a band he helped found in 1979 with Bob Stinson, Tommy Stinson and Paul Westerberg.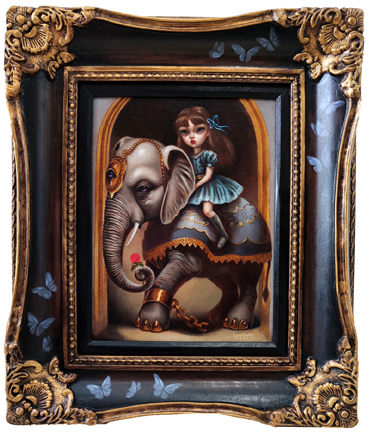 Simona Candini, 'Heavy Soul Breaks Free" oil on Begian linen SOLD


SIMONA CANDINI "Carnival Of Lost Dreams" solo exhibition- For her first solo exhibition at Copro Gallery Simona presents her latest work, where she's applied new teachings and a more detailed style. "My goal is to apply old master techniques onto my doll-like subjects. I've always worked in this direction, but now I feel I'm on the right path more than ever".

BIO
Artist Simona Candini is graduated at the Academy Of Fine Arts University of Bologna and currently based in Italy.Her works, showcased in galleries around the globe, embody a beautiful yet sometimes dark world inhabited by big eyed girls and improbable creatures. With a stirring of emotions translated onto each new work of art, Simona brings her love of the old fairytales and childhood imaginings to us in a unique and poetic way. She is a traditional artist and enjoys using oils, watercolor, acrylics, graphite and pencils on paper, canvas and wood boards. Simona hand paints and personalize most frames to match her artworks and to make them unique as her art.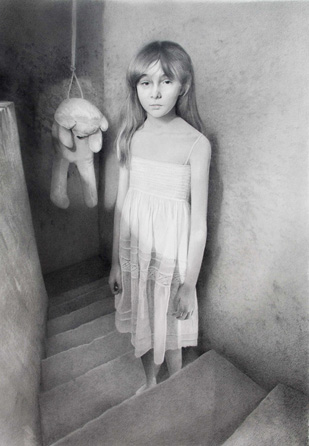 Claudia's Close 28"x 20" graphite on paper sold

MARTINEZ CANOVAS 'Black Bitterness' - For his first exhibit with Copro Gallery Martinez Canovas presents 10 graphite drawings. His artworks use symbolic and surreal imagery, a direct link with ancient philosophers such as Aristotle. Such philosophers maintained that death is the most terrible of all things, and that fearing some concepts might even be fair and noble. His projects revolve around the previous idea; transmitting and generating discomfort to a great part of society. For this purpose, and depending on the collection, he uses images that, whenever possible, he extracts from his surroundings.
#

Bergamot Arts Complex, 2525 Michigan Ave T5, Santa Monica, CA 90404 - 310-829-2156
All images and artwork Copyright 2015 CoproGallery
Please e-mail any problems with this site to CoproGallery@live.com