NAOTO HATTORI - GENESIS / MORPHEUS GROUP EXHIBITION
WHERE: Copro Gallery / 2525 Michigan Ave. T5 / Santa Monica, CA 90404
310-829-2156

Copro Gallery Director
E-Mail: CoproGallery@Live.com
Web: www.CoproGallery.com
WHAT: NAOTO HATTORI - GENESIS / MORPHEUS GROUP EXHIBITION

WHEN: Exhibit opens Saturday, July 18 with an opening artist reception 8:00 PM - 11:30PM and runs until August 8

Contact: Gary Pressman, Gallery Director Copro Gallery copronason@msn.com 310-829-2156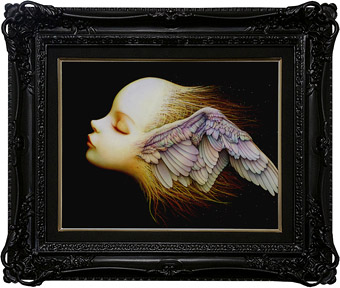 'Creator Deity' framed size 24.4" x 19 .8" ), acrylic on wood panel

NAOTO HATTORI - GENESIS

Copro Gallery presents Naoto Hattori's 7th solo show with the gallery "GENESIS". Says Naoto about the show "This current body of work is about creation, stream of consciousness, mind and universe creativity. I try not to conceptualize too much and just take it in as it is and paint whatever I see in my mind createing my own vision."
Naoto studied graphic design in Tokyo before moving to New York to study at the School of Visual Arts where he received his Bachelor of Fine Arts in illustration in 2000. As well as painting, he works in editorial, CD and book covers, flyers, posters, skateboard and snowboard design. Hattori has received awards from the Society of Illustrators and the New York Directors Club and has been featured in publications such as Juxtapoz, Spectrum, Airbrush Action, and others. He has exhibited at numerous galleries across the United States and the world.#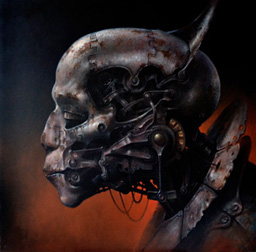 Dariusz Zawadzki - Tin Man
MORPHEUS GROUP EXHIBITION
Copro Gallery presents a group exhibition curated by James Cowan & Morpheus Gallery. Morpheus began in 1989 by publishing books and prints by Swiss surrealist and ALIEN designer, H.R. Giger, and expanded to include such artists as Dariusz Zawadzki , Geoffrey Gersten, Jota Leal, De Es Schwertberger, Jacek Yerka, Judson Huss, and Zdzislaw Beksinski. Morpheus has focused on contemporary masters of the fantastic and surreal, all with a strong technique and unique imagination.

JOTA:
Jota paints all the time. He blames his obsession on his parents. "They made me believe it was something I was good at. I have not stopped painting since." In 2001 Jota traveled to Spain and lived there, immersing himself in the history and technique of art. He then returned to his hometown in Venezuela, where he received the Caricaturist of the Year Award for 2003. His art follows the grand tradition of the great portrait painters of the past, as well as the more recent caricature masters. Jota's oevre is a part with the likes of Honore' Daumier and Otto Dix. His sense of humor shows the delicate whimsy of a Max Beerbohn or Al Hirschfeld, but with a more fully rendered painting style.
Jota's style results in a synergy of remarkable painting skill and a probing sense of the subject's soul, and often tweaked with a remarkable sense of humor. Leal works with pencil on paper, acrylic on board, and acrylic on canvas to achieve his amazing images. He paints the inner soul of his subjects, and manifests this as their outer persona. He is an interpreter of the subconscious, translating with his pencils and brushes.
ZAWADZKI:
Dariusz Zawadzki was born in Szczecin in the northwest Poland in 1958. Since his early childhood Zawadzki was regarded for having unusual sensitivity to the surrounding world. His artworks are widely admired for being able to deeply move the spectators, with both the feelings and emotions as well as high attention to painterly details. His artistic style is exceptional, and in the great tradition of contemporary Polish masters, such as Zdzislaw Beksinski.
Zawadzki paints with a mix of oils and acrylics, usually on masonite. His paintings have a wonderful texture and depth to them, noted for their remarkable imagery and palette. Zawadzki is also an accomplished sculptor.
Since I was a child I have had various visions and dreams that built surreal worlds in my imagination. These worlds came first, and then I felt a need to express them by drawing. When I was eleven years old I started painting.
I never use a sketch-book, because I don't want to force myself to reproduce on a painting something that was already put on paper. The most beautiful moment is when I'm standing in front of a white, clear board when I am just starting to paint.
http://www.fantasy-magazine.com/new/artist-spotlight/artist-spotlight-dariusz-zawadzki/
#