Adam Miller "AMONG THE RUINS", Christian Rex van Minnen "FEVER DREAM", Billy Norrby "DISTANT SHORE"

Where:
Copro Gallery - Bergamot Station


2525 Michigan Ave , Unit T5, Santa Monica , CA 90404
Ph: 310/829-2156

E-Mail: CoproGallery@live.com
Web-site www.CoproGallery.com

What: Adam Miller "AMONG THE RUINS", Christian Rex van Minnen "FEVER DREAM", Billy Norrby "DISTANT SHORE"

Adam Miller "Among the Ruins" web-preview
Christian Rex van Minnen "FEVER DREAM " web-preview
Billy Norrby "Distant Shore" web-preview

Opening Reception, Saturday, November 10, 8:00 – 11:30 p.m.

Dates: Exhibit runs; November 10 – December 1 , 2012

Contact: Copro Gallery




Copro Gallery presents Adam Miller's "Among the Ruins". For this exhibition Adam has been on a year long painting odyssey moving into mostly larger format paintings, all inspired by the scale and narrative of Renaissance painting and the scale of New York City.

Among the Ruins looks at different family's existing in a post industrial world looking back at what appears to be the remnants of a time of great expansion and strength from a distance after the machinery of state has collapsed. The new hope represented by their children exists against the darkness of the scattered corpse like remnants of their world. But as the darkest day of winter is also the beginning of the suns return these families are the first to begin rebuilding their society and planting new crops.

Born 1979 in Oregon, Adam began an apprenticeship to artist Allen Jones at thirteen years old and at Sixteen, was accepted to the prestigious Florence Academy Of Art in Florence, Italy where he underwent an extensive training in classical painting techniques and studied the masterpieces of the Renaissance firsthand. For the next four years Miller traveled throughout Europe studying the masters

Adam's paintings explore the intersection between mythology, ecology and humanism. Visually inspired by baroque and Hellenistic narrative painting they take a polytheistic approach to contemporary folklore, questions of progress and the experience of human narrative in the face of technological change and the struggle to find meaning in a world poised between expansion and decay.

Art Babel Blog on Among the Ruins
Resume





| | |
| --- | --- |
| | |
Christian Rex van Minnen "FEVER DREAM"
Heralded as the modern Giuseppe Arcimboldo , Christian Rex van Minnen makes his way into the art world armed with old world execution, warm colors of bittersweet chocolate and burgundy velvet. Composition and color serve only as thin veils which barely distract from the dripping hordes of redundant flesh and undecipherable realms of deformation. Neo-Grotesquism springs forth with a fiery vengeance, offering beautiful reconstructions of hideous fungus, tumor-like protrusions, and flora and fauna, all married into modern yet simultaneously archaic portraiture. Enter a world where ugliness and beauty merge as one, challenging the narrow definitions of both.
(credit Lana Gentry)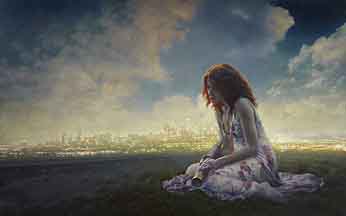 Billy Norrby "DISTANT SHORE"

The characters of Distant Shore find themselves in a state of transition. Longing and unspoken ambition places their core elsewhere, at odds with their familiar surroundings. At the border of the known and the beyond, they stop and contemplate an uncertain future.
Billy Norrby is a New York based artist. After graduating from SVA, Billy Norrby's artwork has been featured in a multitude of galleries across the states and Europe. His work has also been seen in several Illustration annuals such as Spectrum, 3×3 and at the Society of Illustrators.

###