Alexandra Manukyan - Prophecies Unheeded / Mark Garro - Cosmolyptic

WHERE: Copro Gallery - Bergamot Station Arts Complex

2525 Michigan Ave , Unit T5, Santa Monica , CA 90404

Ph: 310/829-2156
E-Mail: CoproGallery@Live.com
Web: www.CoproGallery.com
WHAT: Alexandra Manukyan - Prophecies Unheeded
Mark Garro - Cosmolyptic

Alexandra Manukyan Web-Preview
Mark Garro Web-Preview

WHEN: Exhibit runs; November 12 – December 3, 2016
Opening Reception: Saturday November 12 , 2016 - 8:00 – 11:30 p.m.

Contact: Gary Pressman, Gallery Director Copro Gallery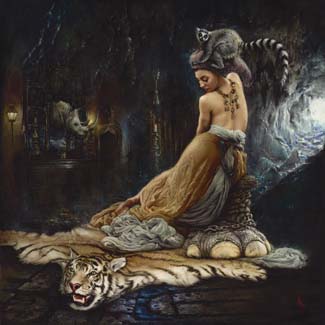 Alexandra Manukyan 'Prophecies Unheeded'


Copro Gallery presents Alexandra Manukyan's solo exhibition 'Prophecies Unheeded'. A new collection of paintings and drawings inspired by enviormental concerns for our planet. This is Alexandra's second solo exhibition with Copro and her greatest work to date. Several giclee fine art prints will be offered at the opening night artist reception and Alexandra will be present.

Artist Statement: I have been greatly concerned about the global environmental changes, such as loss of biodiversity, species extinctions, and destruction of natural habitats. Through the middle of the coming century, it is likely the quality of life on earth will be compromised with dire consequences. What is to come from the future of humanity? Does it go extinct, or do some of the survivor genes in our DNA prevail, resulting in a genetic transformation of human beings becoming extremophiles. Unfortunately we treat Earth not as our own, but like a rented home. Human greed, denial and indifference are driving us to an unavoidable disasters.
'Cosmolyptic' is Mark Garro's latest solo show and his 6th at Copro Gallery. He once again urges the viewer to participate in his alternate reality. The Big Bang / Big Crunch and the ultimate fate of the universe is explored in miniature with engaging painting and presentation. Garro's artwork is equal parts fantasy and reality. By combining both loose and hyper-realistic techniques like trompe l'oeil, he is able to pull the viewer out of their personal sphere and into the "other-worlds" of his paintings. Mark will be present at the opening night artist reception.

About Mark Garro:
Mark Garro Bio and Resume
#