ALLEN WILLIAMS 'THE HIDDEN LIGHT' SOLO EXHIBITION / HELLBOY 25TH ANNIVERSARY TRIBUTE


Contact: Gary Pressman, Gallery Director
Ph: 310/829-2156
E-Mail: CoproGallery@Live.com
Web: www.CoproGallery.com

WHAT: ALLEN WILLIAMS 'THE HIDDEN LIGHT' SOLO EXHIBITION / HELLBOY 25TH ANNIVERSARY TRIBUTE
WEB-PREVIEW Allen Williams 'The Hidden Light'
WEB-PREVIEW Hellboy 25th Anniversary Tribute
WHEN: Exhibit runs; December 14 – January 11, 2020
Opening Reception: Saturday December 14 , 2019 - 6:00 – 10:00 p.m. FREE AND OPEN TO THE PUBLIC

WHERE: 2525 Michigan Ave. T5, Santa Monica, CA 90404 / 310-829-2156


'The Hidden Light'
Copro Gallery presents a solo exhibition by artist Allen Williams 'The Hidden Light'. This body of work, representing his latest in the aquarian age, includes 14 NEW color & black/white paintings and drawings.

Allen Williams fine art is grounded in reality but flows into otherworldly forms. He primarily works in graphite, gouache, and oils. His drawings and paintings directly respond to his surrounding environment and he uses everyday experiences and objects as a starting point for many of his pieces where the fragility and instability of our seemingly certain reality is questioned. Allen tries to develop forms that do not follow logical criteria, but are based only on subjective associations and formal parallels; these are meant to incite the viewer to make new personal associations within his work.

BIO- Allen is an award winning illustrator, concept designer and fine artist. From a young age the pencil and paper were an escape and a refuge for Allen. Now nationally and internationally known, for over 28 years Allen has applied his talents to everything from rock posters for the band Tool, concept work for creature and character designs in major motion pictures and television including the latest Hellboy, illustration for books & gaming companies. His first book, both illustrated and authored by Allen, is titled "The Witches' Kitchen" and was published in 2010 and his most recent book illustration project is with Guillermo del Toro and Cornelia Funke on Pan's Labyrinth: The Labyrinth of the Faun.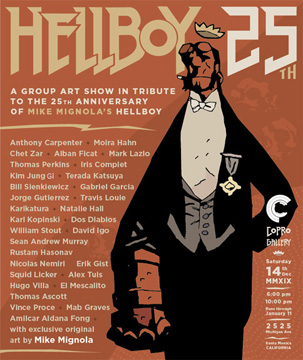 Hellboy 25th Anniversary Tribute group art show curated by Gary Deocampo

In Tribute to the 25th anniversary of Mike Mignola's Hellboy superhero character curator Gary Deocampo has assembled a group exhibition with over 30 artists paying tribute to Hellboy with paintings, drawings and sculptures. Also included will be original artwork created by Hellboy Founder Mike Mignola, especially for this show!

ARTIST LIST: Mike Mignola, Anthony Carpenter, Mab Graves, Moira Hahn, Chet Zar, Alban Ficat, Mark Lazlo, Thomas Perkins. Iris Complet, Kim Jung Gi, Terada Katsuya, Bill Sienkicz, Gabriel Garcia, Jorge Gutierrez, Travis Louie, Karikatura, Natalie Hall, Karl Kopinski, Dos Diablos, William Stout, David Igo, Sean Andrew Murray, Rustam Hasonav, Nicolas Nemiri, Erik Gist, Squid Licker, Alex Tuis, Hugo Villa, El Mescalito, Thomas Ascott, Vince Proce, Amilcar Aldana Fong + more!

Hellboy is a fictional superhero created by writer-artist Mike Mignola. The character first appeared in San Diego Comic-Con Comics #2 (August 1993), and has since appeared in various eponymous miniseries, one-shots and intercompany crossovers. The character has been adapted into three live-action feature films. Two starring Ron Perlman in 2004 and 2008 in the title role, and one in 2019 as well as two animated films, and three video games – Asylum Seeker, The Science of Evil, and as a playable character in Injustice 2. A well-meaning half-Demon (or Cambion) whose true name is Anung Un Rama ("and upon his brow is set a crown of flame"), Hellboy was summoned from Hell to Earth as a baby by Nazi occultists (spawning his hatred for the Third Reich). He was discovered on a fictional Outer Hebrides Island by the Allied Forces; amongst them, Professor Trevor Bruttenholm, who formed the United States Bureau for Paranormal Research and Defense (B.P.R.D.). In time, Hellboy grew to be a large, red-skinned adult with a tail, horns (which he files off, leaving behind circular stumps on his forehead), cloven hooves for feet, and an oversized right hand made of stone (the "Right Hand of Doom").
Bergamot Arts Complex, 2525 Michigan Ave T5, Santa Monica, CA 90404 - 310-829-2156
All images and artwork Copyright 2015 CoproGallery
Please e-mail any problems with this site to CoproGallery@live.com