JASON LIMON 'PERSONA' / DAVE LEBOW 'HALLUCINATIONS & DREAMS'/ VANESSA LEMEN 'LIMINAL BEINGS'

WHERE: Copro Gallery - Bergamot Station Arts Complex
2525 Michigan Ave , Unit T5, Santa Monica , CA 90404

Ph: 310/829-2156
E-Mail: CoproGallery@Live.com
Web: www.CoproGallery.com
WHAT: Jason Limon 'Persona' / Dave Lebow 'Hallucinations & Dreams'/ Vanessa Lemen 'Liminal Beings'

Jason Limon Web-Preview
Dave Lebow Web-Preview
Vanessa Lemen Web-Preview

WHEN: Exhibit runs; November 6 – November 27, 2021
Opening Reception: Saturday November 6 , 2021 - 3:00 – 9:00 p.m.

Contact: Gary Pressman, Gallery Director - Copro Gallery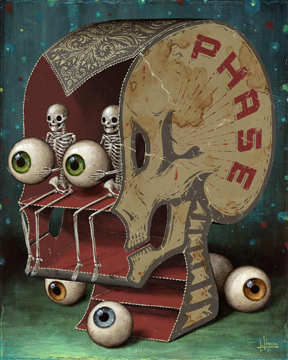 Jason Limon, 'Phase' Oil on Panel
Jason Limon 'Persona' solo exhibition
Copro Gallery presents a Jason Limon solo exhibition 'Persona'. "Most of what I am saying in these paintings is about persona, the"mask" or facade that a person presents in public as opposed to their true self. ... . In most of my new work I have also reintroduced the application of typography as well as the usage of multiple panel paintings; elements that I enjoyed early on in my career but had faded with time. In the past I have explored a range of subjects, from ideas based on nature to otherworldly beings.
BIO Jason Limon is a painter and sculptor that was born in San Antonio, Texas. In early 2007 he moved from a long career in graphic design to begin work as a visual artist exhibiting in galleries across the United States and parts of Europe. He has had solo exhibitions in New York, Albuquerque, and Chicago and has participated in a large variety of group exhibitions. His art has been presented in an array of publications and has received awards and accolades from Communication Arts, American Illustration and The Society of Illustrators of Los Angeles. In 2016, a toy based on one of his paintings won Toy of the Year award from the Designer Toy Awards in New York. He continues to reside in San Antonio, Texas.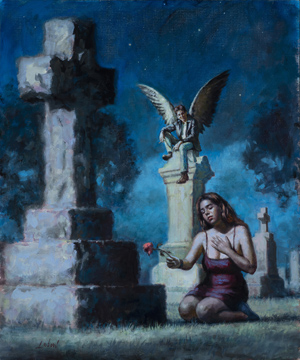 Dave Lebow, 'Death of a Hipster' Oil on Panel
Dave Lebow 'Hallucinations & Dreams'
This collection of paintings is a culmination of the artist's jumble of emotions caused by the 2020 lockdown. Primarily using his family members as models, Lebow explores the themes of uncanny and magical happenings and absurd dream images, as well as meditations on loss and mourning. Mistaken Incantation is about a magical spell gone awry. Death of a Hipster tells the story of a good friend that appears in a vision at his funeral.The artist's roster of collectors includes Jack Black, Jason Segel, and Bob Murawski. Lebow has received multiple commissions for film and television productions such as Dexter, Life in Pieces, Medium, Future Man, and Mosquito State.

BIO - Dave Lebow is a representational painter, illustrator and teacher. Born in 1955 in Oklahoma, he has a BFA in Painting from Boston University and an MFA in Experimental Animation from Cal Arts. He studied in Los Angeles with Harry Carmean and Glenn Vilpuu and privately in New York with Burton Silverman and at the Art Students League with Robert Beverly Hale, David Leffel, Daniel Green, Robert Philipp, and Robert Brackman. In 2000, Dave left painting to work in animation. He went back to painting full time in 2009 and devoted himself to more imaginative, surreal and expressive subject matter. His work was included in the Southwest 90 exhibition at the Museum of Fine Arts in Santa Fe, New Mexico and in the HEY! Modern art & pop culture Act III, Collective exhibition in the Halle Saint Pierre Museum Paris, France
.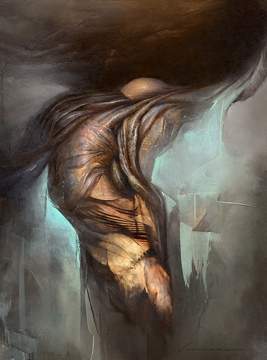 Vanessa Lemen, Oil on Panel
Vanessa Lemen 'Liminal Beings'
Liminal beings are those that cannot easily be placed into a single category of existence. Associated with the threshold state of liminality, from Latin limen, "threshold", they represent and highlight the semi-autonomous boundaries of the social world. These new works were spawned in recent times during the lockdowns that started in 2020. The artist's Liminal Beings are depictions of conglomerations of emotional responses to these times. The body of work is a romantic poem to the darkness, the chaos and the unknown. Described through metaphorical imagery, it's excerpts from her personal journey and reflection that she credits most as the inspiration for her work,and rolling with the unexpected as the very nature of her process. Much like the spontaneity of a dialog, the marks on the surface are what evoke a response and then a discovery, and a possibility of something new to form. Each piece she creates seems to come from a chaos, and in it, she is able to create a place of reflection and curiosity, a balance of the deep-seated and the unknown, with areas of rest and of movement that intertwine to form a calm amid the chaos.

BIO - Vanessa Lemen is an award-winning painter based in Carlsbad, CA, with works exhibited and in private collections internationally. Her paintings are layered in subtle allegory, with an explorative process that intertwines realism and abstract to depict humanity, metaphor and story. Her work is featured in the illustrated limited edition of The Left Hand Of Darkness by Ursula K. LeGuin (Easton Press/MBI Inc) and in the illustrated limited editions of A Scanner Darkly by Philip K. Dick (Suntup Editions). Her work has also been published in such art books as Spectrum, Infected By Art, The Journal and Women of Wonder, and has been featured in articles in magazines such as American Art Collector, ImagineFX, and Poets And Artists. In addition to writing monthly columns for the Muddy Colors blog, Vanessa is an educator who mentors privately, teaches classes online both privately and for the Los Angeles Academy of Figurative Art, and instructs at workshops across the US. Her recent work has earned her the Chesley Award and other awards in publications such as Infected By Art, a Spectrum Award nomination, as well as multiple awards in the Art Renewal Center's ARC Salon, and participation in the International ARC Salon Exhibition.
#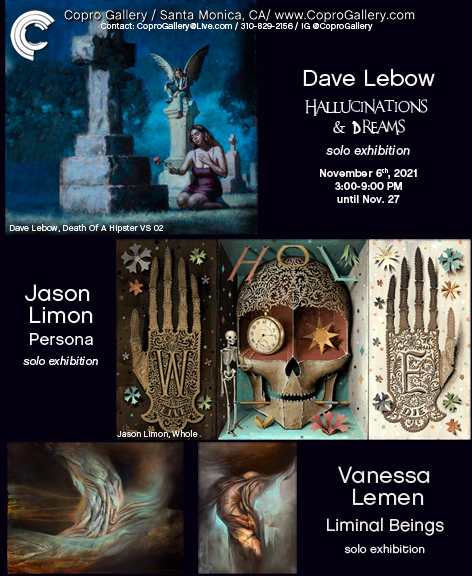 Bergamot Arts Complex, 2525 Michigan Ave T5, Santa Monica, CA 90404 - 310-829-2156
All images and artwork Copyright 2015 CoproGallery
Please e-mail any problems with this site to CoproGallery@live.com