MARK GARRO 'MELTDOWN IN SEA MAJOR' - PECA 'HAPPY ANOMALIES' - VANESSA LEMEN & TOOBZ MUIR 'WAKING WILLOW'


WHERE: Copro Gallery - Bergamot Station Arts Complex
2525 Michigan Ave , Unit T5, Santa Monica , CA 90404
Ph: 310/829-2156
E-Mail: CoproGallery@Live.com
Web: www.CoproGallery.com
WHAT: MARK GARRO 'MELTDOWN IN SEA MAJOR' - PECA 'HAPPY ANOMALIES' - VANESSA LEMEN & TOOBZ MUIR 'WAKING WILLOW'
Web-Previews Coming Soon!

WHEN: Exhibit runs; November 4 – November 25, 2023
Opening Reception: Saturday Noveber 4 , 2023 - 6:00 – 10:00 p.m.

Contact: Gary Pressman, Gallery Director - Copro Gallery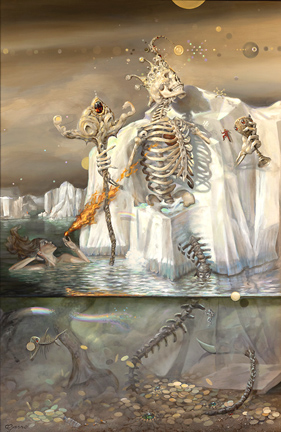 Mark Garro 'Meltdown in Sea Major' 37"x 25"
oil on wood
MARK GARRO 'MELTDOWN IN SEA MAJOR' is his 8th solo show at Copro Gallery. Garro's work presents a visual map of the human condition and portrays apocalyptic vignettes sprinkled with a dash of hope. Garro's unique style can be described as Technical Fusion combining Hyper-Realism and Trompe-l'oeil. Opposing themes are depicted through his signature motif of "Above and Below" featuring water, women and his recurring characters with a nod to his dedication to music and his saxophones.
ARTIST STATEMENT - A woolly Rhino and a smashed tenor saxophone. These completely incongruous subjects are the initial inspiration for " Meltdown in Sea Major ". With The Receding ice caps and the diminishing Russian ice, my interest was sparked with the discovery of a Woolly Rhino carcass in Siberia. What the heck else is out there to be revealed as the ice wanes? I invite the viewer to ponder the issue amidst intoxicating technique and imagery. While finding Giant saxophones and Mermaid King skeletons is unlikely, I like to think that anything is possible....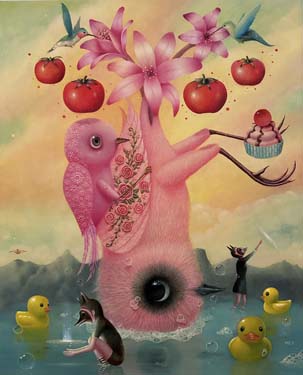 Peca 'Anomaly l' 40"x 32" oil on linen

PECA 'HAPPY ANOMALIES' - This series is a journey leading to Happy Anomalies. "Art is my best way to connect myself with the universe. It is my moment of introspection, the way of not losing my head; it is meditation, decoding of cosmic signals. Materializing the unconscious is my path to consciousness. All of us have the power of transformation, we are creators of worlds. I love to paint animals awake, connected with the universal movement; usually they are beings that ignore our rules and have the mission to challenge the viewer to see beyond the limits of our understanding; they push us into the unknown, trying to break the foundations of our belief system puting our world upside down".
BIO:Peca was born in Argentina and now based in Barcelona, she is painter, illustrator and stop motion movie maker. She graduated with a Licensed degree in Visual Arts at the University of Fine Arts of La Plata, Buenos Aires, Argentina.'Her creations are a door to a dreamy, and mysterious universe, that you have visited before, perhaps in dreams, or astral travel. With several solo and group shows behind her, having worked for major publications such as Rolling Stone and with the confidence that comes from believing that her art is the art of another life, Peca invites us to a magical world where fantasy reposes on fields strawberries. Welcome to the spiritual version of Wonderland.' —lamono magazine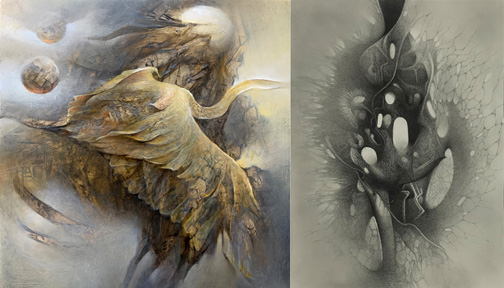 VANESSA LEMEN & TOOBZ MUIR 'WAKING WILLOW' is a world created by artists Vanessa Lemen and Toobz Muir, a connection unfolding into a safe space to share dialogues of imagery in the form of drawings, paintings, and collaborations. "As we allow the subconscious to unravel and reveal the mysteries of what we find in the unknowns, we wander with wonder in healing through the canopies of our lives. Working through the layers that veil and develop personal stories connected by experiences that offer an awakening from the darkest of places into golden moments leading us further into learning a deeper sense of who we are."
Bios: Vanessa Lemen is a painter based in Southern California with works exhibited and in private collections internationally. Her paintings are layered in subtle allegory, with an explorative process that intertwines realism and abstract to depict humanity, metaphor and story. Her work has been published in the Illustrated Limited Edition books "The Left Hand Of Darkness" and "A Scanner Darkly", as well as Spectrum, Infected By Art, ImagineFX and others. Vanessa also writes monthly columns for Muddy Colors, and is an educator who mentors privately, teaches classes online, and instructs at workshops across the US, with her work earning The Chesley Award and other awards in Infected By Art, a Spectrum Award nomination, and Art Renewal Center's ARC Salon. Described through metaphorical imagery, it's excerpts from her personal journey and reflection that she credits most as the inspiration for her work, and the very nature of her spontaneous process as the impetus of discovery, continuously revealing the ever-evolving balance of the deep-seated and the unknown.
Artist Toobz Muir is known best for his murals, surreal paintings and detailed graphite drawings. His colorful work references his early fascination with graffiti and street art as well as his challenges from being color blind. Primarily using spray paint, Muir freehand renders his work directly onto surfaces creating fantastical imagery that in his words is "both edgy and playful while also emerging from a personal place." His subject matter ranges from allegorical to darkly satirical themes while distorting his figures' features to evoke extreme emotional states.#

Bergamot Arts Complex, Copro Gallery, 2525 Michigan Ave T5, Santa Monica, CA 90404 - 310-829-2156 CoproGallery@Live.com
All images and artwork Copyright 2015 CoproGallery
Please e-mail any problems with this site to CoproGallery@live.com